Faculty Senate discuss updates on academic plan, facilities, diversity
At the university's faculty senate biweekly meeting Oct. 19, administrators shared university updates on the new academic plan, Snell Library renovations and student support initiatives, among other topics.
Provost and Senior Vice President for Academic Affairs David Madigan began his update by detailing Northeastern's new academic plan, Experienced Unleashed, which was approved in September of last year, and how Northeastern will leverage existing classroom technology moving forward to achieve these goals. 
"The academic plan very much emphasizes impact. The purpose of the University is to have positive impact on the world," Madigan said. "Rather than thinking about an online vs. in-person dichotomy, we need to think about how we use technology to improve the experience of our learners."
Ken Henderson, the chancellor and senior vice president for learning, then discussed the status of the Student Success Initiative. A major part of this initiative is MentorHub NU, which connects upperclassmen mentors with incoming underclassmen students, Henderson said. 
"The university is a big, complicated place. Especially for new students coming in, it can be a very intimidating place to navigate for resources, for services, for information," Henderson said. "The idea here is that there is sort of a tiered system of support. The first level of support is student success guides." 
The program was rolled out to 6,000 first-year students initially last year but is now part of 16,000 undergraduate students' experience, Henderson said.
"This unit is a mechanism to help to triage those basic questions," Henderson said. "There's a real potential here to use this tool as a proactive mechanism to identify students who may be getting into academic, social issues." 
As an update on these first-year students, Madigan discussed Northeastern's 91,000 total applications, 41% yield rate, and 27% underrepresented minority representation for the incoming class of 2026. Part of this first-year class also includes 1,736 N.U.in students and 680 NU Bound students. 
Alongside the incoming class this fall 2022, 223 new faculty joined the university on the Boston campus alone. Madigan highlighted some recent notable hires to faculty and staff — including Beth Mynatt, the new dean of Khoury College of Computer Science, and Rebecca Hunter, the new associate vice president and university registrar — as well as some of the ongoing searches across the university. 
Currently, Madigan said the university is looking for deans for the D'Amore McKim School of Business, the College of Social Sciences and Humanities and the Bouvé School of Nursing. These deans will continue to drive research opportunities within each college, a major focus of the academic plan, he said. 
"The research enterprise at Northeastern is going gangbusters," Madigan said. "We've seen tremendous growth across the board across the colleges."
As Northeastern's research budget approaches $200 million, Madigan said the university has its goals set higher. 
"We are growing very rapidly — we have a goal of getting to $500 million in four years," Madigan said. "It seems within reach." 
At the center of this new research will be EXP which, Madigan says, is on track to open soon. 
"[EXP] is slated to open in Summer 2023," Madigan said. "Very soon, we'll all be able to get inside EXP and, believe it or not, on time and within budget and has been all along despite COVID."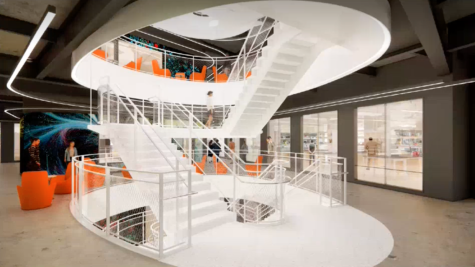 Work will also continue on Snell Library, with renovations that, according to Madigan, are focused on providing more study space for the growing student population. 
"[Snell renovations] will cause some pain and disruption in the coming years, but we will end up with a dramatically enhanced library with a lot more study space," Madigan said.
In the Q&A portion of the call, Kim Lewis, a university distinguished professor in the College of Science, asked Madigan to make a modification to the purchasing process. 
"Sometime earlier this year, the administration introduced a new regulation: review by [the Office of the General Counsel, or OGC] of all purchase orders, no matter how mundane. That slows us down severely," Lewis said. "This puts us at a distinct competitive disadvantage as compared to other universities where the faculty do not have that burden."
The OGC is responsible for monitoring purchase orders across the university and keeping records of financial requests from departments. 
"I have, on behalf of the faculty, a very simple suggestion: we request that OGC review be abolished," Lewis said. "It will make our life easier and more efficient." 
Madigan's response was quick. 
"I took notes," he said. "I'll look into it." 
Valentina Marano, associate professor of international business and strategy, brought up flexibility with illness. She and her colleagues, she said, are surprised to learn that some professors offer limited or no flexibility in their classes. 
"The university can't be prescriptive down to that level of detail for how a professor should handle a student who has COVID or who is ill," Madigan said. "[We] would very much hope that every faculty member would find a way to take care of the student so their learning can continue." 
Paul Chiou, elected senator for D'Amore-McKim School of Business and associate teaching professor of finance, questioned how well international students are being introduced to life in an American classroom based on his struggles with international students engaging in behaviors like side-talk during lectures. 
"A lot of students have different norms and understanding of classroom etiquette in the United States," Chiou said. "Does the central office think about strategies outside the faculty, systemic [ways] to deal with this new challenge?" 
Henderson responded, pointing to the Office of Global Services on campus.
"Some of the work that goes on there, maybe we can organize that in a way that would address some of your questions at scale for both undergraduate and graduate level students," he said. "We've definitely got the tools in place." 
H.C. Robinson, associate professor of law and sociology, gave another example of this issue from one of her classrooms. 
"I had a student in class report on a field work assignment and described the employee she was observing as a 'colored person,'" Robinson said. "The student was native Chinese, and it was innocuous, but I'm wondering if we can provide students arriving on campus with a required brief introduction to cultural contexts that they might not be aware of." 
Madigan responded, referring to the racial literacy training deployed last year. 
"We do have training for incoming students … that we introduced last year," Henderson said. "That said, can we make it better? Surely yes." 
Robinson followed up on this question later in the meeting, asking for more details about this training for students. Henderson responded, bringing up how the program was implemented last year and how it is continuing to be deployed in orientation. 
"All incoming students are required to take it. It's built into the introduction to college," Henderson said. "More than two-thirds of continuing students eventually took the training." 
Karl Reid, senior vice provost and chief inclusion officer, spoke about what the training might look like in the future. 
"We are looking at a phase 2 of this, and what that approach might be," Reid said. "What we heard from students is that they wanted more engagement with the topics in small circles and discussions, so we're looking for ways to embed this in the first-year experience."