Dogs of Boston take to the streets in costume for Halloween parade
Tails were wagging at the eighth annual Doggone Halloween Parade, an event that was paws-itively a success. 
Dogs and humans alike met at Downtown Crossing Saturday, Oct. 29, where hundreds of Boston's best-dressed canines convened to show off their Halloween costumes and gain the adoration of passersby and members of the crowd.
With multiple vendors lining the Crossing, autumn-themed photo set-ups to snap a pic with a pooch and an opportunity to get portraits done by caricature artists, the parade had something for everyone in attendance. 
The parade was presented by the Downtown Crossing Business Improvement District, or BID, a nonprofit that works to preserve the liveliness of one of Boston's most bustling neighborhoods.
George Comeau, the marketing and brand activation manager at BID, said he wanted the event to be enjoyable for all ages, which was not a 'ruff' task to accomplish.
"Everything we do is for the audience," he said. "We think a lot about how people are going to have fun at these events."
Vivian Chang attended the parade for the first time with her French bulldog, Nico. Chang donned a Ronald McDonald costume, while Nico was dressed as an order of French fries. 
"I saw an ad for a dog party and knew I had to check it out," she said. "I also wanted to take Instagram pictures for Nico."
Veronica Navarro was accompanied by her two dogs Pemi and Peanut, who were dressed up as Wonder Woman and a peacock, respectively.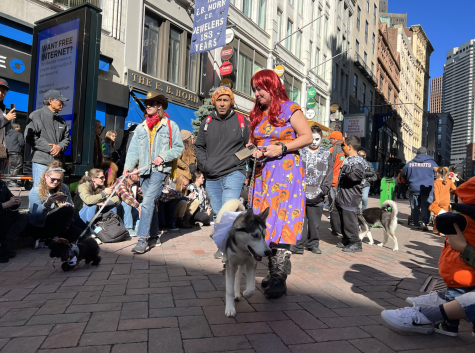 "I really just came to see a bunch of dogs in costumes," she said with a laugh. 
Navarro said her favorite costume duo was a woman dressed as an avocado with her dachshund dressed as a taco with all of the fixings. 
Pups dressed up as hot dogs and tacos were a cute but common occurrence at the parade. The costume contest, however, presented a diverse array of both human and dog ensembles.
There were four awards granted at the contest: Best Dog & Human Duo, Scariest Costume, Cutest Costume and the overall Best Costume.
The judges saw a vast display of dogs in their Saturday best. From Chang and Nico as staples of the McDonald's franchise to a dog dressed as Carl Fredricksen from Disney Pixar's "Up" and their human dressed as the floating house, the creativity on display did not go unnoticed. 
The grand prize winner of the costume contest was Colleen Court, who handmade costumes from the HBO Max series "House of the Dragon " for her and her dogs. Court and her husband were dressed as members of House Targaryen, and her dogs Quint and Hopper were clad in dragon costumes.
"I feel good for them, 'cause they were such good sports about the costumes!," she told Channel 7.
People came for the canines in costume, but Comeau hopes that overall, both humans and their companions were able to have a good afternoon visiting vendors and watching friendly competition unfold.
"We have a lot of events throughout the year and this is one of the highlights," Comeau said. "It really is just a place where people can come and enjoy the day in Downtown Boston."