Massachusetts elections: A visualization of who is running
On Nov. 8, Massachusetts will host a series of important elections. Here are those elections visualized.
Statewide Elections
There are five statewide positions up for election: governor, lieutenant governor, secretary of state, treasurer and auditor. The Democrats hold the lead in all of these elections according to current polling data.  
Who is running in Massachusetts House of Representatives elections?
The current Massachusetts House of Representatives is controlled by the Democratic Party, with 125 out of 160 representatives being Democrats.
Because Massachusetts redistricted its House and Senate maps in 2021, a new statewide district map will vote for the first time this year. Lacking any significant polling data or voting history, the map below shows the partisanship of candidates running in each district. A blue district will only have Democrats or progressives running, and a red district will only have Republicans or conservatives running. A purple district shows where opposing ideologies or parties are on the ballot.
On the map, each of the 160 districts show the candidates running, their political affiliation and their campaign information.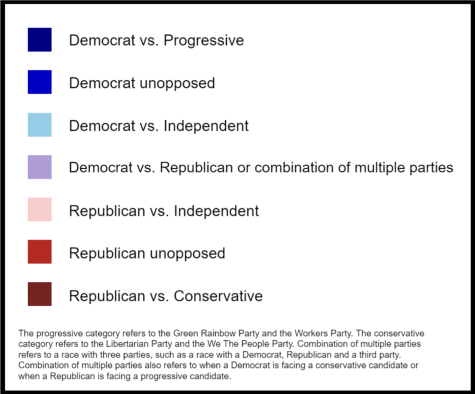 Who is running in the Massachusetts Senate elections?
Similar to the Massachusetts House, the Massachusetts State Senate is also a Democratic stronghold, with 36 out of 40 current senators listed as Democrats. 
Who is running in Massachusetts for the U.S. House of Representatives?
Every two years, Massachusetts sends nine representatives to the United States House of Representatives. Unlike the Massachusetts State Legislature, Massachusetts' U.S. congressional map maintained the same districts as previous elections. In 2020, all nine Massachusetts representatives were Democrats. Despite current polls showing a probable Republican majority in the U.S. House, Massachusetts will likely remain a solid blue state.