Asian Student Union's 'A Night With Arden Cho' opens discussions about onscreen representation
Arden Cho returned to Northeastern's campus Oct. 30 for the Asian Student Union's biannual "A Night With…" celebrity speaker event in a very different place than where she was during her visit six years ago. 
Cho, who is well-known as an early pioneer of Asian representation in entertainment, played a concert on campus in 2016, back when her career was limited to a YouTube channel and supporting roles in TV shows like "Teen Wolf" and "Pretty Little Liars." Her second appearance, hot on the heels of the success of her new Netflix original show "Partner Track," was triumphant. 
Maya Lalicon, a third-year mechanical engineering major and the vice president of the Asian Student Union, or ASU, recalled that an overwhelming influx of students registered for the event as soon as Cho was announced as the guest. 
"You could hear the excitement," Lalicon said. "I remember we opened [registration] during one of our game nights with another cultural org and everyone took a pause for a solid minute to go sign up." 
The night began with student performances from Revolve Dance Crew, Singaporean singer-songwriter hongjoin and Eon Dance Troupe. Revolve, in a large crew of over 20 dancers, amped the mood up with high-energy contemporary choreography to a mash-up of recent hits.
"It was our first performance this semester," said Romee Choi, a second-year international affairs and international business combined major who performed with Revolve. "It was such an honor to open the entire show for Arden Cho."
Revolve's rousing routine was followed by two slower, sweeter numbers sung by hongjoin, who croons both covers and originals to his 5,000 followers on Spotify. Finally, Eon took to the stage, a dance troupe that specializes in fusing classic Asian dance forms together with more modern elements. Eon's dancers were a graceful, billowing blur while performing the traditional Chinese water sleeves dance.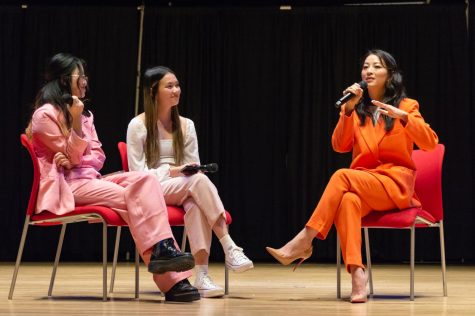 Cho arrived on the scene in a bold orange suit, complimenting the opening acts effusively and cracking jokes with undergraduate emcees Suzy Duong and Sarah Ly. Cho's back-and-forth with Duong and Ly was comfortable and witty, even when the subject matter turned serious.
Tracing her career back to the early days of bad auditions and bit parts, Cho recalled feeling trepidation at pursuing such an unconventional career path, especially coming from a traditional Korean household where she said she was expected to go into law or medicine. Even when she was cast as Kira Yukimura in "Teen Wolf," her most prominent role before starring in "Partner Track" years later, she said she continued to have doubts about the place of an Asian American woman in the historically white television industry. She noted self-deprecatingly that she has probably called her agent to stop sending her on auditions at least 15 times. 
Because of her YouTube channel and appearances in popular young adult shows like "Teen Wolf" and "Pretty Little Liars," Cho was an extremely influential, almost larger-than-life figure in the childhoods of many Asian and Asian American young people. Many students found it encouraging to learn that a long-idolized celebrity like Cho faced similar uncertainties and familial pressures as them, including fourth-year biochemistry major and ASU President Andrea Koid.
"Arden Cho is someone that a lot of us grew up watching since we were young," Koid said. "It's cool to see someone you watched from such a young age, and bring her in person, and hear her talk about her experiences." 
First-year nursing major Samuel Cho echoed Koid's attitude, adding that Arden Cho's life is motivational even for students who aren't thinking of going into entertainment. 
"Even though she's really successful, she had moments where she wanted to give up, or it was really hard for her," he said. "No matter how successful you may be, there may be times of doubt. I think it's inspirational to hear about her story." 
Cho's interview ended on a hopeful note, with Duong and Ly giving her the chance to promote her upcoming project "Avatar: The Last Airbender," a live-action take on the beloved animated series, which is tentatively slated for release in 2023. The highly anticipated series has been praised for its all-Asian cast and director. Before the event moved to the meet-and-greet portion, Cho promised that if "Partner Track" is picked up for a season two, it will tackle more issues affecting the Asian American community.
The progression of Cho's career from playing minor and oftentimes slightly stereotypical characters to starring in her own show bodes well for the future of Asian representation in Hollywood. 
"I really think we're definitely getting more represented overall, and I also think that a lot of Asian people and Asian American people are really speaking up and standing up for themselves," Choi said. 
Just recently, Cho herself turned down an offer to rejoin the "Teen Wolf" cast in a 2023 remake, citing the fact that she was going to be paid less than half the salary of her white castmates, sparking outrage from fans and fellow actors. 
"She was so outspoken about it and I know she's not content with just being on the show, but she's willing to fight for what she believes in," Lalicon said. "In trying to get 'Partner Track' renewed for a second season, it's very, very inspiring both in how far she's come, but also how far she wants to go."