Ethan Zuckerman discusses future of public sphere at CAMD Distinguished Lecturer Series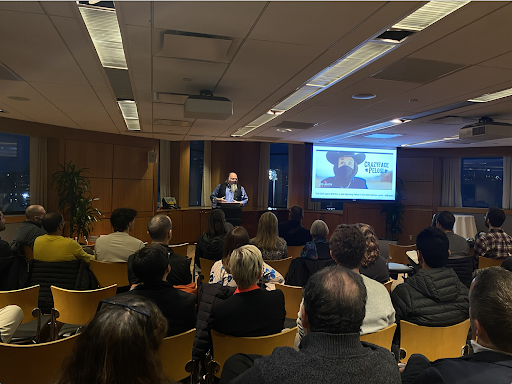 Ethan Zuckerman does not think bigger is better, at least not for social media. 
The internet scholar and University of Massachusetts Amherst public policy professor discussed how to rebuild the public sphere at the Northeastern alumni center on Columbus Avenue Tuesday Nov. 15. The event began at 4:30 p.m. and Zuckerman lectured for about an hour before taking questions from the audience and dispersing for a short reception complete with hors d'oeuvres, drinks and a cheesecake bar. 
His visit was part of the College of Arts Media and Design Dean's Distinguished Lecturer Series, which explores a variety of topics including journalism, design, media and more. Past speakers for the series include Pulitzer Prize winner Wesley Lowery, designer Alex Truesdell and sculptor Nick Cave. 
Zuckerman is a blogger, entrepreneur, professor and author of two books: "Mistrust: Why Losing Faith in Institutions Provides the Tools to Transform Them" and "Rewire: Digital Cosmopolitans in the Age of Connection." He founded Global Voices, an organization dedicated to connecting authors across the globe, and Geekcorps, a nonprofit he calls "a Peace Corps for geeks." He has worked at Harvard, Massachusetts Institute of Technology and currently works at UMass Amherst where he founded the Initiative for Digital Public Infrastructure which works to develop alternatives to current social media sites. 
At his lecture, he spoke about the history of media and the ways in which public spheres have evolved. 
Fourth-year philosophy major Samantha Cadenasso said she attended the lecture not only because of her interest in the topic but also because of her goal of someday working in academia. 
"It definitely gave me a lot to think about in terms of what my own social media usage will be like in the future," Cadenasso said. "I think [lectures are] a really great opportunity to learn what's happening in the field and I am always super curious as to what my own professors are doing for research, so I think it's a great way to connect with faculty, learn more about the field and take advantage of the university."
Zuckerman began by discussing the recent attack on Paul Pelosi and blamed it on "schochastic terrorism," or the idea that mass hateful speech against a particular party makes an act of violence inevitable.
He then discussed the history of media in America and called Sam Adams, who he explained was not actually a brewer, "America's first meme maker." Adams wrote under 30 different pseudonyms and utilized the press not as a means of truthful and accurate reporting but as a tool to spread ideas, many of which are untrue. Zuckerman said the press of the 1770s was "riddled with half truths." He said he finds hope when looking at the ways in which democracy was born out of a chaotic and untruthful press, as he believes that it can exist on one as well. 
He then went on to discuss the history of public spheres and discussions regarding governments, from the original town meetings in each New England town to the civic societies and clubs Ben Franklin founded. 
According to German philosopher and sociologist Jürgen Habermas, the minimum duties of a public sphere is to educate people, to be a space to convene and confer and to prepare to participate in democracy. 
Nowadays, the public sphere has moved online and has been clouded by commercial enterprises. Zuckerman brought up the current chaos of Twitter, which attendee and VR enthusiast Nick Kaufmann said is being grieved by the users. Kaufmann, who currently works as a community manager for an architecture firm, drove from Maine to attend the lecture because he has been a fan of Zuckerman's ideas for some time. 
"The topic spoke to me and I felt like I wanted to come and do something in person. It's almost a form of grieving, I think," Kaufmann said. "We are kind of leaving this platform that a lot of us have been on for a long time, so it's a chance to think about that and what comes next."
Zuckerman said the government has a history of intervening when the public sphere is under threat. The Old Deluder Satan Law, an actual law enacted in 1647, worked to ensure that each town had a sufficient education system and encouraged literacy for all. The Post Office Act of 1972 was also a means of government interference to ensure communication. 
Zuckerman knows he is not going to fix journalism in a day, but he does have some ideas for how to fix it. The problem with social media and journalism is not just mis or disinformation, he said — it's much more complex than that. 
"It turns out that the problem is not which capricious billionaire runs your social network. The problem is having social networks run by capricious billionaires," Zuckerman said. 
Additionally, Zuckerman said he feels social media needs to be more specific, drawing upon the metaphor of a room. 
One of the things that went radically wrong with social media, according to Zuckerman, is that platforms like Twitter or Facebook try to be a generic room.
"It's as if there were one room in the world you walked into. It has carpet and fluorescent lights and nothing else, and you walk into the room, and there are a whole bunch of people milling around, and you're trying to figure out what to do," Zuckerman said. "​​Rooms don't work that way in real life. … We have a sense of rules and norms that govern the space."
He sees small, heavily moderated social media companies as the future where civic discussions can take place. The Initiative for Digital Public Infrastructure at UMass Amherst is currently developing one called "Smalltown," which focuses on Amherst residents. Zuckerman is also working with the MIT Media Lab to direct a project called GOBO, an experimental social media site which allows users to choose algorithms that do what they want and is a combined feed with all social media sites where users have control. 
"We actually need to start using social networks as a preparation for how we participate in the world," Zuckerman said. "We've lost a lot of those civic spaces where we get the basic training in running a democracy, in having a civil conversation, in running a meeting, in coming to some sort of compromise."
The Northeastern Network Science Institute is tackling some of the same questions and problems as Zuckerman. Burak Özturan, a PhD student studying at the Network Science Institute, is currently creating an algorithm to decrease polarization and connect people who may not have as much in common but can have more interesting conversations. 
"It would be nice to have civic social media, instead of hate speech, and then understand each others' ideas and instead of having some prejudice, we can talk about some facts and have beliefs by facts instead of our own personal prejudices or misinformation," Özturan said.at the Northeastern alumni center