Mishoon project ignites for the first time in 300 years
After centuries of Boston overlooking the Nipmuc and Massachusett tribes, they are now reclaiming their culture and reminding the city they are not going anywhere. 
Spectators gathered Oct. 31 at the Charlestown Little Mystic Boat Slip as flames danced over a 1,400 pound log. Andre StrongBearHeart Gaines Jr., cultural steward of the Nipmuc Tribe, stood tending to the log. Gaines had been there for hours already. He burned the log, scraped the ash and wet the wood — this cycle repeated until his 24-hour shift was over. It wasn't until Nov. 6 that the burning would come to a halt, and with that came the finished product: a mishoon. 
In 1685, Puritans took the land of the Massachusett Tribe and enacted a law that forbade anyone in the tribe from entering Boston unless they were escorted in by a musketeer. That law was not repealed until 2005. Elders of the Massachusett tribe have worked tirelessly to exhibit how Indigenous tribes are still here along with countless other tribes — Chappaquiddick, Mashpee Wampanoag and Mi'kmaq — all of which volunteered in the ceremonial burning of the mishoon. 
The burning of the mishoon — or canoe — is a traditional act of the Nipmuc tribe. The act is performed by burning a wooden log continuously until it has hollowed out into a canoe. The burn allows for the sap in the tree to waterproof the wood, which makes the canoe buoyant. For over 300 years, the Nipmuc tribe has been unable to perform this act due to Boston's laws and regulations regarding burning in public spaces. But with an opportunity from the Olmsted Now Parks Equity & Spatial Justice Grants, the Nipmuc people were able to finally reclaim a sacred tradition. 
"What we're actually doing is what our ancestors did for 10,000 years," Gaines said. "This is a footprint that has always been here that people have not seen."
Following the ideals of Frederick Law Olmsted — an architect best known for designing the grounds of New York City's Central Park — Olmsted Now is an organization seeking to make public parks and spaces better through shared use, health and power. This year, Olmsted would have been 200 years old. To honor his legacy, Olmsted Now created Parks Equity & Spatial Justice Grants. The grants are worth $20,000 and were awarded to 16 projects across Boston. 
Gaines applied for this grant with his mission to educate and share his culture with the community and sister tribes throughout the Boston area. The Nipmuc Tribe partnered with the Massachusett Tribe to teach them the tradition of burning a mishoon. Thomas Green, Indigenous artist and educator of the Massachusett Tribe at Ponkapoag, was the second artist who ran the project. He, like Gaines, tended to the canoe on alternating 24-hour shifts to keep the burn continuous. 
"A main goal of this project was to show that we, as Indigenous people, take these sorts of things very seriously and that they can be done in a safe space and in a safe way without any detriment or harm to the environment or surrounding communities," Green said. 
Of the 89 applications for this grant, the mishoon project stuck out immediately to Olmsted Now because of its historical significance, but also its challenging nature. Boston does not allow for anything to burn in public, so achieving this project was a difficult task for Olmsted Now and the tribes. Jen Mergel, director of experience and cultural partnerships at the Emerald Necklace Conservancy, explained just how much went into allowing this cultural act.
"We really had to work hard with partners across city departments to make this possible and have a lot of really important conversations about what justice means," Mergel said. 
Although the Nipmuc and Massachusett Tribes succeeded in bringing back a tradition that had been stifled for centuries, their journey of cultural revitalization and awareness is just beginning. 
"​​We still have our traditional ways, our traditional languages, our ceremonies and our practices," Gaines said. "A lot of folks don't realize that we're still here, you know?"
Although the open burn is able to take place for the first time in centuries, the time frame for it is limited to five months. For Indigenous people, it is difficult to achieve long-term continuity for cultural revitalization and preservation, Gaines and Green said. What they both hope to gain from this performance of a cultural tradition is recognition from Boston that they are still here.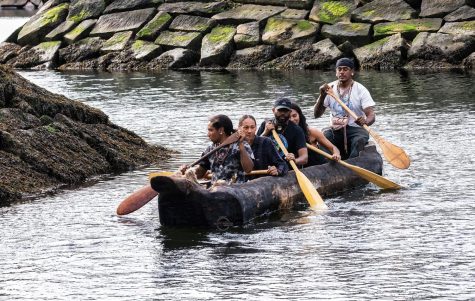 "We, the Massachusett, are the original Indigenous inhabitants of Boston," Green said. "For far too long, we've been marginalized or overlooked or said to be nonexistent. And it's just important for us to make our presence known within the communities that lay inside of our ancestral homeland."
Despite all the obstacles that came with this project, in the end, the mishoon was able to set sail in Boston Harbor.
"The canoe was lifted by Boston Public Works onto a boat trailer and brought down to the water ramp and then paddled," Mergel said. 
As for the future of the Nipmuc and Massachusett Tribes, Gaines and Green are looking to continue with their cultural revitalization efforts and perform more acts like the mishoon project. 
"This is who we are," Gaines said. "So it's just what we do. We'll continue to build traditional homes, burn out boats, but this is who we are, so this is what we will continue to do."