Northeastern student Erin Rosenfeld advocates accessibility for Deaf audiences in theatre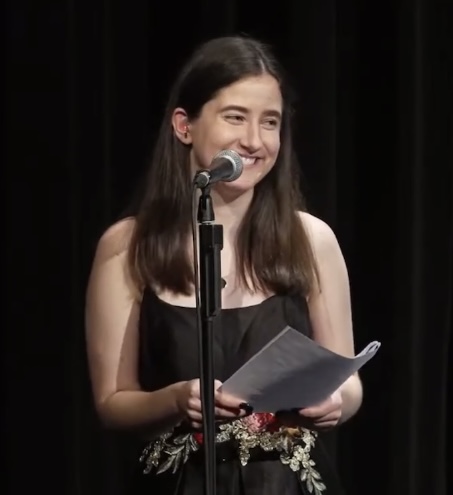 When it comes to advocating for the Deaf community, Erin Rosenfeld, a fourth-year American Sign Language and psychology combined major, has gone above and beyond to make sure people who are hard of hearing have a place, especially in the theatre. 
"I want everyone to know and feel that they have a place where they fit and where they can just easily exist and not have to fight for accessibility, accommodations and respect," Rosenfeld said. 
Rosenfeld has devoted most of her teenage and young adult life to advocating for disabled people, and she has gained substantial recognition for her efforts. She first started gaining recognition as an advocate through her platform on TikTok. What started out as a hobby during the lockdown period of the COVID-19 pandemic soon led to Rosenfeld amassing a following of more than 300,000 people. Her videos first blew up after she brought attention to how the presidential debate broadcasts did not have a closed captioning option. After that, she landed a spot in Teen Vogue magazine and Forbes for her efforts to bring awareness to an issue that was overlooked for too long. 
Politics aside, Rosenfeld has also made efforts to make theatre more accessible for disabled people. She has always had an interest in musical theatre, but she often found it hard to feel included in a production due to her disability. 
"It was very difficult because it's hard to sing when you can't necessarily hear the notes or hear music in a way that hearing people do," Rosenfeld said. "So that was always really hard. I was always really self-conscious. I had these moments where I was like, 'I don't want to do theatre. I don't want to act anymore.'"
Despite all of the challenges she faced, Rosenfeld persevered with her passion and decided to change the way she approached the theatre. 
"I began signing instead of singing and it fits, if that makes sense," Rosenfeld said. "It feels so much better and more authentic than when I thought I had to sing, and I can truly connect to the characters and express myself in sign language."
Last spring, she decided to take her talent to the stage at Northeastern and audition for "This Is Treatment," a play written and co-directed by Elizabeth Addison, which centers around a girl struggling to recover from substance addiction. Rosenfeld auditioned for this play, but instead of singing, she submitted a video of her signing to a song. 
"She sent a video of her interpreting a song," Addison said. "She interpreted it through ASL and said that, you know, she doesn't sing, but this is what she does. And if I would be open to having her audition for the musical in doing this interpreting song through ASL, I'd let her know. So I watched it and immediately I was like, 'Oh my goodness, she's cast.'"
Addison was blown away by Rosenfeld's performance as an interpreter, which she feels "added another layer" to the play. 
"It was just so beautiful," Addison said. "And people would get captured by just watching her. So you have all this sort of stuff happening and people would be watching her because of the way she does it and there's just something so profound about it. And so just what she does made the show even better to me."
After her performance, Rosenfeld decided to apply for the The Danny Awards, an award that acknowledges disabled individuals around the world for their talent in the musical industry — she was chosen as one of 11 recipients.
Like most Northeastern students, Rosenfeld has taken her passion to her work — she is currently on co-op with Access Broadway, a company which strives to make Broadway theatres more accessible for people with disabilities. In her role, Rosenfeld is responsible for checking accessibility and closed captioning devices.
Access Broadway also works towards making sure theatres follow the Americans with Disabilities Act guidelines.
"Sometimes in order to meet the requirement for how many accessible seats are needed in a theatre, some theatres will designate a couple of feet in the balcony or the mezzanine as wheelchair accessible, even though there's no elevator to get up there," Rosenfeld said. "So they're not truly accessible, but they can say on paper that they are."
Rosenfeld's advocacy is impactful in more ways than one. Many deaf students, such as Kelty Kober, a second-year majoring in American Sign Language, admire all that Rosenfeld has accomplished for the Deaf community.  
"She's like a role model to me," Kober said. "I am deaf and I have cochlear implants, and Erin is someone who knows sign language and has hearing aids, and she's hard of hearing. She's just doing awesome and like, I really want to be her. I know that's not possible, but I really look up to her and she's a great role model to anybody and a great friend."
Now that her co-op is coming to an end within the next month, Rosenfeld is hopeful she will continue with this career after she graduates next May and continue to bring awareness to the Deaf and disabled community. 
"I would love to continue advocating and continue spreading awareness," Rosenfeld said. "I don't think awareness and accessibility are difficult things; I think they're definitely attainable. And so I just want to keep fighting until we get there."