'A Conversation with Hasan Minhaj' provides hearty laughs to campus community
Comedians Hasan Minhaj and Jaboukie Young-White took to Matthews Arena Nov. 10, delivering an evening of stand-up comedy, dynamic dialogue and more for  "A Conversation with Hasan Minhaj" organized by the Northeastern Council of University Programs, or Northeastern CUP.
Minhaj, whose politically-laced humor has earned him an impassioned fanbase and widespread acclaim, arrived on campus roughly a month after the release of his latest Netflix stand-up special, "The King's Jester." The spotlight has similarly been on Young-White, as the 28-year-old comic has garnered recent attention thanks to his recurring role on HBO Max's "Rap Sh!t" and his vocal performance as Disney's first out, gay teenager in the animated feature "Strange World." 
Although the duo's profiles have risen considerably in recent months, many attendees, like Nicole Sorial, a fifth-year computer science and mathematics combined major, cited following the pair before their more recent successes in entertainment. 
"I love both of them. I went to Hasan Minhaj's tour last year," Sorial said. "I'm not as familiar with Jaboukie, but I've seen clips of him before and he's goofy and I like it."
Cognizant of the varying fame levels of the two, the team at CUP strived to create an outing that accounted for the expectations of both general audiences and ardent fans. Kalli Miller, a fourth-year business and design combined major who serves as the vice president of design for CUP, was one of the main architects behind the effort to craft a consistently engaging and humorous evening for all.
"When it came time for Hasan and Jaboukie to be on stage together, I kind of thought to myself, 'an hour-long Q&A, straight, might get a little dry or boring,'" Miller said. "So, I had the idea of doing segments … to spice up our show and also provide them with material to just riff off of."
The show was, as Miller said, split into a few distinct segments: a typical Q&A, a series of Northeastern-related trivia, an impromptu comedic slideshow about Boston and a closing round of rapid-fire queries. 
Throughout the Q&A, Young-White presented Minhaj with audience-generated questions — the bulk of which were gathered via social media — with energy and wit. During the Northeastern-related trivia portion of the show, Minhaj was tasked with defining terminology exclusive to the school community ("Mission Hill," "N.U.in," etc.), eliciting a raucous reaction from attendees with every incorrect explanation. The two headliners were then asked to deliver a satirical presentation about the history and culture of Boston, without having seen it before, where they jokingly commented on the MBTA's proclivity for combustion, lobster rolls and more. In the show's final minutes, Minhaj and Young-White tackled trivial topics — like the best cereal consumption method — and serious concerns — such as the financial strain induced by predatory student loans — alike.
Each segment proved successful, with audience engagement and enthusiasm being palpable for the entirety of the show. The portion with the greatest crowd reaction, though, was undoubtedly the Northeastern trivia segment.
"I'm really happy with how that segment did," Miller said. "As soon as he said 'co-op,' that was the first word he dropped, everyone seemed really excited about that."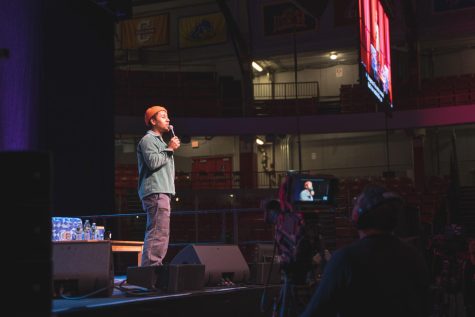 Young-White's stand-up set, which preceded the main event, earned just as many — if not more — laughs from the student audience. Some in attendance, like Dorcas Olatunji, a third-year business administration major, found Young-White's bits to be the show's best. 
"I love Jaboukie, he made a joke about getting robbed which I thought was funny," Olatunji said. "He wasn't wearing headphones in Boston and he turned it into the most elaborate story. He's an incredible storyteller. I really enjoyed that."
Despite the warm reception from the majority of attendees, some found themselves wanting more from the event. Trevor Gardemal, a second-year journalism major, left Matthews Arena feeling decidedly mixed about what he had witnessed.
"I generally don't like stand-up, but it was good stand-up," Gardemal said. "But the conversation part felt like I was listening to a podcast that I wouldn't listen to. I was hoping that they would talk about politics and such, which is kinda what Hasan Minhaj is known for, but they were just talking about, like, coleslaw."
Gardemal does, however, admit that he is in the minority, emphasizing that other spectators were seen enjoying themselves and refraining from leaving early as he did. 
Regardless of how they assessed the quality of the show, those present unanimously agreed that the racial diversity found in its headliners was both important and refreshing, especially given the number of white celebrities who have previously headlined the event.
"I really like the representation of brown people," Sorial said of Minhaj in particular. "There's not many comedians of color that are in the mainstream. I think he's doing it and he's doing it well."
According to Miller, diversity — along with greater accessibility options for a wide range of impairments — was one of CUP's primary focuses for this year's headliner event. Past events, she notes, were criticized for not being representative of Northeastern's campus community. 
"We got a lot of feedback that made us want to prioritize diversity for the show," Miller said. "We were constantly looking for names that were representative of our community and diversity within our community."
Due in large part to the efforts of CUP and their talented headliners, it is abundantly clear that "A Conversation with Hasan Minhaj" bolstered the organization's reputation for creating events that, besides being thoroughly entertaining, provide a shared space for the institution's diverse community to unite as one.
"I think it's great having this event, especially during homecoming, where people can come together and discuss and relax," Olatunji said. "It affects your sense of belonging in the world."