Twenty years of work and one lifelong friend later, Justin Hryckowian has almost made it
If you ask Justin Hryckowian what he likes to do off the ice, the answer is simple: more hockey.
"Honestly, I like getting my work done at the rink … I spend a lot of time here, and by the time I get out of here, I kind of just like to lay low," said Hryckowian, a sophomore forward on the men's ice hockey team. "I think if you ask most people about me, they'll probably say I'm kind of a hockey nerd."
The communications major grew up on the island of Île Bizard, about an hour outside of Montreal, where hockey was less of a sport and more of a religion. From his four years spent with the Lac St.-Louis Lions to his short tenure with Northeastern, the Quebec native has continued to establish himself as an indispensable part of whatever program gives him a chance. 
The Huskies' topline center is the team's second-leading goal scorer with nine goals and 19 points earned in 15 games this season — an improvement from last year's 22 points in 27 games. Most notably, Hryckowian's six-point weekend against the University of New Hampshire in early November, which included his first career hat trick, cemented him as an invaluable member of Northeastern's offense.
"The first one went in, then the second one went in, and I was like, 'Oh my god, what's happening?'" Hryckowian said of his hat trick. "It just felt like the puck was following me, but I just put a lot of work in over the summer and at the rink throughout the year, so it's good to get rewarded for that."
This summer, the undrafted 21-year-old was invited to participate in the Washington Capitals' development camp, where he spent four days practicing with and learning from NHL players and coaches.
"It was definitely a big honor for me and my family, and I just wanted to go there and soak it all in and give it my best because you never know when you'll get that chance again. I learned a lot from a lot of great minds and competed with a lot of good players," Hryckowian said, adding that speaking with the team's development staff about nutrition, recovery methods and what they expect "at the next level" was beneficial to his development.
Assistant coach Jason Guerriero said those four days in Washington, D.C., have proven invaluable to how Hryckowian — or Ritzy, as the team affectionately calls him — performs and leads both in and out of his skates.
 "If there's a player on our team that could be a coach, it'd be [Hryckowian]," Guerriero said. "He sees the game differently. Like I said, he doesn't see it as a player — he sees it as a coach, which is unusual for most kids. He just does all the little things … He leads by example on the ice, so the way he carries himself off the ice is like a pro. He eats right, he sleeps right, just the way he presents himself, the way he walks, … he does all the extra stuff. He's just one of those guys that's first guy on the ice, last guy off."
This drive started early for Hryckowian — his parents first strapped him into a pair of skates at two years old. And while it took some time for the toddler to fall in love with the sport, by the time he was 13 and playing for the Lions, hockey had solidified its place in his heart.
It was also during this time that he met lifelong friend and current teammate Devon Levi. 
"I was like, 'There is no way this kid is good at hockey.' And he comes down and he's scoring non-stop," said Levi, Northeastern's junior goalie, reflecting on his early years playing with Hryckowian. "He was sick, he just had a feel for the game back then … so that feel for the game kind of evolved to being really good at the game."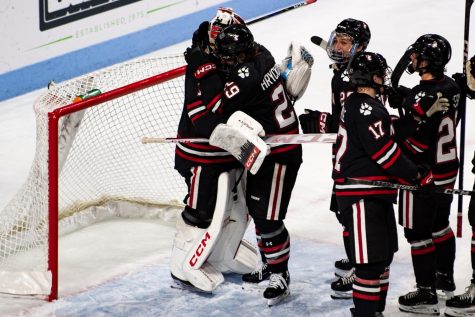 In the four years they spent together on the Lions, Levi and Hryckowian formed a bond which grew alongside their hockey abilities. Levi stood out as a young star as Hryckowian developed vastly within just a few years  — improving from eight points in 32 games in the 2014-15 season to 75 points in 40 games just four years later. 
Hryckowian and Levi played together on the Lions until Hryckowian left Montreal to spend a year at Connecticut's Salisbury School, an all-boys college preparatory school known for its excellent hockey program, in 2018. As Hryckowian settled into his Salisbury Crimson Knights uniform, then-head hockey coach Jim Madigan reached out, compelling the then-17-year-old to join Northeastern's program. 
The Huskies' new recruit then headed to Iowa for his first year in the United States Hockey League, a high-level junior league, where he suited up for the Cedar Rapids RoughRiders. The following year, he continued his stint in juniors with the Sioux City Musketeers, where he was named team captain in his first and only year with the team before heading to Northeastern.
After spending three years without Levi, who, at the time, was committed to the University of Vermont, it was Madigan, or perhaps fate, that willed the near-brothers back together.
"The first thing I did when Mad Dog — Coach Madigan — committed me was I called Ritz right away," Levi said. "I was like, 'Ritz, guess what?' And he's like, 'What?' I was like, 'No no no … guess what?' And he's like, 'No, don't tell me, no no no.' And I was like, 'Yeah!' …  He's like, 'No way.' I was screaming on the phone. I didn't even have to say it; he just knew," said Levi, reenacting their conversation.
While Levi was rostered a year before Hryckowian, the future Mike Richter Award-winner rode the bench his freshman year due to injury. Thus, the two besties began their Husky careers simultaneously, taking on Matthews Arena as they always do: together and by storm.
"Getting to go to school with some of my best friends like Devon Levi [is great]," Hryckowian said. "We've been playing together since we were 10 years old, and … getting to share those memories together is surreal."
In their two years at Northeastern together, Levi and Hryckowian have been a part of a Northeastern hockey team that has made waves both in Hockey East and on the national stage. Last year, the Huskies claimed the Hockey East regular season title for the first time in program history and nearly upset top-ranked Western Michigan in the NCAA tournament.
"[Losing to Western Michigan was] tough, honestly … it stuck in our memory for sure, and we won't let that go away," Hryckowian said. "A lot of guys took that one personally, and we gotta use that as motivation for this year. I think we're all really excited."
That excitement has propelled Hryckowian to new heights. This season, he leads the country in faceoff wins, with 210 earned possessions; has scored the second-most game-winning goals nationally this season and has developed into one of the most consistent scorers and leaders on the Huskies roster. 
Like any kid who grew up learning how to walk on an ice sheet, Hryckowian's dream is to end up in the NHL. And while he has yet to be drafted, all Hryckowian can do is acknowledge how far he has come and lace 'em up for the next game.
"It's just kind of cool for me to see how much I've grown as a player since I've committed here," said Hryckowian. "When I committed here, it was all about making plays and skills, … but then when you grow up and you learn to see the ins and outs of hockey, it's much more than putting the puck in the back of the net and getting assists … If you learn the intangibles like winning faceoffs, being good in your d[efensive] zone … those are things I take pride in, and I work on that stuff too. It's not like it just comes natural[ly]. I definitely have to work for everything."