Who is Paws? The team behind the energetic mascot
Paws isn't just a one-man show — at Northeastern, the mascot team is composed of students who wear the suit and others who accompany them during games, acting as their right-hand man. Paws has been seen alongside the Northeastern University Police Department dog Cooper, in TikToks and at almost every sporting event.
The position is offered as a work-study job on WorkDay, showing up as a listing named "Paws." The hiring process involves an interview to prove charisma, but the opportunity is open to all students. The team includes members of all genders and backgrounds, from experienced actors to novices. Even though students are sworn to secrecy during their employment and cannot reveal their identities, they all have fun stories and lessons to share from their experiences. The active Paws employees who spoke with The News are anonymous to protect the identity of Paws.
There are multiple Paws costumes, and the costume of the day is chosen based on the occasion and the physical size of a wearer. For games, Paws has different jerseys to correspond to the sport they are attending. Additionally, Paws travels with the various sports teams for special events; Paws gets front-row access to Beanpot, goes to Washington, D.C., for basketball tournaments and attends any NCAA events — including March Madness a few years ago.
For one current Paws castmate, this is her first experience being a mascot. 
"I saw an email about the Paws team needing a skater," the second-year anonymous Paws said. "I accepted the gig because it would be silly, and it was so fun that I've been working on the team since then." 
In preparation for her job, she spent the entire day watching NHL mascot highlights and channeling the spirit of professionals. Her first moment at a game led to dozens more, including a special feature at Fenway Park alongside Wally, the Red Sox mascot. 
"I get to do so many cool things as Paws and I'm always excited to experience new things on the team," she said.
Lauren Murphy, a fifth-year behavioral neuroscience major, was an orientation leader in summer of 2019, and part of her job involved an opportunity to be Paws. 
"A few of my orientation leader friends had been Paws before me and it's just such a fun experience to have and be able to say you did it," she said. 
The first time she stepped into the suit, it was a hot summer day, and the costume was filled with a big ice-pack vest to prevent overheating. She suited up for a 'Rock, Paper, Scissors' tournament where the mascot hung out with incoming first-years in Snell Quad. 
"It was really hard, considering Paws only has like, [four] fingers," Murphy said.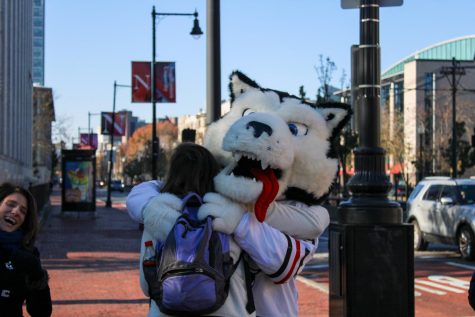 Murphy said she walked around campus in the Paws suit, taking pictures with people and playing games.
"It's super fun to just see people's faces light up, and it's because of you," she said.
One requirement for Paws is the ability to skate, and some members have experience in ice hockey to supplement this. Another student currently working as Paws shared a story about their job interview where he was asked to confirm his skating abilities — which, at the time, were nonexistent. 
"I really had no idea what the job entailed going in for my interview," the second anonymous Paws castmate said. 
The student bought a cheap pair of skates and pulled a hockey friend to the rink to master the ice. 
"I'm from Florida, so I had never even put on a pair of skates," he said. 
After hours of practice, skating became more natural to him. Currently in his fifth year of being the energetic mascot, he brings his newly-acquired skill to the ice every time he dons the Paws suit. 
"My advice to anyone reading is if you ever scroll upon this job, give it a try. You can always learn how to skate later," he said.
Now, it looks as if he has been skating his entire life, and he confidently arrives on the ice with a Northeastern flag for hockey games, welcoming fans and players and welcoming the school's hockey teams. 
"This job has been incredibly rewarding, so much more than I ever could have imagined when I signed up," the fifth-year anonymous Paws said. "There are fans that I've seen dozens of times across all Northeastern athletics events. I feel like I've really gotten to know the fans and understand the importance and love of college sports."
Being Paws is not just about attending athletic events. Leila Abdul-Malak is a fourth-year psychology and health science major who had her moment to shine as Paws at Convocation Day last September. 
"They needed someone with a lot of school spirit who could be Paws for the day and I said, 'heck yeah!'" she said. 
Abdul-Malak learned blocking and went on stage with the Nor'Easters, an acapella music group that performed at the event. There were dozens of high fives and selfies, hyping the crowd up for the rest of college, reminding Abdul-Malak how much her convocation meant to her. 
"I love Northeastern and have a lot of husky pride, and it was a full circle moment from when I was a freshman," she said.
Being in the Paws suit is no easy feat. Many students who spoke with The News critique the line of sight and instability they experience in the bulky Paws feet. 
"You can't walk around in a giant dog head without occasionally taking a spill or knocking someone down," the second-year anonymous Paws said. 
It also gets very hot in the suit, and members said they get winded due to difficulty breathing. 
"I end up walking around with sweat dripping into my eyeballs," the second-year anonymous Paws said.
The fifth-year anonymous Paws recalled one mishap that occurred when Paws got sick on the ice in front of all of the fans, throwing up in Matthews Arena and ultimately having to step out for the night.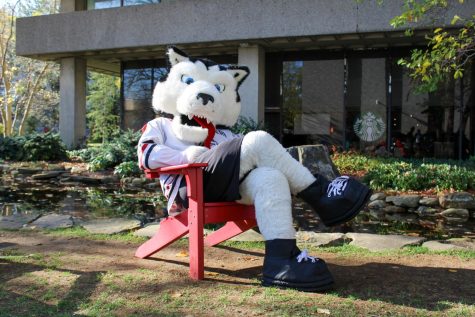 At another game, the mascot almost took out a referee and two players when skating onto the ice.
Ultimately, every person who steps into the suit gets to put their own spin on the mascot. Northeastern's student section, the DogHouse, can sometimes recognize certain students because of their specific Paws interpretations. No matter the student's experience, they have the ability to connect with students and raise the spirit. 
"When I interact with students, they do most of the work for me and I play off of their energy — I learned that all that really matters is that you go out there and have as much fun with it as possible," the second-year anonymous Paws said.