Boston women of color are becoming key players in the small business industry, looking to expand
Boston is home to an ever-growing network of small businesses, whose consumership often picks up during the holiday season.
Three women of color, Imani McFarlane, Zeena Brown and Angela Hofmann, lead a variety of small businesses in the city. In a world often dominated by white men, they are making waves with their craftsmanship, passion and dedication.
In the past few years, Boston has taken strides to promote and give space to Black and Brown-owned businesses. The Mayor's Office of Economic Opportunity and Inclusion compiles a list of these businesses, with the explanation that "businesses owned by Black and Brown Bostonians are integral to our social and economic fabric."
Shared goals of the three businesses include growing their audiences, putting products on retail shelves and transitioning into the wholesale industry as opposed to just appearing at pop-ups and vendor markets.
Here is a behind-the-scenes look at the women running Brown and Coconut, Tafari Wraps and Nussli118.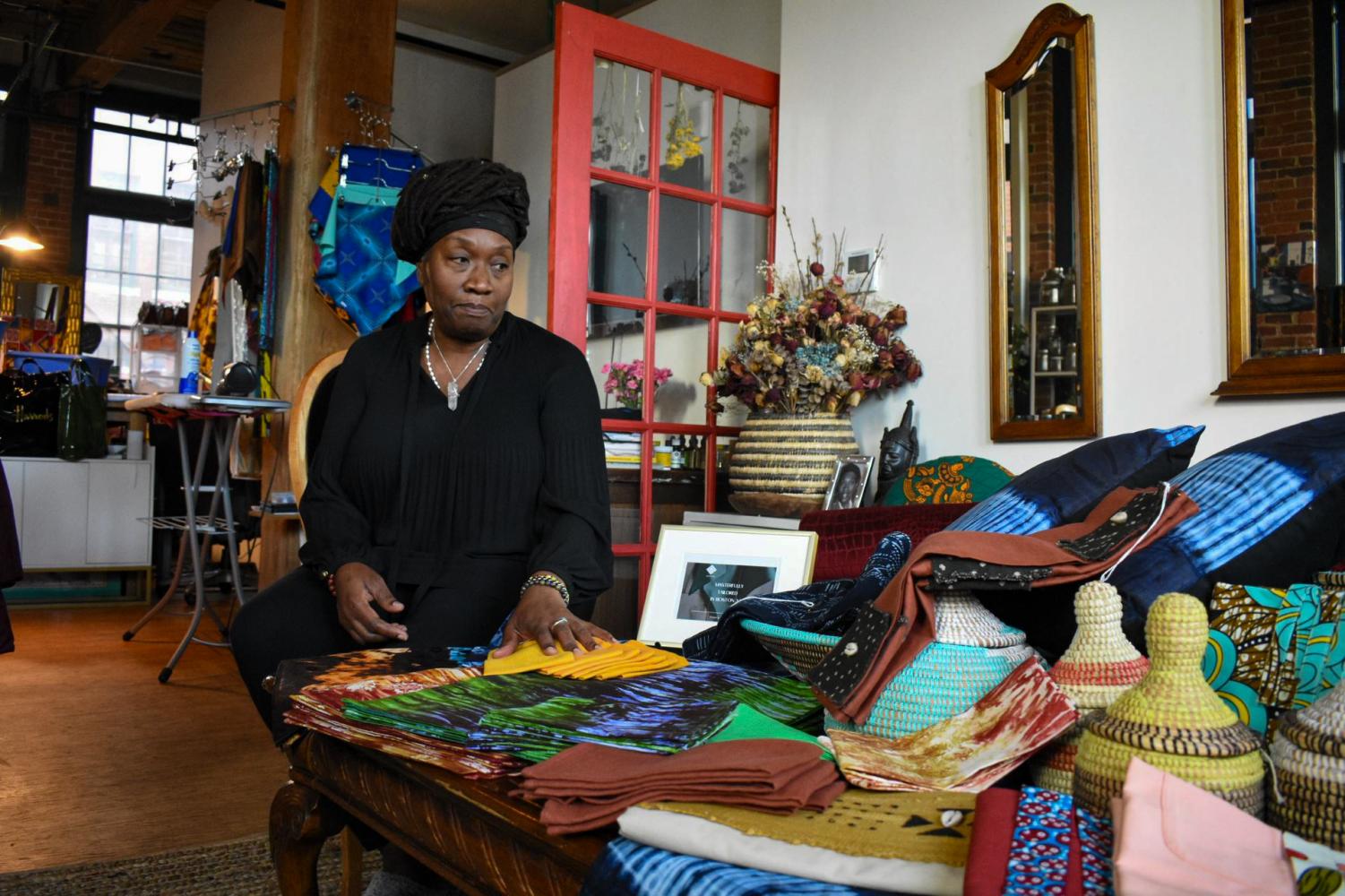 McFarlane, the creator of Tafari Wraps, said she is excited to have expanded her work at her studio in Boston's Seaport to include home decor, kitchenware and more, in addition to her original headwraps. McFarlane originally marketed her headwraps to women of color, but she intends for her designs to be used by all types of customers. "This is art, and art is for everybody," McFarlane said. "That's how I view my work: it's art. It's infusing part of who I am, my culture in my art, and I want people to just enjoy that and embrace it."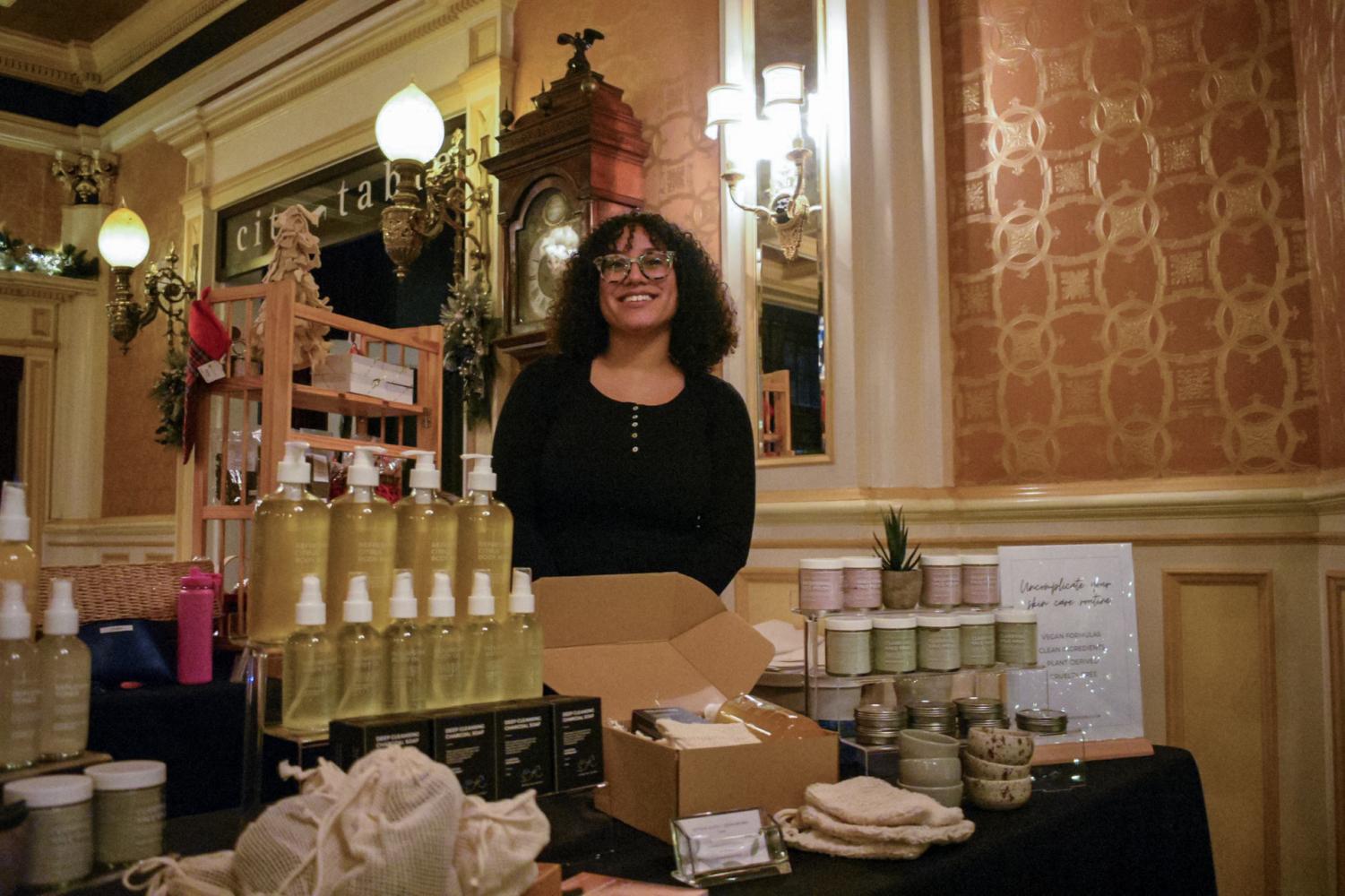 Brown, a co-owner of Brown and Coconut, sells her clean skincare line at the Lenox Hotel Holiday Mercantile Dec. 3. Brown and Coconut is a sister-run skincare brand selling simple products with minimal ingredients intended for all types of skin. "One of our biggest goals is to continue to expand into the retail world," Brown said. "[Our goal is to] get our products on more shelves where [they're] more accessible to customers."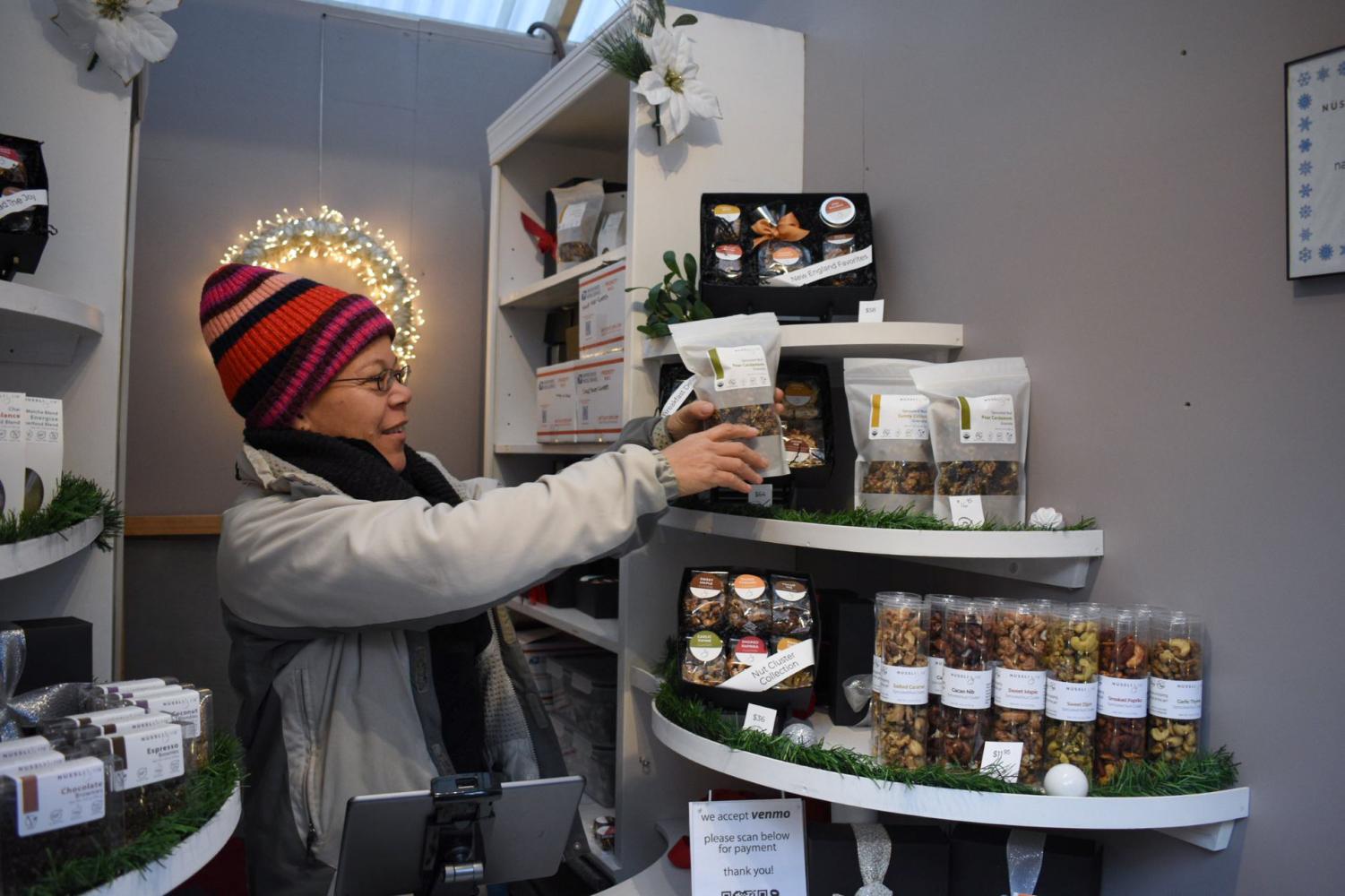 Hofmann, the founder of Nussli118, sets up for another busy day at Boston's Snowport Holiday Market Dec. 5. Hofmann started her healthy, plant-based snack company to satisfy her and her customers' craving for sweet snacks that are nutritious as well. While arranging the granola, Hofmann said, "We've been making this granola pretty much since the beginning of the business … It sells really well. I think people want to treat themselves."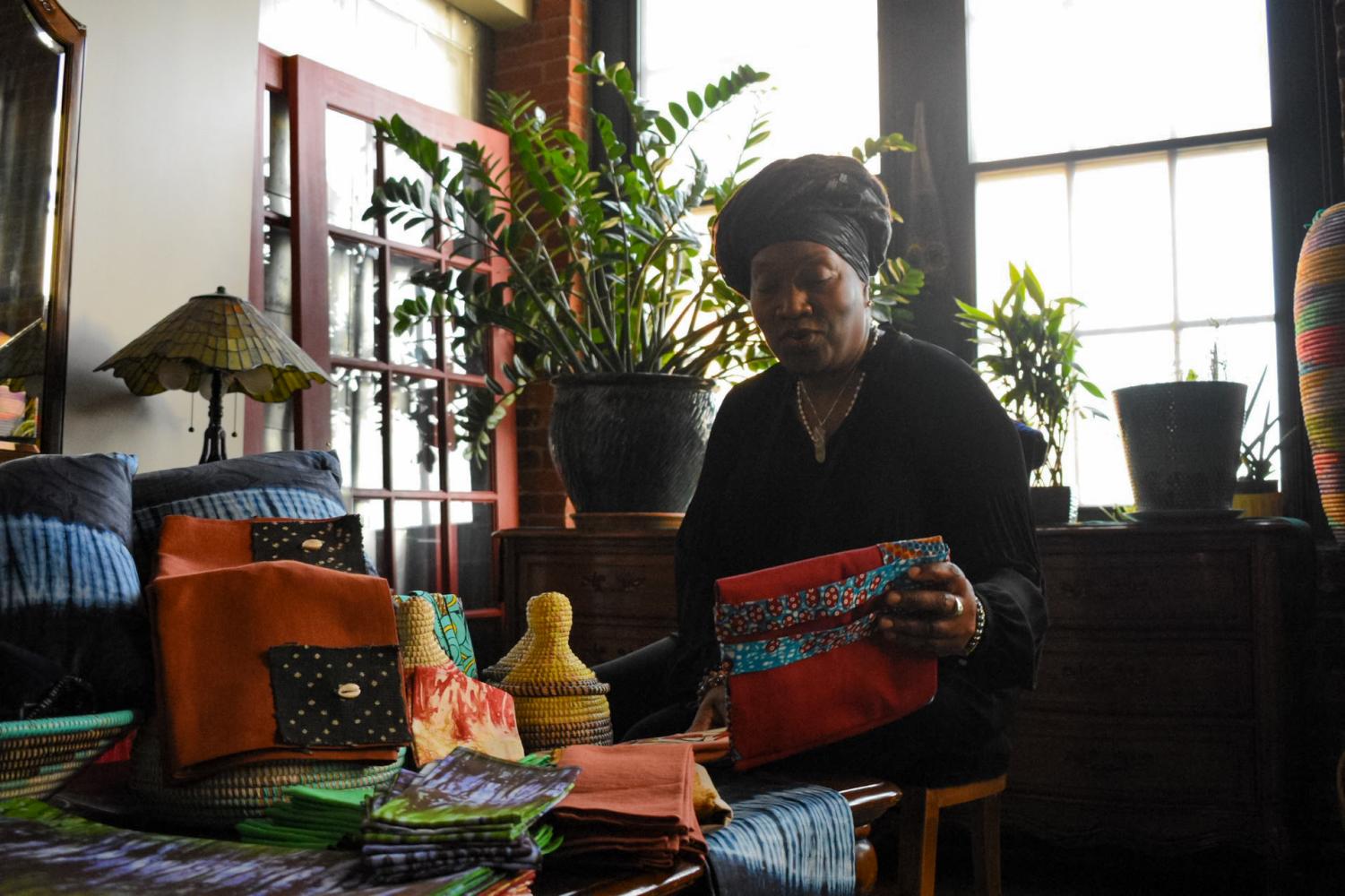 McFarlane talks about her process in creating a variety of aprons in her studio in Boston's Seaport Dec. 5. She makes some that are meant for serving and others that are easily washable for cooking, as they feature textiles and colors that can get messy.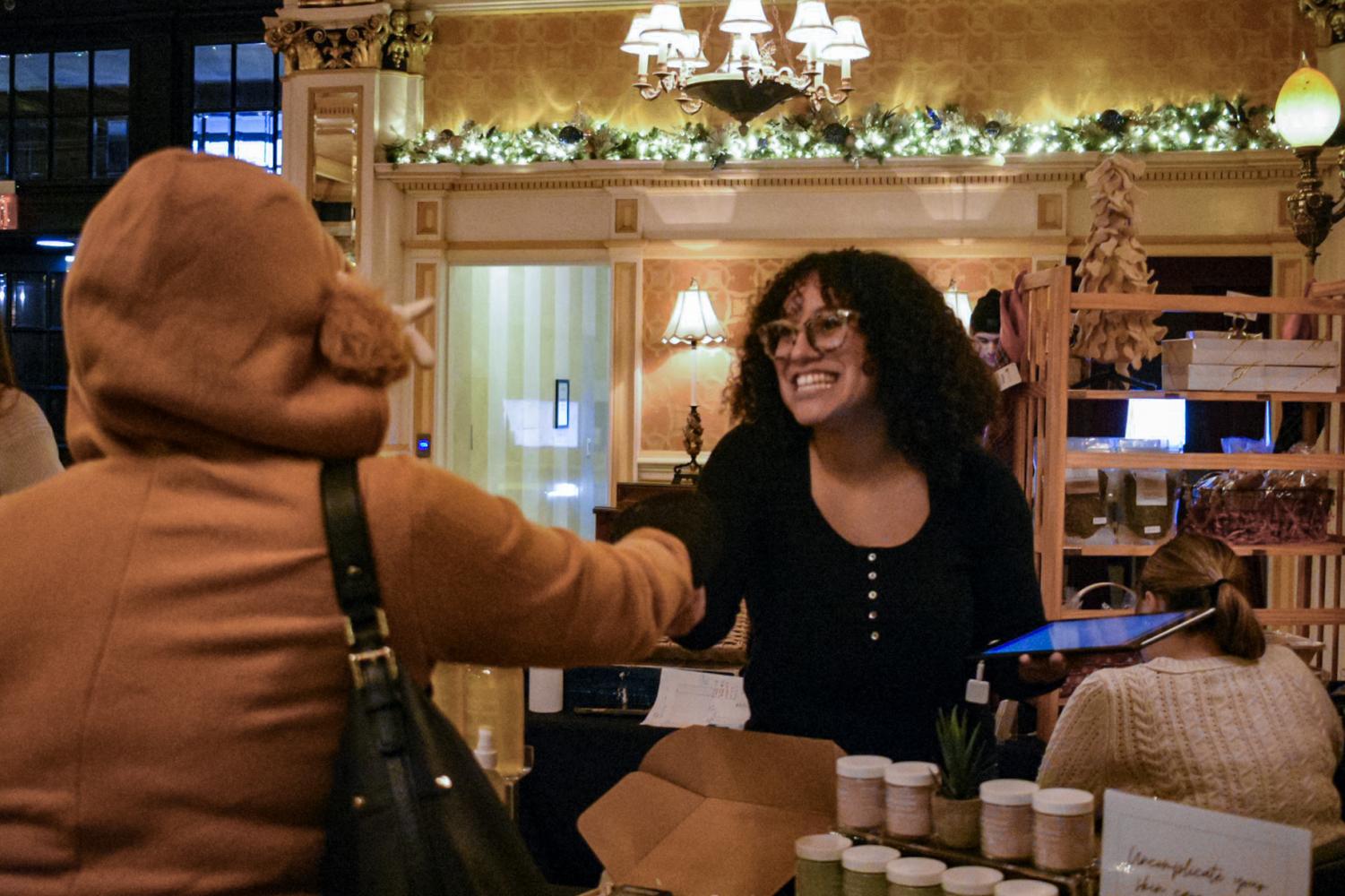 Brown greets a customer at the Lenox Hotel Holiday Mercantile Dec. 3. This was Brown and Coconut's first market of the 2022 holiday season.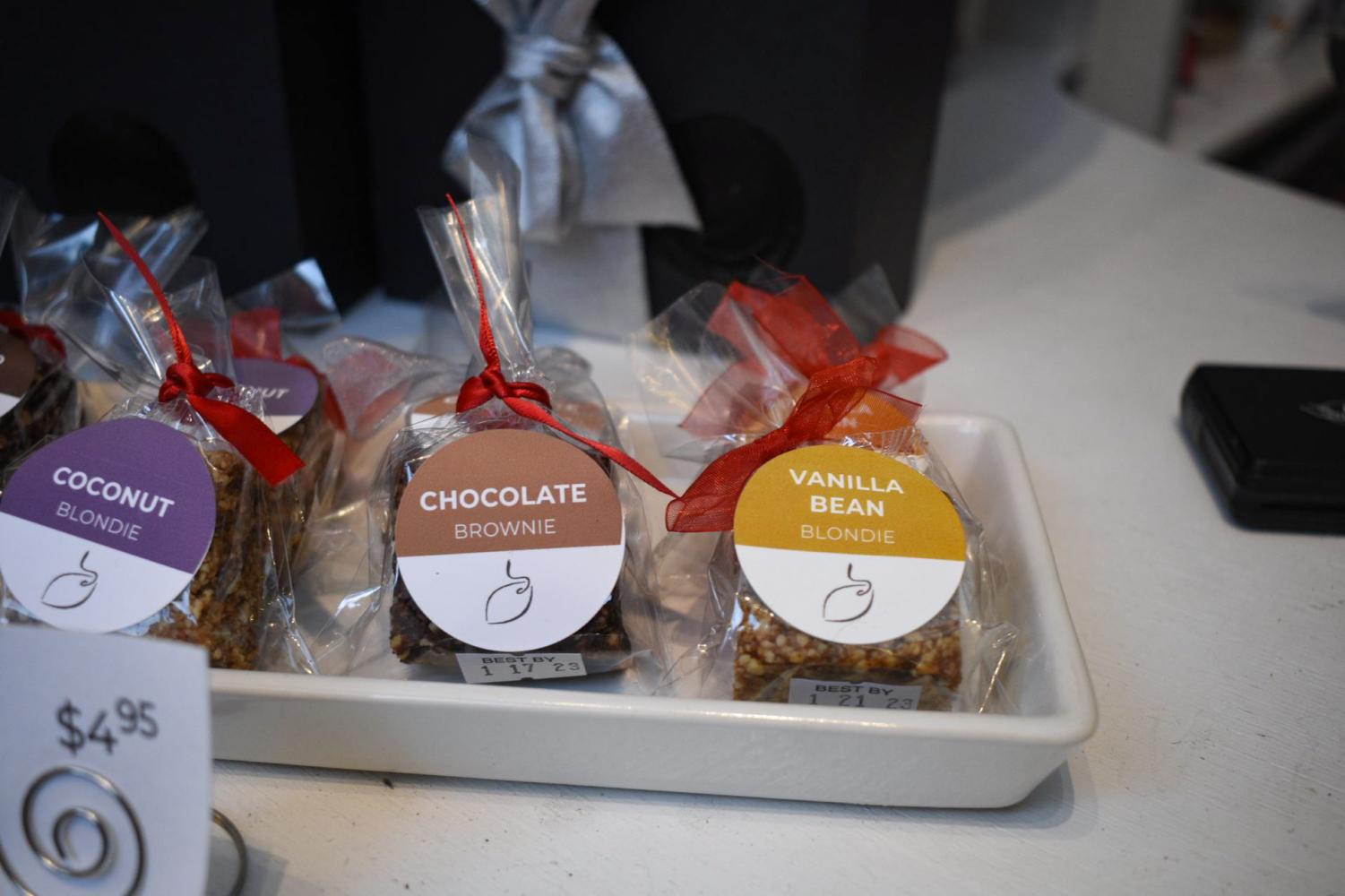 Part of Nussli118's mission is to be environmentally-sustainable and friendly to animals. Hofmann is not entirely vegan herself, but she encourages people to eat as clean as they can. The price point on her products is higher because of the quality of the ingredients used and the effort to support sustainability. "We want to support people who are doing the right thing," Hofmann said.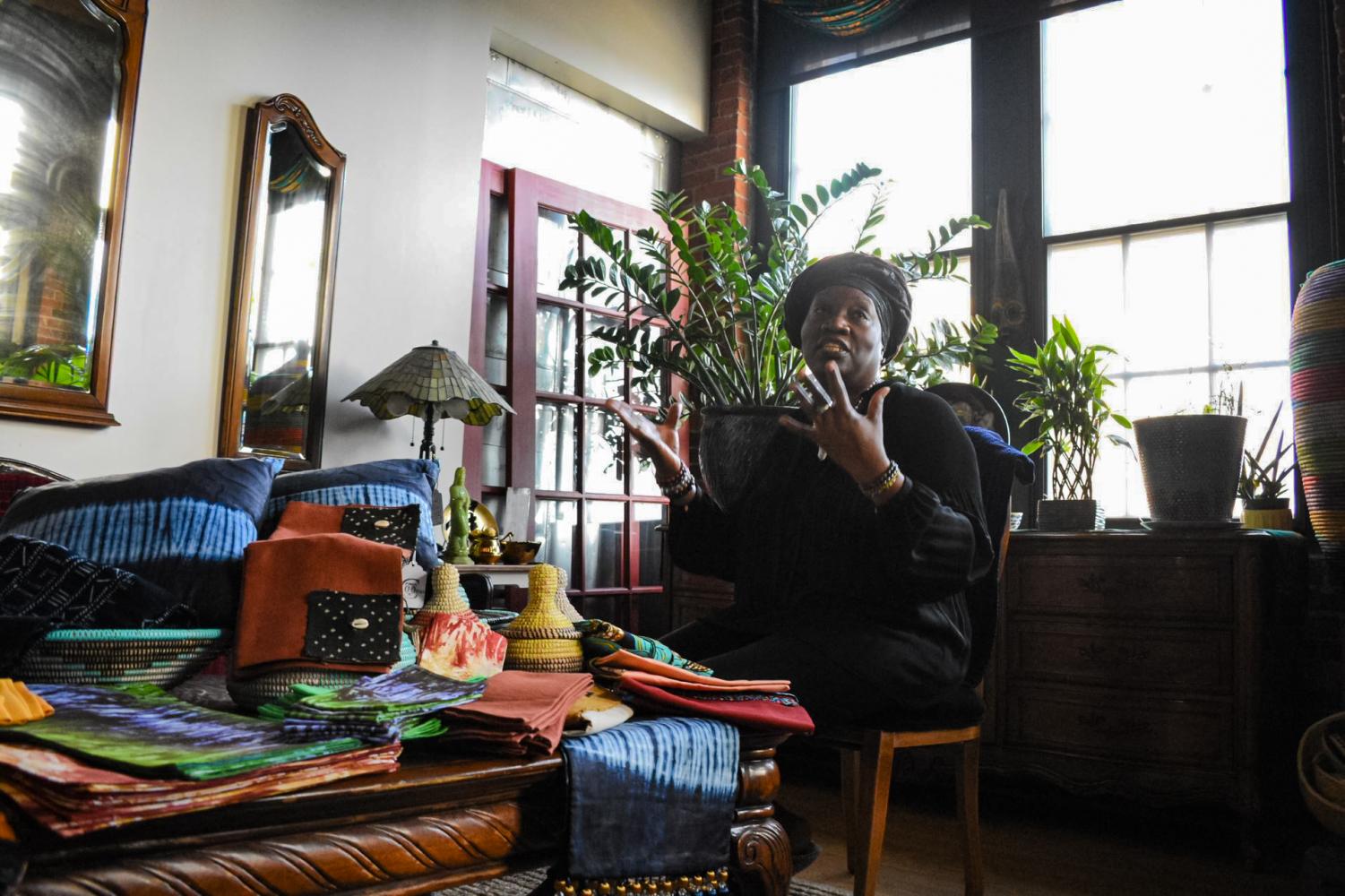 McFarlane says her studio is her sanctuary, and she hopes those who visit feel at peace. This holiday season, she is planning to allow customers to come directly to the studio, shop and feel the love in her space instead of participating in pop-up events. "I put that love inside of the products that I make," McFarlane said. "I like that the environment has a lot to do with my creativity. I like to create in a very loving and calm and energetic environment because all that energy is going from my hands right into the product."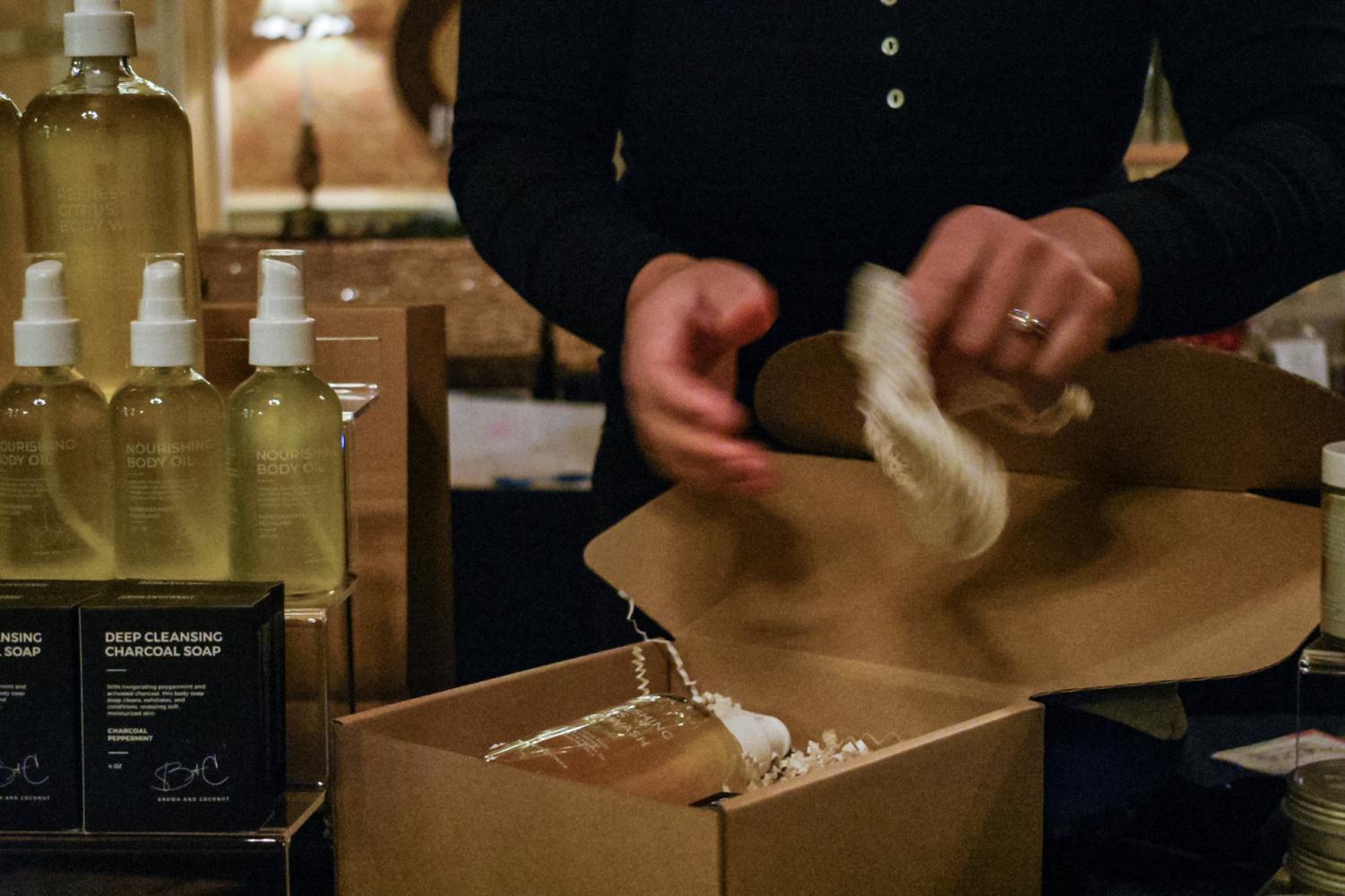 Brown packages a gift box of Brown and Coconut products in recyclable paper for a customer at the Lenox Hotel Holiday Mercantile Dec. 3. "We're just launching our new line of gift boxes that we created, so we're excited about really amplifying those this year," Brown said.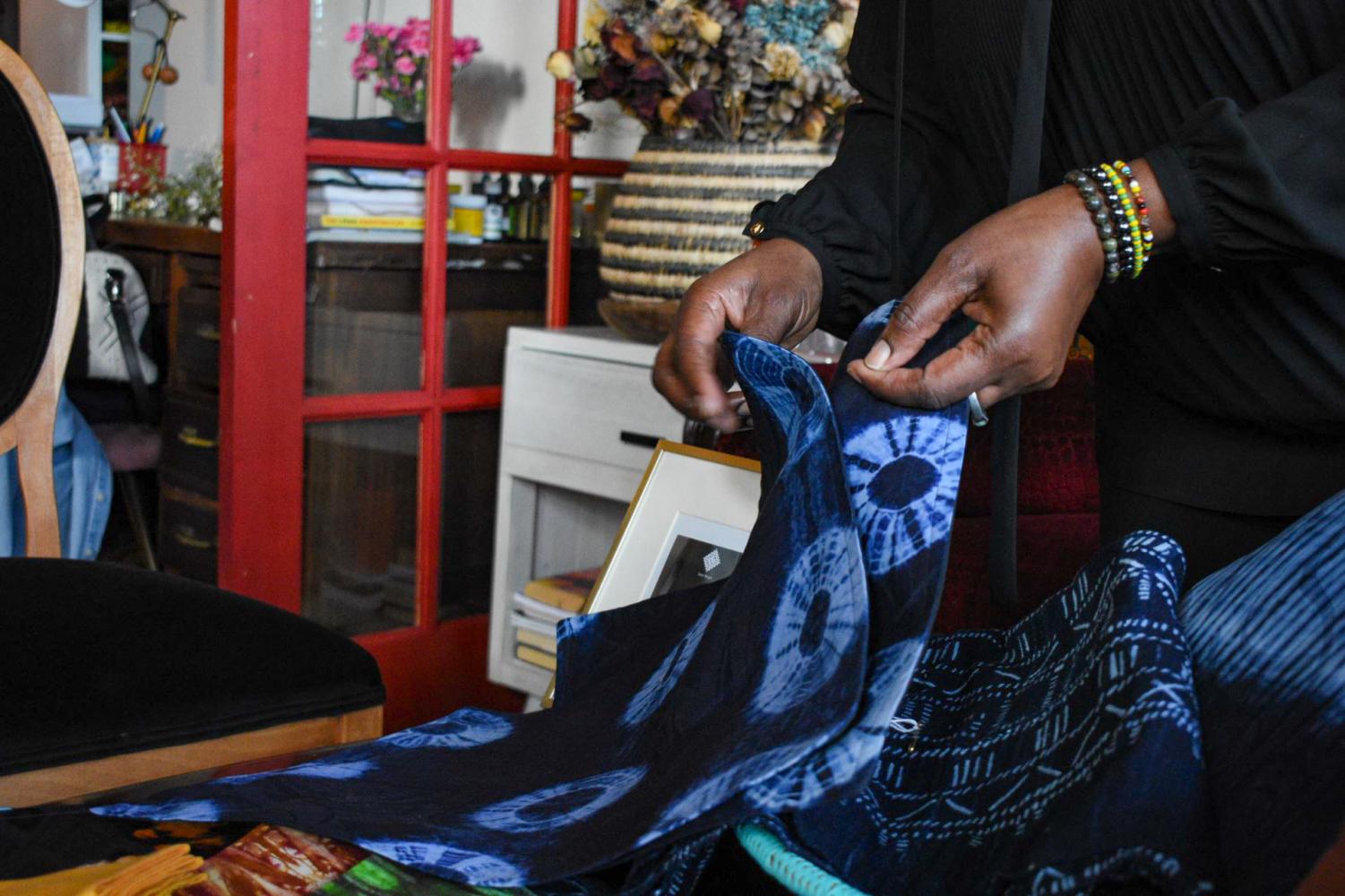 McFarlane discusses the intricate process behind the creation of Tafari Wraps placemats and other home decor at her studio in Boston's Seaport Dec. 5. McFarlane lives and works in her studio, where she handmakes all Tafari Wraps products, but she and her daughter, Delmeshia, are looking to outsource some of the manufacturing. Her daughter is trying to get McFarlane away from the sewing machine, "not for good, but from doing 99% to 100% of the work, which is what I do," McFarlane said.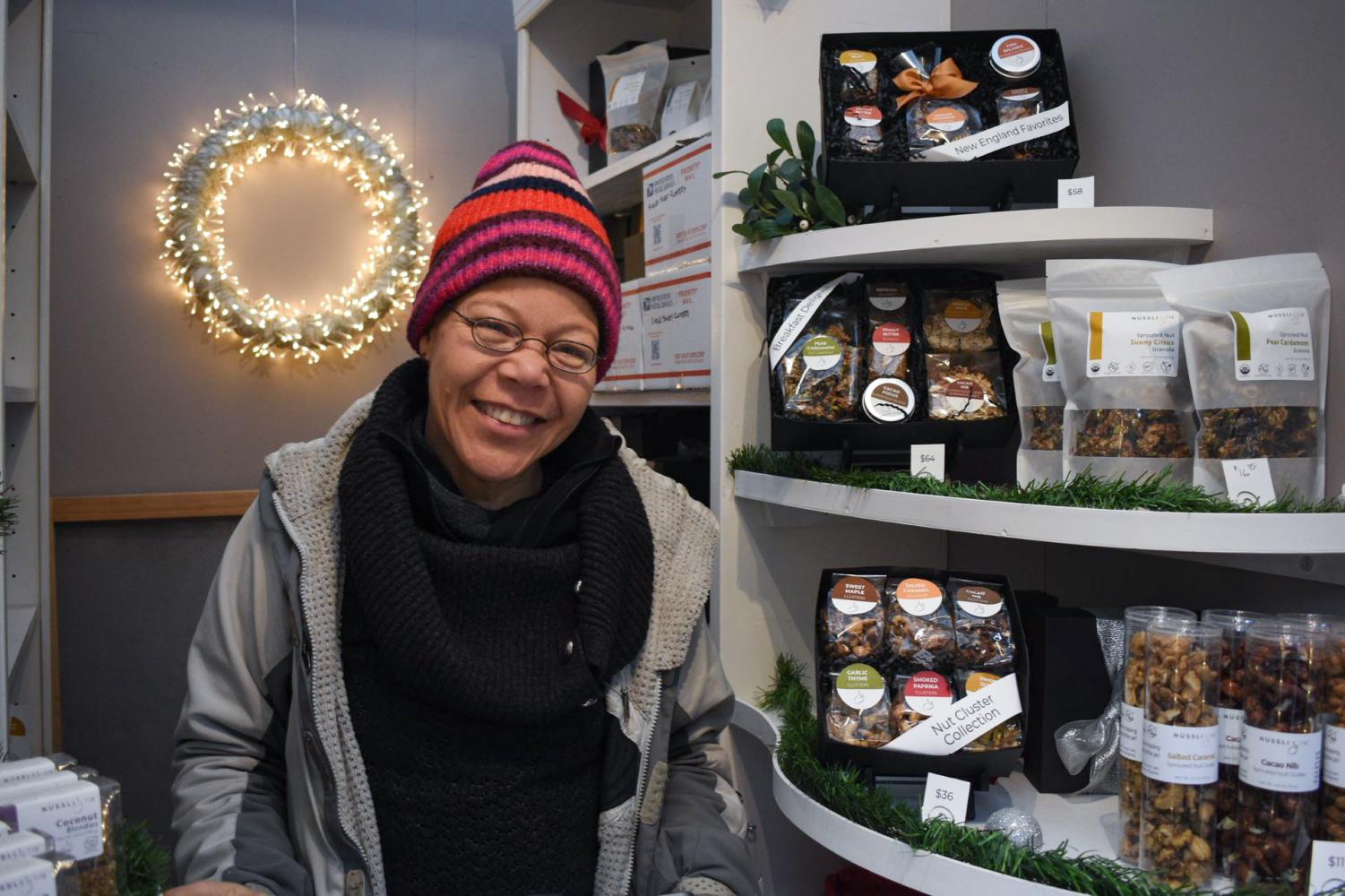 Hofmann spoke about expanding Nussli118 to wholesale retailers at the Snowport Holiday Market Dec. 5. Currently, there are five people on the Nussli118 team, but she is the only full-time employee. Hofmann works in the kitchen to make all her products, but she hopes to grow the company and streamline packaging and prep work.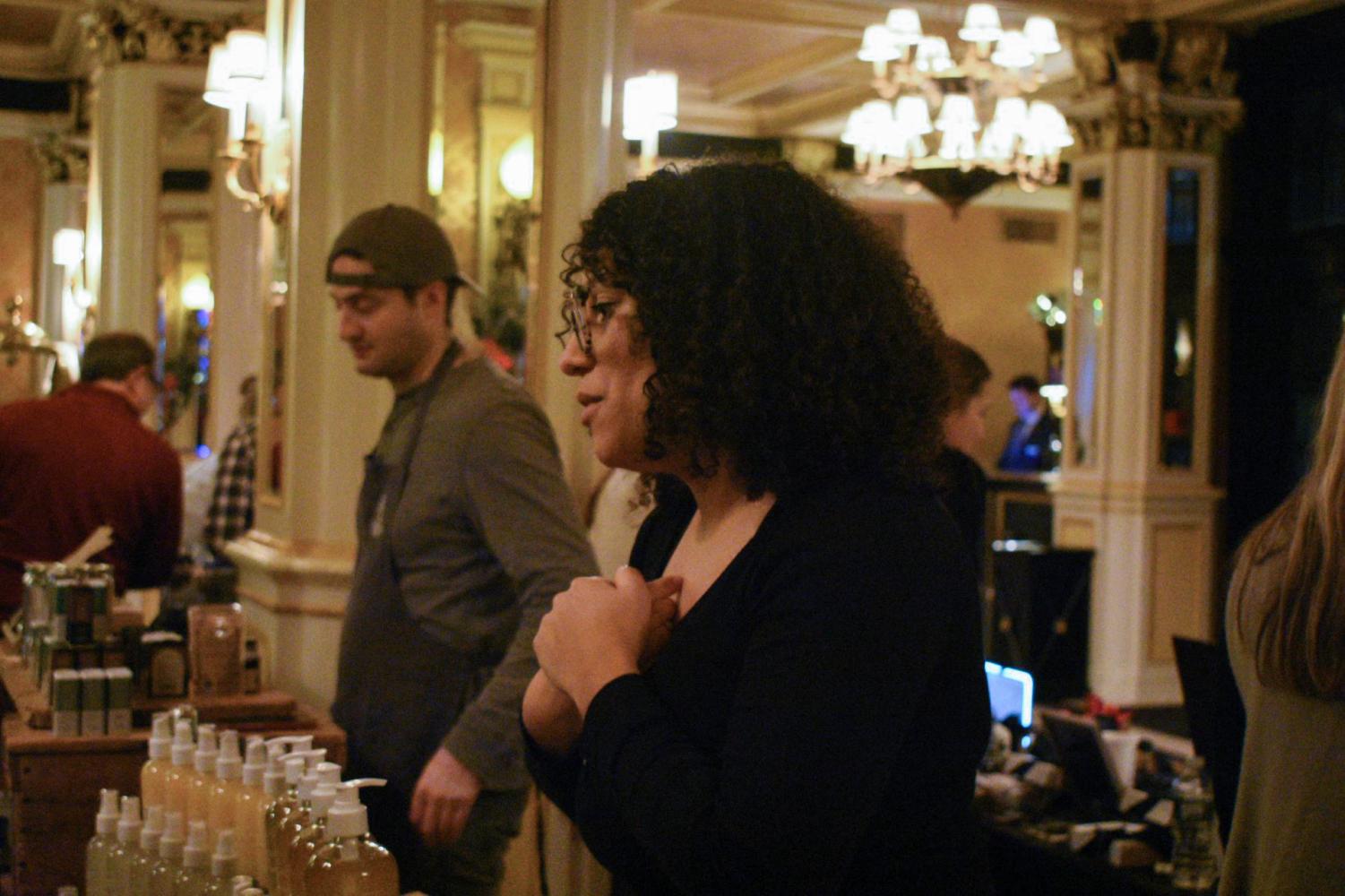 Brown speaks with attendees at the Lenox Hotel Holiday Mercantile Dec. 3 about her minimalistic skin care line, which she and her sister created to address their struggles with sensitive skin. Brown is proud to be an example for the next generation of entrepreneurial women of color. "It's showing that it is possible for us, as moms with younger kids, that, 'Hey, it's possible for you to own your own company, and to grow your own business from the ground up,'" Brown said. "I would say that's probably one of the biggest things that my sister and I talk about all the time is having something that hopefully we can eventually pass on to our kids and expand that way."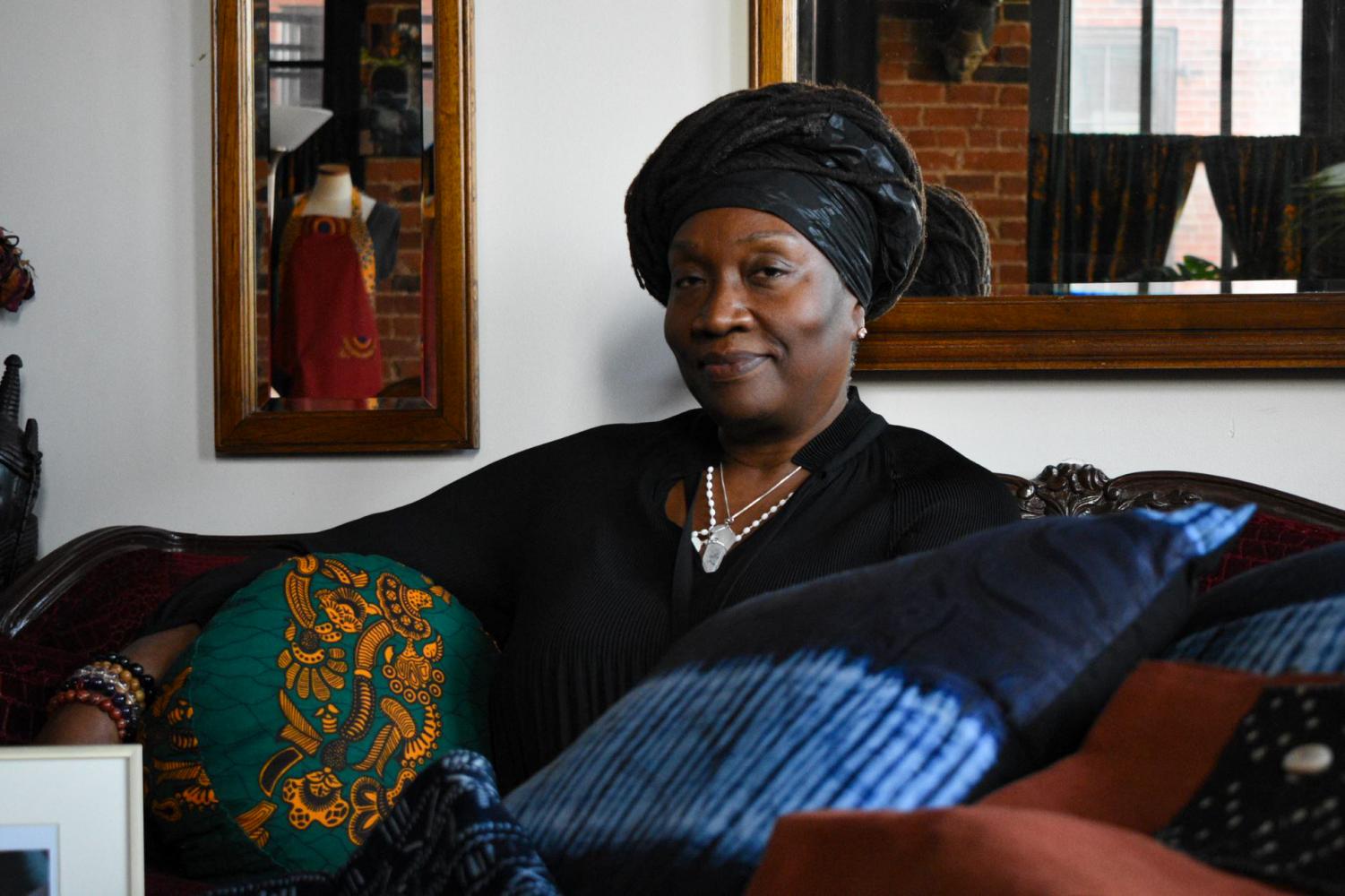 McFarlane looks to the future of Tafari Wraps, hoping to expand to all kinds of products in her continued work and to keep providing a custom experience for her audience. Her customers have told her they leave feeling their money is "well-spent" when they see the time and effort she puts into the designs. "It's a luxury," McFarlane said.