Mayor Wu's annual Enchanted Trolley Tour brings holiday cheer to Boston neighborhoods
Mayor Michelle Wu, accompanied by a team of classic holiday characters, lit Christmas trees at 16 stops in two days, highlighting community organizers and green energy initiatives along the way. 
As part of a 26-year long Boston tradition, the mayor traveled in a trolley car to bring holiday festivities to residents throughout Boston Dec. 3 and 4. As holiday music filled the streets, volunteers handed out holiday treats and organized booths for kids to write letters to Santa. 
"There's a lot about this tradition that has been great for the past 20 plus years and our job is to keep that going," Wu told The News. "We're trying different things like adding a bit more fun, adding an extra stop and bringing in more guests to come on the trolley with us."
Wu's two-day tour covered almost the entire city, from Jamaica Plain to South Boston.
"It's always great having elected officials come out of the city and into the neighborhoods," said Kristina Pruitt, a volunteer with Breath of Life Dorchester Teens. 
The crowd patiently lined the blocks at each stop, waiting to see holiday favorites like Rudolph, Mrs. Claus and Santa himself.
"What I really appreciate about Mayor Wu is that she's on time," said volunteer Marilyn Forman, who passed out holiday treats at the Dorchester stop. 
When the trolleys arrived at Sunday's first stop in Dorchester, Mix 104.1's Fast Freddy began the day's festivities from the stage. Having emceed the event since 2014, Fast Freddy, also known as Freddy Murphy, said he appreciates the citywide effort that goes into the tour.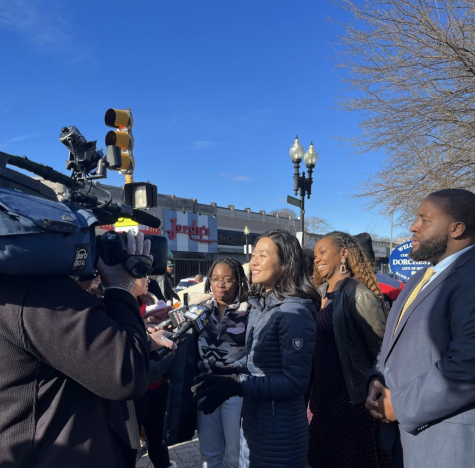 "It's nice to see so many familiar faces," he said. "It takes a lot more than the trolleys to get this done. There's a lot of groundwork contributed from each and every neighborhood and the turnout depends on how much work they do."
Wu sought to ensure that all citizens see themselves represented during Boston's holiday season, said her staff, by traveling with a larger and more diverse group of Bostonians.
"This year Mayor Wu added more diversity and more invitations to all walks of life to truly make it a parade for all people," said Quincey Roberts, the executive director for the Mayor's Office of LGBTQ+ Advancement. "Specifically in Boston as a community, if you look around and see the diversity in everyone hugging and smiling. It's a beautiful thing."
In her speech to crowds before each stop, Wu thanked the organizations that made her trolley tour possible, including volunteers from parade sponsor Bank of America and from neighborhood organizations like BOLD Teens. She then passed the mic to fellow elected officials, each with their own messages of community and holiday spirit for Boston residents.
"I'm so grateful to be able to serve and represent," said Massachusetts State Representative Brandy Fluker Oakley of Suffolk's 12th District to the crowd at Codman Square. "This holiday season, I want us to be kind to each other and love one another. Every single person is facing a storm that you do not see and do not know about so make the world a little brighter."
"We know that for a lot of folks it's not always the most joyous time so make sure that we check on each other and our neighbors, to make sure that we have everything we need," said City Councilor At-Large Ruthzee Louijeune in her speech. 
Once Santa and Mrs. Claus arrived and waved to the line of families waiting to say hello, the mayor and her team lit up Codman Square's community tree to the sounds of confetti cannons and excited cheers. Kids lined up to take pictures with Santa, and Mayor Wu greeted many of her constituents wanting to meet her. 
"I think she's really approachable. I think she's down to earth," Murphy said. "As a city councilor, she really learned the city which helps her a lot with her day to day duties."
Given Wu's push to transform Boston into a Green New Deal city and the city's recent hosting of the Earthshot Prize, it seemed only fitting that elected officials highlighted green energy initiatives during the tour. 
"We want to be there to help everyone stay secure, stay warm and save money," Wu said in her speech. "We want to make sure you all can help us spread the word, especially for seniors who shouldn't have to worry about choosing between keeping their homes warm and putting food on the table."
As energy prices continue to increase across the country, Wu said she hopes people understand that switching to cleaner energy sources can bring costs down and lead to a more sustainable future. 
"A lot of the time people aren't necessarily making the connection between green as healthy for the environment but also green as cheaper," Wu said in her speech. "We want to make sure people help everyone stay safe but also save some dollars that are badly needed right now."
At each trolley stop, city officials set up booths for Boston's Environment Department, the city department managing the clean electricity program. Flyers advertised various government programs intended to help residents save money by increasing energy efficiency and switching to renewable energy sources. 
"We came out to make sure that residents know that we exist and we're a city program," said Theresa Teixeira, program manager of Boston Community Choice Electricity, at the Environment Department's booth. "We want to make sure that we can talk about Boston Community Choice Electricity and its savings in comparison to third party suppliers."
Outside of the Enchanted Trolley Tour's environmental goals, it succeeded in staying on course and attracting sizable crowds to ring in the holiday season. 
"Last night in Oak Square in Brighton, there were literally thousands of people after this rainy Saturday," said Murphy. "The rain had stopped and it was like a true Christmas miracle."
By the end of the tour, 16 trees were lit and thousands of residents were able to ring in Boston's unique holiday season.