McDonough's "Merrimack killer" strikes again as the Huskies take the weekend sweep
After dominating No. 11 Merrimack College (15-9-1, 10-5 HE) on the road Friday in a 5-1 matchup, the Northeastern men's hockey team (12-9-3, 10-4-2 HE) secured all six points for the weekend series sweep. In their first home game of 2023, the Huskies defeated the Warriors 1-0 in a tight battle Saturday that landed them first place in the conference.
Following a crucial win to start the second half of their season against the University of Connecticut in Frozen Fenway, the Huskies' itch for success has only expanded as they sit at a four game winning streak — their longest thus far this season.
Coming off an impressive performance the night before, the Huskies expected Saturday's scoreboard on home ice to mirror that of Friday's, but that wasn't the case.
"I'm not sure if coming back home tonight, maybe we thought we were going to have a little more time and space," said head coach Jerry Keefe. "We've got to make sure that we don't change our mindset because we're playing at home."
While the outcome could be related to the Huskies' comfort playing in Matthews, it is certainly a testament to how Merrimack responded on night two of the series.
Merrimack controlled possession for a majority of the game and outshot Northeastern 37-24, but the Huskies locked down the win thanks to captain and senior forward Aidan McDonough's sole goal with 1:32 remaining in regulation. 
In a strikingly familiar play last season, McDonough scored the standalone goal versus Merrimack with 0.9 seconds left in the third frame, leading the Huskies to win the regular season Hockey East championship.
Although Northeastern came away with their first home win in over eight weeks on Saturday, their performance didn't meet Keefe's expectations.
"Wasn't our prettiest game, wasn't our best game … I felt we held the middle down pretty well, but I didn't think we killed plays quick enough tonight," said Keefe. "We've been talking about, to win against good teams, you've got to play 60 minutes. It's not easy in this league to get a sweep and I'm happy for the guys."
The Huskies proved resilient by finding a way to come out on top, regardless of the opponent and circumstances — a recurring theme this season. 
Momentum stayed in Merrimack's corner throughout the first period. With the shot count 4-10 in favor of the Warriors halfway through the frame, the away team was determined to get on the board first. 
When sophomore forward Matt Copponi rushed towards Northeastern's net and almost collided with junior goaltender Devon Levi, the Warriors almost stuffed the puck past him, but the 2022 Mike Richter award-winner was able to protect his net. In Levi's defense, McDonough threw his body at Copponi in retaliation and took a roughing penalty at 12:21, putting NU on the disadvantage.
However, Merrimack's 14.7% power play wasn't a threat to Northeastern's 84.9% penalty kill, sitting at 10th in the nation. While the Warriors maintained possession for the majority of the two minutes, the Huskies positioned themselves well defensively and limited Merrimack's scoring chances.
"In practice this week, we had a little bit more fun on the [penalty] kill," said Levi. "We called ourselves the clean-up crew, and we just come and clean up. Going into this game … we kind of embraced it a little."
Four minutes later, Northeastern would get its first power play of the night after Merrimack freshman defenseman Trevor Griebel cross-checked sophomore forward Jack Hughes and was sent to the penalty box just under 17 minutes into the first.
The Huskies' power play has been clicking as of late, with three power play goals in their last two games. Nonetheless, the power play unit was unsuccessful at setting up in the offensive zone and unable to send any pucks towards the net.
The first 20 minutes went scoreless with Merrimack leading shots on goal 9-13, which carried over into the second period due to the Warriors' hungry offense and smart goaltending on both ends of the ice by Levi and junior Zachary Borgiel. 
By the halfway point of regulation time, Northeastern had crept up the shot count, just two below Merrimack at 14-16.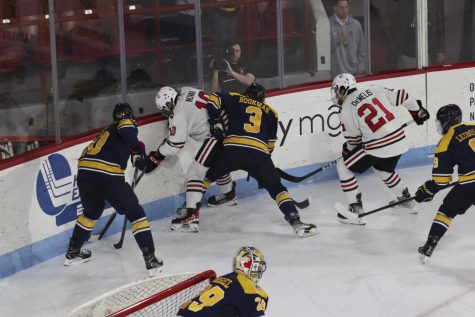 NU's best chance of the second frame came with roughly six minutes remaining when sophomore forward Matt Choupani snagged a loose puck by Borgiel's crease off the giveaway, but McDonough was unable to finish on the setup. 
Not even two minutes later came Merrimack's closest scoring attempt for the period where wide-open freshman forward Nikita Borodayenko attempted to lift the puck over a fully stretched and stickless Levi, but he shut down the opportunity with his blocker. 
Still scoreless after 40 minutes, the matchup result would come down to the last 20. Shots on goal in the second period finished 8-11 in favor of Merrimack with no special teams action and a great deal of skillful goaltending.
Early in the third frame, Merrimack junior forward Alex Jefferies took a tripping penalty, giving Northeastern another opportunity to capitalize on the one-man advantage and tally first on the scoreboard. Yet again, the Huskies didn't maintain offensive pressure long enough to generate any quality chances.
Each team would go on the power play once more for tripping calls on Merrimack's graduate forward Tristan Crozier at 12:44 and freshman defenseman Hunter McDonald at 15:33. The power plays were the teams' strongest for the night with multiple chances for each two minute segment, but Levi and Borgiel served as the difference-makers.
Regulation time was thinning as the clock wound down to the final two minutes. 
Not even a full minute after Northeastern got off the penalty kill, graduate forward Liam Walsh, a former Warrior, rushed the puck past the blue line and tried to set up freshman forward Cam Lund in front, but was bodied by a Merrimack defenseman. In a second effort, Walsh spotted McDonough nearing the left faceoff dot and slid a pass from the low slot to the captain who ripped a one-timer wide of Borgiel glove-side, giving Northeastern the late one-goal lead.
"Sometimes your best players, they've got to make a play," said Keefe. "It was a great play by Walsh, but [McDonough] just hammered the puck like he can. We needed him to do that tonight."
McDonough acknowledged the parallels between his 1-0 Merrimack game-winners in back-to-back seasons. 
"Same thing. Puck on a wall, great pass from a teammate — this time it was Liam Walsh," McDonough said. "Kind of the same exact shot, just try to get it off as quick as I can."
McDonough's 17th goal of the season granted Northeastern its fourth straight win and the top seed in Hockey East, along with Levi's perfect 37 saves on 37 shots for his fourth shutout of the season and Stop It Goaltending's Goaltender of the Week for the second straight week.
After a difficult first half of the season for the Huskies, the team has been playing into its identity since the new year and wants to continue proving it can achieve last season's accolades and beyond.
"We weren't hiding from anything from the first half," said McDonough. "We all knew we had to be better and we all knew it's not up to our standards. Since Christmas break, we started building and building. We know we have the type of team that when we start to get going, we can start to play the right way and figure things out, that it's going to go in our favor."
Northeastern will continue its homestand on Tuesday versus cross-town rival Boston College for the two teams' fourth matchup this season, seeking to extend their winning streak to five and stay on top in Hockey East. Puck drop is set for 7 p.m. at Matthews Arena.