Tyler enters the 'Spottlight' with 100 games played
The Northeastern's men's hockey team picks its players well, and it has found a great one in Tyler Spott. A senior forward, Spott celebrated the 100th game of his career Jan. 20, all the while prepping for the upcoming Beanpot. Spott, who is beloved by his teammates and coaches alike, has been very open about how much the sport means to him. From stepping on the ice at no more than 3 years old to competing on influential teams as a teenager, Spott is no stranger to the demands of hockey. 
Spott grew up in Toronto, where he played on multiple teams. His most recent team before Northeastern was the Green Bay Gamblers, a junior team in the United States Hockey League, or the USHL, which was an impressive feat as an 18-year-old. Playing for the Gamblers taught him to lose the fear of playing against older opponents. 
"I moved to Green Bay when I was 18, and playing against 21-year-olds was a lot, but it helped me. Making that transition was a lot easier," Spott said. 
As a wide-eyed high schooler, playing against people older than him was difficult, but helped make his transition to Northeastern's team easier. Hockey was a sport that felt "automatic" to Spott, who never looked back before committing to play in college.
"[Playing at Northeastern] means everything," Spott said. "This is a really special place. Being here for the last four years has meant the world to me."
His love for his team is very much reciprocated, especially in the eyes of assistant coach Jason Guerriero. To both his eager team and the roaring crowds he plays for, Spott is seen as a stoic and trustworthy defenseman — "a real powerhouse on the playing field" — Guerriero said.
"He's a guy that you want as a front and center for your program," Guerriero said. "You know what you're getting out of Spott every single day. He comes to work — you can trust him. He's consistent, both on and off the ice." 
Guerriero has known Spott for over six years now, and has truly enjoyed watching his development as a player. 
As a senior, he's been on the Northeastern ice for a while, where he has garnered the love of his newest teammates as swiftly as becoming someone that they look up to. 
"He's been a great leader and role model for the younger guys that come in," Guerriero said. 
Freshman defender Vinny Borgesi, Spott's blue line pairing, sees him as a leader as well as a friend. 
"He's nothing but the best to me all the time," Borgesi said. "When I first came in, he was kind of this quiet dude, but now obviously, we're so far in the season now, he just opened up a bit." 
As defensive partners, Borgesi would follow Spott anywhere. 
"He knows the ropes, he's obviously helped me a lot. I'm lucky to have that," Borgesi said.
Borgesi is quite keen on modeling himself after Spott once he becomes a senior. Though being a freshman on the hockey team is daunting, people like Spott play a huge role in making the newcomers feel welcome. 
"There's been a couple of times where Spott has pulled me aside and gave me a little advice here and there, just like he's been in my position before, so, you know, I'm going to do the same thing when I'm a senior. I think he does a really good job of helping young guys out, and just being a great guy," Borgesi said. 
Spott said he didn't realize he had hit 100 games until someone told him. In his freshman year alone, he had played in 33 games, including the Beanpot, where he helped his team to a 5-4 overtime win against Boston University. As someone from outside of Boston, Spott had no idea how important the Beanpot was to the locals, or his teammates. The Beanpot, an annual hockey tournament that is quite popular in Boston, is something that is very dear to Northeastern students. 
The tournament was an eye-opener for him — just seeing how much it meant to the kids from Boston made it mean a lot more to him.
"Being able to win it my freshman year was honestly one of the coolest things I've ever been a part of," Spott said, "You have those rivalries with those other schools, and being able to compete in that tournament and play against them is a ton of fun."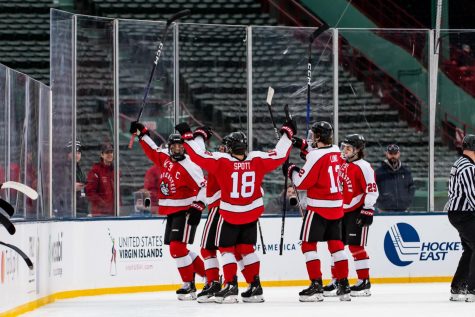 Spott plays his heart out in every game, where he leaves all his distractions off the ice. In terms of handling the immense amount of pressure that comes with having a dad and cousin in the NHL, Spott tries to take it day by day, where he looks to his family for advice and coaching. His dad, Steve Spott, currently works as an assistant coach to the Dallas Stars, while his cousin played for the Florida Panthers and Detroit Red Wings. 
"He grew up in a pro locker room, you can tell by the way he carries himself and the way he talks," Guerriero said. 
While admitting that it might be a cliche, Spott lives by the rule of truly going out on the ice and having fun, even if you're not feeling your best. He enjoys the sport not only for the gameplay, but for the feeling of competing against the very best in the most notable ice rinks of the NHL. 
"The coaches and my teammates have made me into the player I am today," Spott said. "Being able to compete with the best players in the country every day is a lot of fun, and then playing against the best players in the country on weekends is even more fun." 
To Tyler Spott, continuing to play hockey seems like a given. After Northeastern, he is open to whatever opportunities come his way, whether it be playing in the NHL, or potentially being an NHL referee. Wherever he decides to go, his coaches and teammates at Northeastern would undoubtedly have his back. 
"He's the guy that around campus, you know — if you meet Tyler Spott, that's a hockey player, but, what a great, great person too," Guerriero said.