Senior goalie Gwyneth Philips steps into big shoes to defend her team's title
With 12 departures at the conclusion of the 2021-22 season — including multiple high-profile players — the future of the Northeastern women's hockey team was uncertain. But when senior goaltender Gwyneth Philips stepped into the net, the path to success became clear once again.
Philips started playing hockey around the age of 6, the self-proclaimed "puppet" of an older brother who would urge her to practice with him day after day. 
"I have an older brother. He's like six years older than me, so I'd skate with him and he'd put me in the roller hockey gear and shoot at me, so that's kinda how I started to become a goalie," Philips said. 
The Athens, Ohio native couldn't always be found between the pipes, however; she didn't start as a full-time goalie until she was about 12. 
"I can think like a player," Philips said, citing her ability to quickly and easily predict the movements of oncoming opponents. "I can see the ice from the players' perspective pretty well."
Even after beginning that goaltending career, Philips could still be found playing on the wing from time to time on her high school team. On top of that, she was involved in many other sports throughout her youth — volleyball, lacrosse and track, to name a few. 
But it was hockey that stuck. 
Philips was double-rostered from a young age, playing on multiple teams to develop her skill. After moving to Pittsburgh, Pennsylvania, the goaltender played simultaneously at her high school and with the city's youth team until her arrival at Northeastern.
"I didn't give it a thought to not play college once I realized it was an option," Philips said. 
Once she got to Northeastern, she learned the path to the net would not be as easy as it had been throughout her youth. For the first three years of her collegiate career, Philips sat in the shadow of Huskies' five-year starting goaltender Aerin Frankel, but did not let that deter her.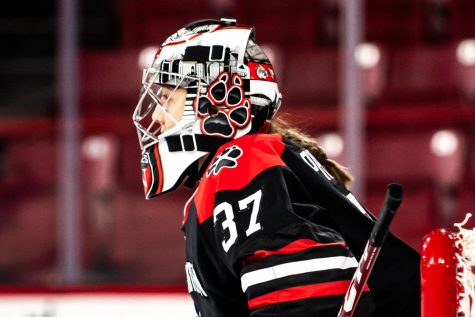 "I went from being the starting goalie all throughout my youth career to not playing very much, so I had to learn how to grow from that," Philips said. "I took that time to understand myself as a player, under what conditions do I thrive in, under what conditions do I struggle in, so I was able to translate that from hockey-specific to real world [knowledge]."
Although she was second-in-command to Frankel, Philips gave a strong showing every time she hit the ice. In the 14 games she started prior to the 2022-23 season, she boasted a 13-1 record, including six shutouts, three of which came in her first three starts. 
Then, when USA Hockey hosted a goaltending camp in 2021 for some of the country's top female goaltenders, Philips was one of only 12 on the roster, proving she was a force to be reckoned with, even with limited ice time.
Although her impressive stats could've easily given her a starting position on another top-tier collegiate team, Philips felt at home at Northeastern.
"They valued me as a person and a player even when I wasn't playing as much," Philips said. "And I think that was really important in my development not to lose confidence in myself."
That change has been noticed not just by the netminder herself, but by the teammates and coaches she's chosen to surround herself with throughout her time at Northeastern. 
"I'd say the biggest change I've seen in her is just the confidence in the way that she carries herself — that's on and off the ice — and I think it takes a special person to come into the situation she did … but it didn't change anything for her," said assistant coach Lindsay Berman. "She still worked as hard, she still fought for every single puck in practice."
Now sitting firmly on the starting lineup game in and game out, Philips has done what she came to Matthews Arena to do — goaltend.
"She just wants to play, and frankly, she just wants to win. She doesn't care about the personal accolades," Berman said. 
And the accolades are numerous. 
Philips was named Hockey East goaltender of the month for both October and November 2022 and sprinkled a few weekly awards on the season for good measure. Recently, Philips was one of 11 athletes given semifinalist status in the race for the 2023 Women's Hockey Goalie of the Year Award, the winner of which will be announced at the NCAA Frozen Four tournament in March.
On top of that, Philips leads the NCAA in save percentage (.960), goals against (.79), wins (25) and shutouts (nine), putting her on track to be the best in the nation this year. 
Philips credits much of this to her defenders, who she says "make [her] job easy."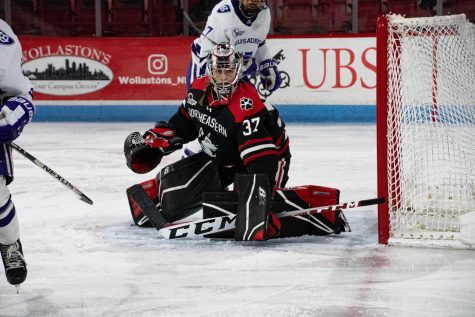 "Yeah I have really good stats, but it's more of a nod to how much my d[efense] and my forwards help me, because they just make my job as easy as it possibly can be," Philips said. "In return, I'm able to perform well."
With defenders diverting off the efforts of the opposing teams — and even swiping pucks away from the goal line themselves — Philips has taken half as many shots as her opponents have, but when an attacking forward slips through, the Huskies know that Philips will be there to easily tackle the one-on-one. 
Philips remains calm and collected each time she steps between the pipes, even when down a player. Northeastern currently holds the third best penalty kill in the NCAA at .921, and Philips is largely to thank for that. 
"She gives us so much strength and power and confidence just by being like, 'Okay, I got this, I know I got this,' which means we've got this …  so that, at least for a defenseman, that's huge," said junior defender Lily Yovetich.
Even in practice, Philips is always working to help the team. From her spot at the tail end of the rink, she has a better view than most and is quick to help make a change when needed.
"There's no holding back with her, so if we need to make an adjustment, or if [Philips] notices something that we need to know, she shares it right away, and I think our d-core really appreciates that about her," Berman said.
Philips has been known to have a great balance of competitiveness and humor during practices, but her positive presence doesn't stop there. Her uplifting, quick-witted demeanor gives her a unique role on and off the ice, and has for the past four years.
"She's just so unapologetically herself," Yovetich said. "She's just so funny and so witty, always cracking jokes."
Humor can go a long way on a team, especially one as competitive as the Huskies, who recently skated their way to a fourth consecutive Hockey East regular season title. Whether she's pulling up to Matthews Arena on her signature electric bike or cracking a quick joke at a team dinner, Philips knows how to put a smile on the faces of the people around her. 
"Her teammates absolutely love her because she's so much fun to be around," Berman said. "I think they just want to play so much harder for her because of how much they love her."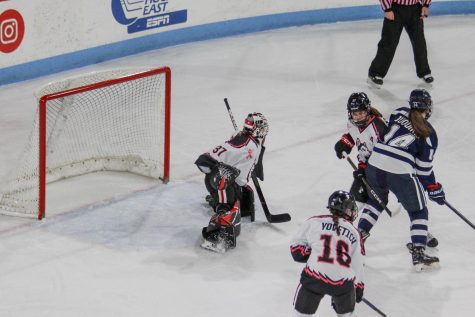 After a stellar first half of the season, that admiration befits Philips even more now, as the goaltender recently embarked on her second co-op. 
"It's hard, just because when you're in classes you have the break in between classes to get food and just decompress, but on co-op, you don't really have that," Philips said. "It's hard but it's definitely worth it. The actual real world experience is invaluable, so I definitely make the sacrifice."
The days are long for the industrial engineering major, who gets up at 6 a.m. to ensure she can get to work on time. From there, it's a full day on the job, followed by practice with the team. The jam-packed schedule, and the ever-fluctuating hours due to games and practices, may seem overwhelming at first glance, but Philips has never felt alone in her endeavors.
"I'm more than just a hockey player; I'm a student, I'm a kid. So the support I [get] from my teammates and coaches has always been really helpful," Philips said.
With one more year left in her NCAA eligibility, and one more left in her degree program, it looks as though Philips will be riding out the rest of her collegiate career with the Huskies, and the team is grateful she's stuck around all this time. 
"Gwyn is just super even-keel, and I think that is such a quality that you need in a goalie, because they're the backbone," Yovetich said. 
Bearing down on the last few weeks of the regular season — and with even more in store after that — Northeastern knows that it's lucky to have a team player like Philips in its net.
"She just came in and proved it on the ice," Berman said. "She didn't have to say anything, she just performed and continues to perform."