Lucy Dacus takes the 'Night Shift' at Northeastern
In the dimly lit Blackman Auditorium Jan. 29, singer-songwriter Lucy Dacus emerged, guitar in hand, to the delight of an audience best characterized by their affinity for Dr. Martens' boots. 
Dacus — who was booked by organizers from both the Northeastern Council of University Programs, or CUP, and Tastemakers, Northeastern's student-run music magazine — has garnered an impassioned fan base since her last appearance on campus in 2019. 
Katherine Miner, a third-year music major, is one such recent devotee, having learned of Dacus through boygenius — an indie rock supergroup made up of Dacus, Phoebe Bridgers and Julien Baker. Miner's admiration of Dacus is, as for many people, rooted in the storytelling found throughout her discography.
"She writes about a lot of things that are relatable to people, but she also makes it specific," Miner said. "Because her songwriting is so emotional, a lot of people have a big investment in her. Her music has helped them through stuff."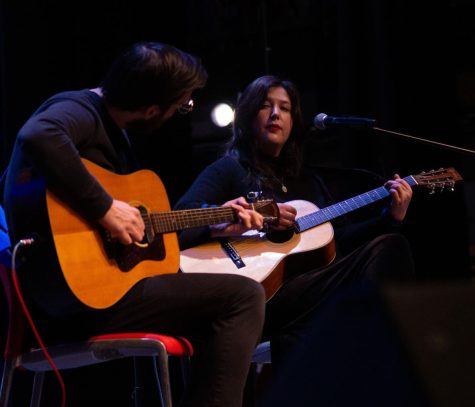 The audience's interactions with Dacus throughout the entirety of the event, but especially during her acoustic set, confirm Miner's assertion about the relationship between Dacus and her fans. Attendees sat in awe of Dacus' vocal chops and melancholic lyricism, joined her enthusiastically — per her request — to loudly belt the chorus of "Night Shift" and laughed at the jokes she cracked between songs.
During the Q&A portion of the event, spectators attentively listened as Dacus responded to a myriad of prompts. These questions, some of which were user-submitted via Instagram, sought to grill Dacus on everything from her songwriting process to her activity on Goodreads, where she has a significant following.
Of the night's events, though, one moment stood above the rest.
After performing "Thumbs," Dacus allowed the applause to subside. She coyly looked out at her enraptured crowd.
"The next one is really exciting," Dacus said. "I've never played this…"
In an instant, the crowd erupted into a frenzy as the opening chords of "True Blue," a boygenius single that was released Jan. 18, emanated from the speakers. Alejandro Hernandez, a first-year computer science and psychology combined major, was still recovering from the impromptu performance of the track after the show concluded.
"When she performed 'True Blue,' I was not expecting that," Hernandez said. "I wasn't expecting any boygenius songs, but her new one? Oh my god, I was shook. I'm sorry, that was crazy."
For many, though, the road to the evening's festivities was a long one.
Lila Poppel, a theater and psychology junior at Wesleyan University in Middletown, Connecticut, found herself in the middle of a queue — one that managed to reach the Curry Student Center adjacent to Blackman Auditorium — with the Northeastern friend who had invited her. Poppell, who drove around two hours and waited in unfamiliar territory just to see Dacus, did so in part because of Dacus' ability to speak to her identity as a queer woman.
"I connect with a lot of her lyrics and a lot of her messages," Poppel said. "Her music … it's like having a friend, almost, which sounds super cheesy, but I genuinely feel like I know her to some extent."
Gaby Rivera, a recent graduate of Brown University who attended the event as a friend's plus-one, arrived well before doors opened to secure an ideal spot in the front of the line.
"I've been here since 9 a.m.," Rivera said. "She rarely comes up to the Northeast. She does a lot of amazing shows in New York, but very rarely in Boston. So it's just a treat to see her in a more intimate setting."
Fortunately for everyone, Blackman Auditorium — which can hold 988 people — had just enough space to account for all who were interested. Rosie Scott, a third-year music industry major and CUP's small concerts chair, said the venue was "four people short of capacity" when doors closed at 7 p.m. 
Once that happened, she, too, was able to partake in and thoroughly enjoy the event.
"It was a very unique experience, especially when you're in somewhere like Blackman where it's more like a viewing than an interactive concert," Scott said. "Having an acoustic set definitely helped with that because she was able to really showcase her vocals and it was a lot more personal. I loved being able to watch her play and getting to know her more."