No. 20 Northeastern falls to UConn in OT, breaking five-game winning streak
In a back-and-forth 60-minute test between the Northeastern men's hockey team (13-10-3, 11-5-2 HE) and rival University of Connecticut (17-8-3, 11-6-2 HE), or UConn, Friday, Northeastern lost 3-4 with just seconds to go in overtime. After Northeastern came away with two big wins against UConn in January, the opposing Huskies visited Matthews Arena eager for a win and succeeded, closing out the teams' third and final matchup this year. 
Northeastern came into the game riding five straight wins, the longest hot streak it's had all season. Off the jump, the home team took control of the game — generating many quality scoring opportunities quickly and cleanly, and keeping possession in UConn's defensive zone.
Less than three minutes into the period, Northeastern was rewarded for its efforts when assistant captain and senior defenseman Jayden Struble sauced the puck from the left circle to set up a chance for sophomore forward Matt Choupani. Choupani's shot bounced off UConn sophomore goaltender Logan Terness' pads out front, handing graduate student forward Liam Walsh the perfect shot for the top right pocket finish. 
Walsh's third goal of the season gave Northeastern the early 1-0 lead. Tallying a point in his past six games, Walsh has played a big role in the Huskies' recent success. 
"[Walsh has] been scoring big goals," said Northeastern head coach Jerry Keefe. "He scores gritty goals for us that we need. [Walsh has] been huge for this team."
Northeastern's momentum didn't slow at Walsh's goal. Not even four minutes later, the second line of junior forwards Gunnarwolfe Fontaine and Sam Colangelo and senior forward Matt DeMelis capitalized on another strong shift in the offensive zone.
The rush was initiated by DeMelis on the left wall who drop-passed the puck for Fontaine. Once Terness anticipated the attempt from him, Fontaine found Colangelo in the right lane with a textbook cross-ice pass for Colangelo's wrister to double Northeastern's lead.
After a riveting offense-heavy start for Northeastern, the team would hold onto the two goal advance for the remainder of the opening frame. Both Husky teams killed off opposing power plays, but Northeastern headed into first intermission on the advantage after UConn junior forward Nick Capone was sent to the penalty box on a charging call with under two minutes left, spilling over into the second period. 
However, UConn, desperate to get back in the game, returned to 5-on-5 play with a newfound sense of determination and strength. Senior defenseman Jake Flynn threw the puck from inside the blue line past Levi's field of vision to get UConn on the board and cut Northeastern's lead to one.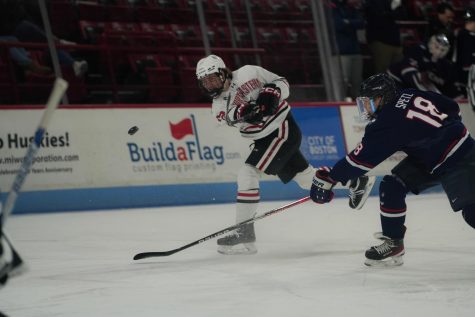 Flynn's goal set the pace for UConn's second period as it was determined to hold NU's goal count at two, killing off three consecutive power plays. 
"Our penalty kill was really strong tonight. I thought [Terness] made some big saves there," said UConn head coach Mike Cavanaugh. "I thought we were able to keep them to the outside and try to eliminate grade-A chances."
While Northeastern had some good looks on the one-man advantages, the team struggled to put enough shots on net and Terness ate up every good opportunity.
"I thought we did a lot of good things on the power play tonight, so sometimes they don't go in," Keefe said. "[Terness] was able to make some saves to keep that a one, two-goal game, so he played well. And [Levi] played really well too, so it was a good battle between both goalies."
Northeastern's 85.6% penalty kill was put to the test again when sophomore forward Justin Hryckowian and graduate student forward Jakov Novak took overlapping penalties, putting the Huskies on nearly a three-minute disadvantage. 
Northeastern's penalty kill unit was blocking shots when they could, but it wasn't enough to prevent UConn's offensive pressure from capitalizing on the advantage. A rebound opportunity presented itself when UConn freshman forward Matt Wood's one-timer from the left circle landed in front of junior forward Hudson Schandor by the crease. Levi lost placement of the puck and Schandor finished on the open right door to tie the game at two with 1:30 left in the frame.
Coming into the third period squared up at two, Northeastern was on its heels and UConn continued building off its momentum. A shot by Wood from between the circles went to the outside with Schandor backdoor to pick up the rebound and feed it back in front for graduate student Justin Pearson. Levi was ready for Pearson's attempt, but Wood squeezed through UConn traffic and tipped the puck over the red line to give UConn its first lead of the game 26 seconds after puck drop. 
The pace of Northeastern's third-period game was not reflective of its first 20 minutes, unable to break out with UConn taking away time and space. As a result, the home Huskies only put up three shots on goal within 14 minutes of the period.
However, in typical Husky fashion, Northeastern found a way to bounce back with one of its  specialty late-game goals.
With under four minutes left in the third frame, senior defenseman Jeremie Bucheler fired a shot from the high slot, tipping off freshman forward Cam Lund's stick. Terness lost track of the puck with the deflection landing in front of Hryckowian to finish on the wide open net and tie the game at three. 
"Our guys are resilient in those situations," Keefe said. "We've come back a lot this year and that's a sign of a really good hockey team. We know we're never out of a game. It was a huge goal by [Hryckowian] to ultimately get us a point in that game."
Neither team was able to secure the win in regulation, so the result would be determined by extra hockey in five minutes of overtime.
UConn dominated 3-on-3 play, causing Levi to jump around and out of his crease at every quality scoring chance. With UConn maintaining possession in Northeastern's zone, it seemed inevitable the puck would find its way to the back of the net.
With 16 seconds of overtime to spare, UConn's Flynn sped down the left wing and set up Schandor in front against an out-of-position Levi. Schandor backhanded the puck into the far left corner for the winning goal, securing two points for UConn and its first win of the three-game series.
"I was happy we were able to battle back to tie the game in the third, but obviously disappointed to not get more than one point out of this game," Keefe said. "We've been playing good hockey and we got to build on the things that we did well."
Following the unfortunate overtime loss, the Huskies have a quick turnaround as they will face No. 3 Boston University in the 70th annual Beanpot Monday. Puck drop is set for 8 p.m. at TD Garden.