Transfer student Jakov Novak continues to lead at Northeastern
Before graduate student forward Jakov Novak became a role model for the Huskies with captivating goals, checks and plays, he started with a single step on his outdoor ice.
Born and raised in Windsor, Canada, Novak picked up a stick and began playing hockey  as soon as he could walk, beginning at around 3 years old when his parents built him an outdoor rink. 
Although his parents never played hockey, Novak developed an early love for the sport. 
Novak played on various club teams around Ontario and then competed for a year at New Hampton Preparatory School. 
Following two seasons with the Janesville Jets in the North American Hockey League and then three years at Bentley University, Novak transferred to Northeastern University to finish his undergraduate schooling and is now working towards a master's degree in the management program. 
Head coach Jerry Keefe expressed the substantial role Novak would come to have on the team.
"We knew we were getting a really good player when he decided to transfer, and he was the type of player we needed," Keefe said. "[He brought us] a bigger body that could skate and score goals."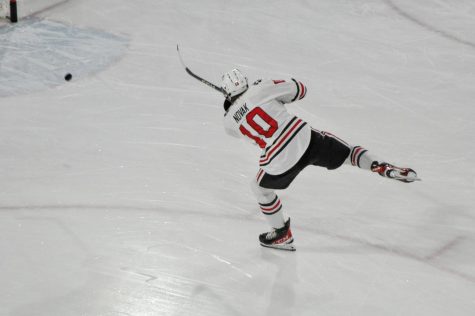 Novak recently reached a huge milestone in his college career, playing his 150th game Jan. 21 against Merrimack College. 
Liam Walsh, a graduate student transfer from Merrimack College, quickly connected with Novak, as he could provide Walsh with the knowledge of both the transferring process and understanding of Northeastern culture. This mentorship soon became a friendship. 
"[Walsh] and I have a really good relationship — some would say that we are best friends," Novak said. 
Novak and Walsh have a close relationship both on and off the ice. When competing at the University of Connecticut Jan. 14, a seemingly normal goal was an integral memory for the two Huskies.
"I ran into him behind the net, I almost took him out," Walsh said. "We were laughing about it, then [Jayden] Struble made a nice play and turned the puck over." 
Novak and Walsh got a two-on-one opportunity, and with Novak open backside, Walsh connected with him to finish the play with the Huskies' first goal of the night, rallying them back from a two-point deficit.
The graduate student forward doesn't just help with scoring, but also protecting the net. Northeastern is ranked eighth in the nation in penalty kills, and with Novak part of the crucial second unit, he contributes heavily to that standing. 
"As a forward, he is one of our top penalty killers … that can play physical, that can forecheck … We need him to be that 200-foot player for us, he's been really good that way." Keefe said.  
For Novak, the game starts when he arrives at the rink about two and a half hours early. While he does not ascribe winning games to a particular routine, he does often find himself playing sewer ball — one of hockey's most popular pre-game exercises. The objective of the game is to keep the ball in the air. Each player is allowed two touches with their feet, before sending it toward a teammate; if the ball hits the ground, the offending player is out and the game continues.
"I like playing soccer a lot before and maybe getting a hundred touches in a row. If I can do that, I know I'm focused going into the game," he said.
Off the ice, Novak is an outstanding leader in all facets of his life, including in academics. 
"With great time management, he's an example for all of the younger guys on what being a college hockey player is all about," said Keefe. 
Novak is also appreciated as a mentor on the team.. Last season, teammate Jack Hughes was the youngest player in college hockey; the antithesis was Novak, who is five years older.
"Novy did an awesome job taking on that role of being an older guy that was going to take Jack under his wing and kind of show him what being in college is all about," Keefe said.
That feeling is reciprocated by Novak, who feels close to his teammates even after transferring in so late in his career.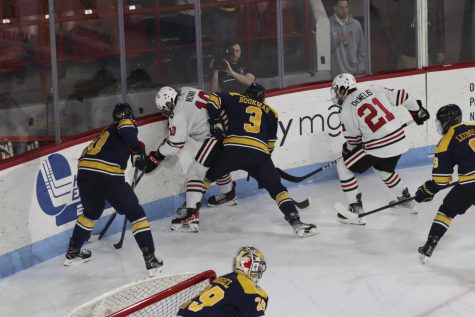 "We are one big family in the dressing room," Novak said.
As an alternate captain and graduating member of the team, Novak has demonstrated his leadership and character, which have not gone unnoticed. 
"There's a reason why he started wearing an A on his jersey," Keefe said. "And as a transfer, it showed what kind of impact he had on the locker room."
Though Novak was set to graduate from and leave the program last spring, he made a last-minute decision to remain a Husky for one final season.
"After last year there were some talks about transitioning to go pro… then our head coach, coach Keefe, reached out and asked if I wanted to do a grad school year," said Novak, "An opportunity to get a master's and play, it was kind of a no brainer." 
As Novak's fifth and final college season winds down, the Huskies are preparing to say goodbye to their mentor and friend.
"He's definitely going to be missed by this group," Walsh said. "He should know he's made a big impact on every guy in that locker room."
With his collegiate career quickly coming to a close, Novak still has many goals left to achieve. 
"We want to win the Hockey East regular season and that carries over to the Hockey East playoffs," Novak said. "I've never won a Beanpot so that's definitely something I want to accomplish with this group. And then it's fun making the national tournament like last year, although we didn't make it as far as we wanted to…Hopefully we can change that this year." 
With five weeks left in the regular season, though Keefe is not ready to think about farewells, he has considered Novak's time to come after the Huskies. 
"[Novak] is going to be successful in anything he does," Keefe said. "He's going to play hockey, he's going to make money playing hockey, but when he's done playing hockey, he's going to be really successful, there's no question about it."