Boston University's new art exhibit shows comics can be more than children's literature
Boston University Stone Gallery's new art exhibit, "Comics Is A Medium, Not A Genre," proves that comics are not only for kids  — they can also be an artistic tool for adult-oriented storytelling. 
Joel Christian Gill, associate professor of art and chair of the Department of Visual Narrative at Boston University, curated the exhibit with the help of various artists who have contributed to the medium since its origins in the mid-20th century. Through the eclectic exhibit of various comics, Gill hopes to share that comics are an art form that can be used to express mature and thought-provoking ideas, not just children's storylines about superheroes. 
"What I am trying to do is basically disabuse people of the idea that comics are just really about superheroes," Gill said. "Because comics are a complicated expressive medium that people use to tell all kinds of stories."
From the 1930s to the 1950s, comics were popular among all Americans, not just children. As comics progressed and depicted more mature content like horror and gore in the 1950s, McCarthyism-era Americans wanted to censor the content that in part appealed to children so as to not pose a threat to American democracy. In response, the comic community came together to start making comics targeted specifically toward kids, calling them "graphic novels." 
"A lot of cartoonists and comic book artists at the time didn't want to be associated with comics," Gill said. "They needed something else to call their works and say to people, 'They're not comics,' when in reality, they were."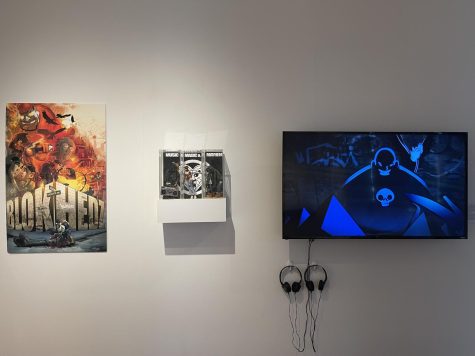 Cartoonists would create graphic novels Gill called "underground comics," and artists would present them to publishers. Unfortunately, they were often rejected — as in the case of artist Harvey Kurtzman, who wanted to adapt Charles Dickens' novel, "A Christmas Carol" into a comic. Many publishers complied with a standard called the Comics Code — a set of rules that spelled out what comics could depict. This code enforced wholesome storylines, punishments for iniquity, portrayal of the government favorably and only speaking of happy marriages, never divorce.
"Harvey Kurtzman drew 12 pages of 'A Christmas Carol' and publishers didn't know what to do with it so it never showed," Gill said. "But four of those 12 pages are downstairs in the show, which is incredible because we basically have the first ever American idea of a graphic novel."
In the exhibit, Gill intends to showcase a variety of comics, from pioneering works like Kurtzman's rendition of Dickens' "A Christmas Carol" and Charles Schultz's "Peanuts" to modern comics that portray "moral panics" like critical race theory. When curating the exhibit, Gill would reach out to artists and ask them to share certain works in addition to anything else they would like to be showcased, and he received hundreds of comics to share in the gallery that students love. 
For example, comic book artist Stephen R. Bissette shared works from his comic "Swamp Thing" upon Gill's request. "Swamp Thing" follows a swamp monster who fights to protect his swamp home, the environment and humanity from supernatural terrorists. 
"I really like 'Swamp Thing,'" said Gabby Gleason, a gallery assistant and English and political science major at Boston University, gesturing toward Bissette's section of the exhibit. "It is a series of five illustrations and they're just super cool."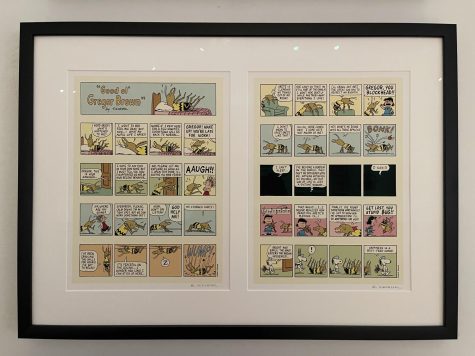 Likewise, students have enjoyed viewing historical comics like Schultz's "Peanuts," which Gill said are pivotal in the progress of comics over the last century. 
"I think one of the cooler pieces here is the 'Peanuts' comic strip," said Emma Schmidt, a gallery assistant and painting major at Boston University. "It's on loan from the Library of Congress and it's the first appearance of Charlie Brown, so that's been a hit for a lot of viewers."
"Peanuts" and "Swamp Thing" are just a few of the many comics on display. Students and faculty urge viewers to set aside time to view the exhibit one comic at a time. 
"I just think people should take their time walking around here and there's a lot to read," Gleason said. "It might be difficult to just pop in here and look around because you'll want to read everything, so I think you should just really enjoy the experience and walk to whatever you feel drawn to and really focus in on that."
The exhibit will run through March 24 at Stone Gallery. There is no admission fee.