Valentine's market features small Northeastern businesses with sustainability in mind
Students streamed into the Curry Student Center Feb. 9 to peruse and purchase from Northeastern student, staff and alumni small businesses, many placing value on sustainability, for the annual Northeastern Valentine's Day Market.
The market was open to customers from 11 a.m. to 3 p.m., a bustling four hours for Northeastern entrepreneurs hoping to expand their customer base on campus. The businesses ranged from eco-friendly home products, to beauty, clothing, food vendors and more.
Hot Date Kitchen's Robbie Madfis, a 2016 graduate of the D'Amore-McKim School of Business from Somerville, was host to a busy table, offering samples of his chocolate covered stuffed dates. "The goal is to prove that you can have a sustainable business that does things well and provides a good product." Madfis said.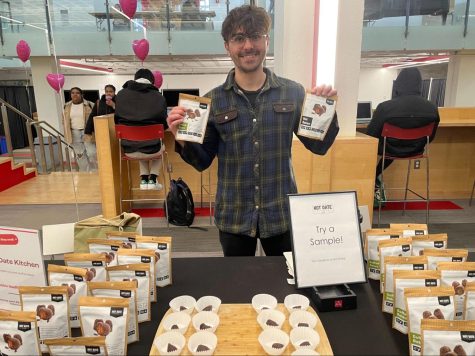 Madfis wants to change the narrative for delicious food products, believing that indulgent food doesn't need to be bad for one's health or the environment. 
On his journey to sustainability, Madfis explained Hot Date Kitchen will have completely plastic-free and compostable packaging this year. Aside from promoting his climate-friendly business practices, he teased the company's next product: a seed butter filled date mixed with cacao nibs and covered in dark chocolate and sea salt. His working title for this new product is Double Date, a play on words for the double chocolate aspect of this new date. 
Another company in pursuit of sustainability, LochTree, founded by 2020 D'Amore-McKim School of Business graduate Henry Palmer from Newton, built a consumer marketplace specifically for sustainable products. 
"One of the things I'm trying to do at LochTree is … create a positive environmental impact and help people find sustainable alternatives, make easy swaps and try and leave the world in a better place for the next generation," Palmer said.
Palmer tries to make sustainability simple and attainable, hoping customers will make easy swaps they can maintain. He emphasized everyone can make small but meaningful impacts and said LochTree is intended to provide access to a plethora of sustainable products to make these swaps. 
SamScribbler is a small art business in memory of Samantha Hemphill, a Northeastern environmental engineering graduate who died of leukemia in August 2022. Hemphill was passionate about the environment, and she was the Uganda program director with Northeastern's chapter of Engineers Without Borders during her time at the university . 
Hemphill's love for the environment is identifiable in her artwork. After she died, Hemphill's brother, Chris Hemphill, digitized her artwork to sell online and raise money for charitable organizations and causes that were meaningful to his sister.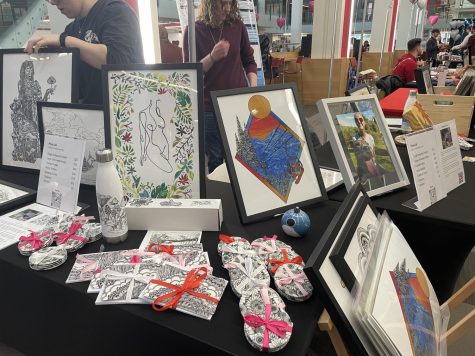 "[SamScribbler] was a means of taking action and turning something positive out of all this," Hemphill said. "A way to share her talent, share her legacy and contribute funds to a couple things she was very evidently passionate about." 
SamScribbler's proceeds made at the Valentine's Day Market will be given to Northeastern's chapter of Engineers Without Borders to support Samantha's peers in their environmental endeavors. 
Bernice Luong, a fourth-year business administration and design combined major and member of the Alumni Relations entrepreneurship team took part in organizing the Valentine's Day Market. 
"[The market is] an opportunity to interact with the local community on campus and just gain some exposure," Luong said. 
The market was a pleasant surprise for first-year business administration and communication combined major Tabitha Randlett and business administration and computer science combined major Aashka Dave who met up in Curry, unaware the Valentine's Market was taking place. After wandering through the market, they stumbled upon Sweet Piglet Bakery and Cafe, where Dave purchased a thai milk tea that she raved over. Randlett agreed the bakery was cute.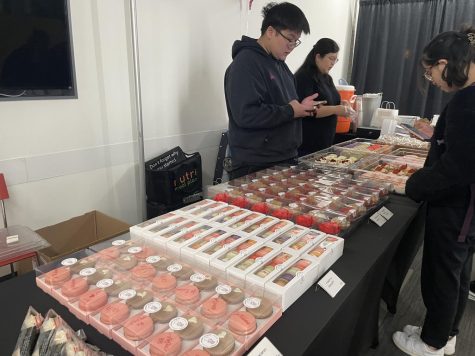 "I'd go back," Randlett said. "It was really well priced." 
The Valentine's Day Market, hosted by Alumni Relations, grants Northeastern entrepreneurs the chance to promote themselves to the Northeastern student base. The market gave students the opportunity to purchase last-minute Valentine's Day gifts, many of which consciously created sustainably.