Op-ed: Fixing Snell Library is an impossible feat
Dozens of students flock to Snell Library hourly. Whether it be trying to cram in a last-minute study session in between classes or settling in for a grueling all-nighter, Snell is no stranger to Northeastern students.
However, if you're trying to find that perfect spot in a quiet location — where you can work without the added distractions at home — Snell might not be the library for you. 
I believe the complaints about the noise in Snell are not entirely due to students being disrespectful toward their peers, but also stem from the overcrowdedness of campus in general. 
Honoring students' right to a silent zone should be an important value for Snell Library to uphold, however, it is rare to find the fourth floor completely silent. Snell Library's website reinforces their floor-specific rules, but they rarely enforce them.
Snell Library is split into four main floors with differing levels of conversations allowed. The first floor is akin to a casual coffee shop, where people like to lounge around the chairs while they collaborate on homework. There is talking amongst almost every group stationed on the first floor, and you might even hear the occasional laugh or two in a sea of students. 
The second floor is similar to the first; I personally believe that it is essentially the first floor, just for the students who want to take that added step of climbing a flight of stairs. Technically, the second floor is meant to be quieter than the first, which is evident in the slightly lower amount of group studying occuring. 
The third floor is where people will begin to stare if you talk very loudly or are overly distracting. This floor is ideally reserved for those who want to get their work done without any interruptions. Finally, the fourth floor is where people go for complete silence. 
Booking a room in Snell is also a source of frustration for many students because it is difficult to find an available room to reserve in the first place. According to the Snell Library website, the individual study rooms are reserved for graduate and doctoral students only, restricting the undergraduate students to just the multiple occupancy rooms on the first, second and third floors. 
Northeastern has a massive student body, which has caused problems in Snell and beyond. Overcrowdedness on campus is an issue the university tried to fix by cutting the acceptance rate from 19% in 2021, to 6.7%  for the class of 2026. The new acceptance rate does not detract from the problem at hand — the campus is still overcrowded, and there is simply not enough room at Snell to hold all the people. 
The students cannot be the ones solely blamed for the misuse of the library. Students who wish to collaborate on their projects might be forced into moving onto the fourth floor due to lack of space on the collaborative floors.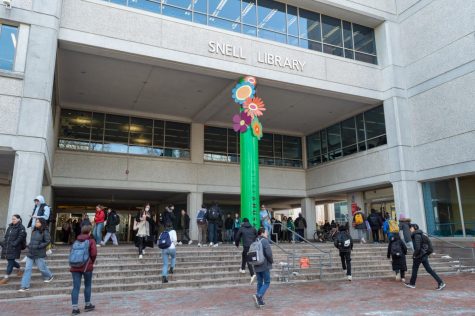 As of right now, the library is undergoing renovations on the fourth floor. The layout for the new and improved floor has been released to the general public, with the university attempting to fix some of the issues that have been brought up due to the overcrowdedness. 
The renovations include various changes, namely: "major increases in seating to accommodate both quiet and group study, bookable group study rooms on several floors, new study spaces on the lower level."
While I'm skeptical as to how much the renovations would really change the library, I hope we can see enough of a change that the fourth floor can become useful again. I find myself going to Snell less often than I used to, solely because I do not want to spend too long looking for an empty space or getting frustrated over needing to drown out everyone else's voices while working. 
Some students prefer not to visit Snell Library at all. Ever since it became so crowded, most students head to Curry Student Center instead. However, with the lack of study spaces on campus, it is only a matter of time before Curry becomes just as crowded as Snell. 
Students only get more frustrated with the lack of space during finals week, when hopeful students head to Snell only to find a full and noisy library.
An overcrowded library is not what students need during a stressful time. Northeastern does not offer enough alternative spaces on campus, which makes the overcrowdedness of Snell all that much worse. 
We have a long way to go before we can make Snell a welcoming and comfortable place for students to work in, however, the renovations should be a good start. In terms of things Northeastern could do to help, adding more study spaces on campus would be helpful to students. Funneling students into Snell only makes the overcrowdedness seem worse, so creating more quiet study spots on campus would be ideal. 
Providing students with the opportunity to work elsewhere or reducing the amount of group-work related projects that require working in Snell could be short term fixes to a larger problem. 
In taking these smaller steps, I believe Northeastern can eventually provide us with a library that students will grow to love. 
Rachana Madhav is a second-year behavioral science major. She can be reached at [email protected].