How Dora Moono Nyambe built a family of hundreds
When Dora Moono Nyambe moved to a remote village in Zambia to start a boarding school, people thought she was a witch. Three years later, Nyambe's nonprofit, Footprints of Hope, has garnered support from over 4 million people worldwide.
Northeastern University fraternity Delta Tau Delta and sorority Kappa Kappa Gamma hosted Nyambe and Joseph Schmitt, a Northeastern alumnus, Fulbright scholar and ecotourism researcher as guest speakers Feb. 28. The event was part of a book tour for the recent release of "Under a Zambian Tree," an account of Nyambe's quest to educate, written by Schmitt. 
It tells the story of Nyambe moving to Mapapa, Zambia, at 27 years old and single handedly building a boarding school of over 200 students — 13 of which she has personally adopted. She created a TikTok account to share her experiences in Zambia, and went viral after posting a few videos.
A packed audience in Richards Hall sat captivated as Schmitt and Nyambe shared their story via a Q&A. The two had met through TikTok — Schmitt was also documenting his life, as he had recently moved to Zambia for research, and Nyambe had commented on one of his videos. 
Schmitt originally wanted to do a video about Nyambe's journey. Upon watching the interview back, he realized the video only scratched the surface of her mission. For the next year, Schmitt would visit for two weeks every month, interviewing Nyambe and documenting his experience there to write a full book.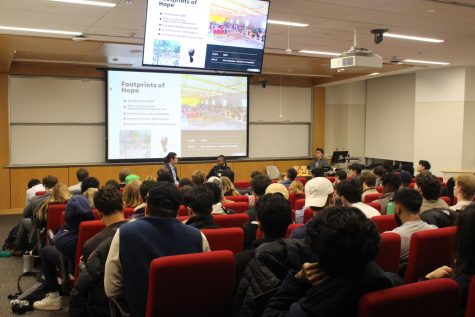 When asked about managing her schedule between running the school, taking care of the children and working on the book, Nyambe acknowledged it was challenging. 
"It was a lot," she said. "We had to have our interviews during errands — getting food or taking care of a sick child. He had to submerge himself into my life. If I was cooking, he'd be there with a phone and a notepad."
Over the course of the year, Schmitt learned more about Nyambe's story and the two became close friends. He learned that after Nyambe, encouraged by her TikTok followers, started a GoFundMe, her original goal of $5,000 was blown away by the $58,000 raised through donations from viewers in just two months. Most of the donations, Nyambe noted, were between $5 and $10, meaning that thousands of people were invested in her cause and contributed in small ways to help her succeed.
With the money, Nyambe resolved to provide the village with boreholes so they could have clean drinking water. The villagers were still skeptical of this newcomer. 
"They thought I was a witch," Nyambe said. "They thought the water was poisoned. How could I live in a mud hut and have enough money to provide boreholes?"
Throughout the Q&A, Nyambe spoke consistently of resilience, passion and kindness. Despite the backlash, she persists, because she knows she is helping people, she said. On any given day, she could be rescuing a 10-year-old girl from child marriage and paying off her debts, building classrooms and dining halls for her students or bringing four grocery carts full of food back to her school to cook for her hundreds of children. She documents all of this on TikTok, where her 4 million followers eagerly watch and support her content.
Nyambe hopes that she can be an inspiration for women – especially women of color – to pursue their dreams.
The discussion was about half an hour, but Schmitt and Nyambe assured the audience that the full story is laid out in detail in the book. Before wrapping up the event, Schmitt asked the audience a question:
"Do you guys want to help us make a TikTok?"
Cheers and laughter filled the room as students stood to wave to the phone Schmitt was panning around the room. After the event, students purchased copies of "Under a Zambian Tree" to support Nyambe's mission and discover more about her journey.
"They've changed so many people's lives," said Nikki Rosen, a first year political science major. "It's very inspiring."
When asked about the impact she wanted to leave with the Northeastern community, Nyambe reiterated the importance of kindness.  
"I always say this, but kindness is free — anyone can be kind," Nyambe said. "You don't have to have a lot of money, a ton of abilities, a bunch of connections. You can be kind and change someone's life."