Skating by the decades: Figure skating team hosts first ever spring showcase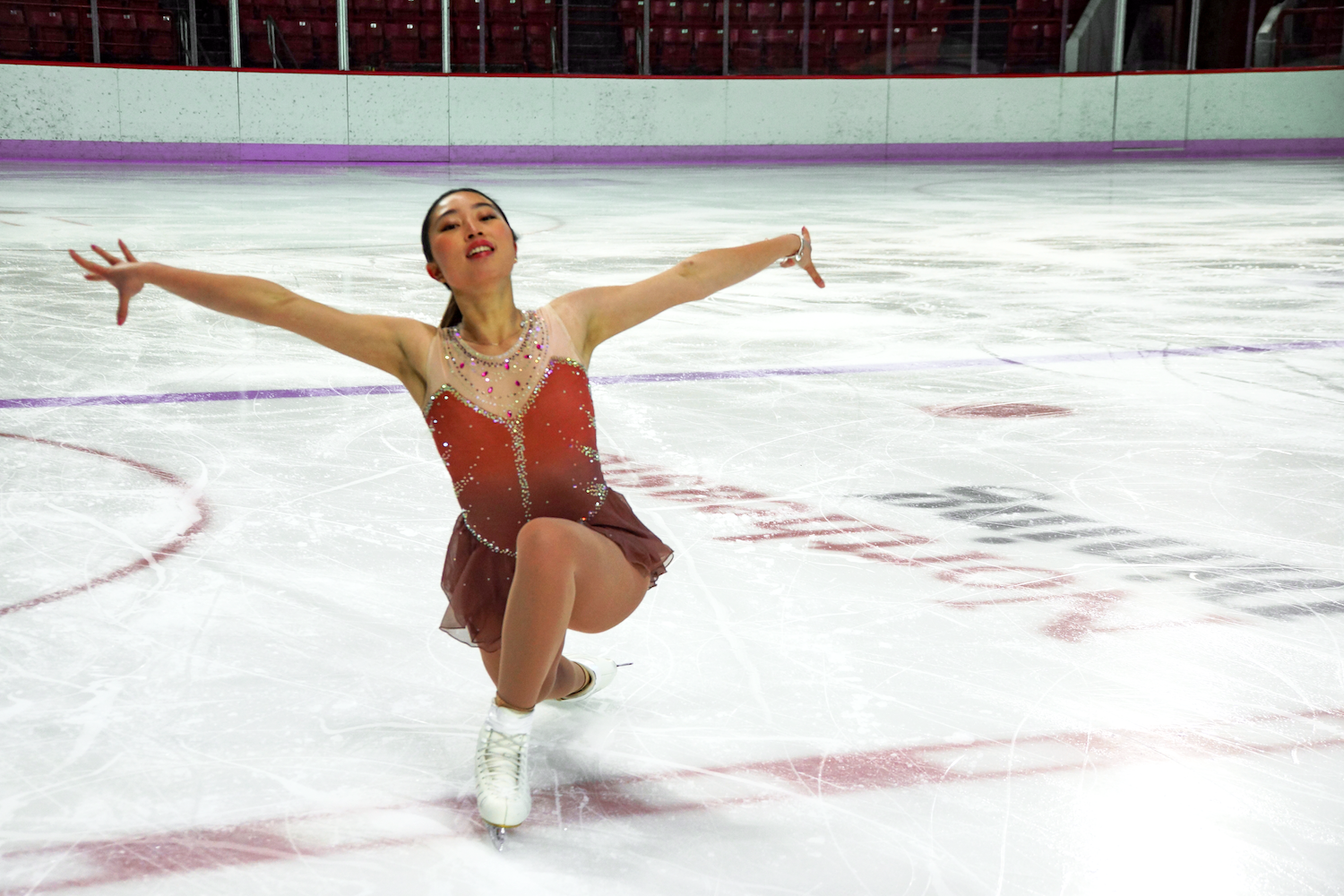 Decked in intricately beaded, sequined and glittery costumes, the Northeastern University club team figure skaters took to the ice to enchant a crowd of supporters in Matthews Arena March 20. The figure skating team was thrilled to put on its first ever spring showcase, a two-hour event for their friends and family which they had spent years working on. 
The theme of the event was "Decades," and the skaters had full creative liberty to explore exactly what they wanted to do pertaining to the year they were assigned. 
President Elizabeth Klemm, a fourth-year bioengineering major, was ecstatic during the final 30 minutes before the opening.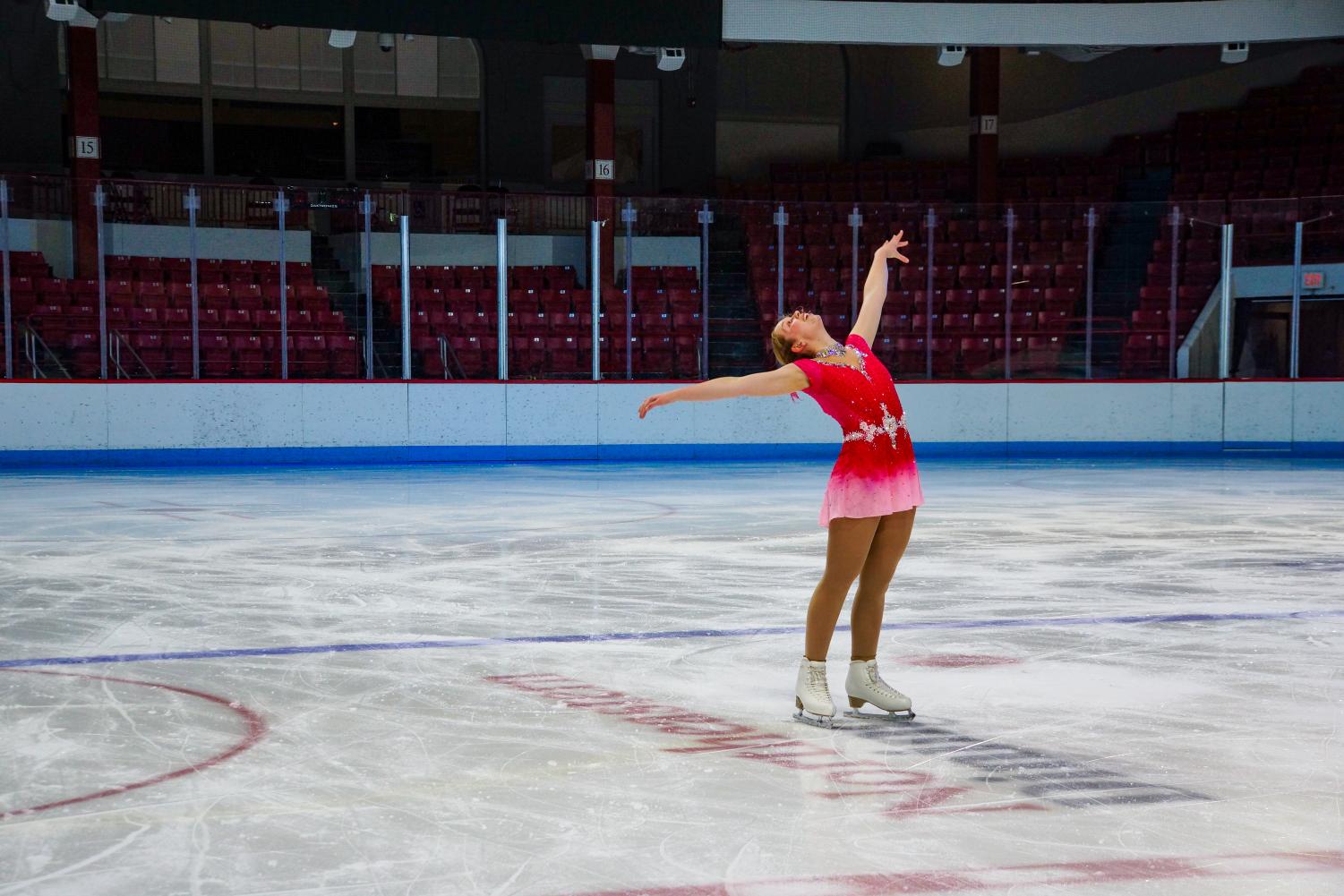 "It's been a couple years that we wanted to do a spring show, but the competition season just wrapped up — it became really tight to fit it in," Klemm said. "We have to work around all the other teams."
The team was determined to give its graduating seniors a proper send-off, and the spring showcase was exactly that. The event took a ton of work — the whole team came together in planning, scheduling and organizing an exciting and rewarding experience. 
"I'm a senior, and this team was really quite tiny and recreational when I joined, so it's really like a culmination of everything we've put in over the last five years," Klemm said. "Our team is 65 people big, and not everyone gets a chance to compete, and not everyone wants to compete either. So this gives everyone a chance to perform and have another chance to skate in front of their friends and family."
A solid ground of trust has grown  within  the team, allowing the skaters to boldly take the ice with no fear, knowing their team has their back no matter what. That is a huge part of what made the event all the more meaningful to both the audience and the team. 
"My freshman year, [it] was maybe harder to make friends on the team because there weren't that many opportunities," Klemm said. "You kind of just skated and left and went home. But now, seeing the amount of people that are now roommates with one another, best friends — it's really cool." 
Being a part of the club was a source of comfort to many of the skaters, particularly those who were struggling with the transition from high school to college. Aly Broussard, a second-year nursing major on the team, spoke highly of her teammates while describing how much she was able to grow as a person.
"This team has been such a great opportunity for me to continue a sport that I love in a really inclusive environment, especially coming from high school, stressed about college. It's just a great way to get to know people," Broussard said.
Broussard and her teammates spend a lot of time with each other off the ice, whether it be going to the dining halls or studying together. Even traveling to distant competitions has become a source of team bonding, where they enjoy each other's company in the club van, or recuperate together after a long tournament. 
The event moved through performances starring songs from each decade, beginning with "For Good" from the musical "Wicked" and featuring songs from the '80s, '90s and 2000s. 
The ice was alight with energy, provoking various emotions with every song performed. There were upbeat, high energy songs like "Higher Love," "It's Raining Men" and "Oops!…I Did It Again," and more whimsical melodies like "Everywhere" by Fleetwood Mac, and a piano version of "Bohemian Rhapsody." 
The team was very excited about the theme of the event — one that everyone was able to be creative with. Members of the club planned their performances to the very last second. Third-year biochemistry and health humanities double major Ashley Brown played a huge role in coordinating everyone's schedules and skill levels throughout the year. 
"Everything that has occurred in a decade — that will fit everyone's program. But then, you could also go and get creative with it. Especially in a sport like skating — it's hard, but you also go and get to be an artist," Brown said. 
Coaches Julie Pondelli and Elizabeth Tirrell have expressed their adoration for their team multiple times; they have gotten to know the skaters both on and off the ice, where they have watched them grow as people. 
"The kids did 90% of this [event]. They used each other as resources," Pondelli said. "It's very emotional, too, knowing the kids for so long … they're a part of your life at this point."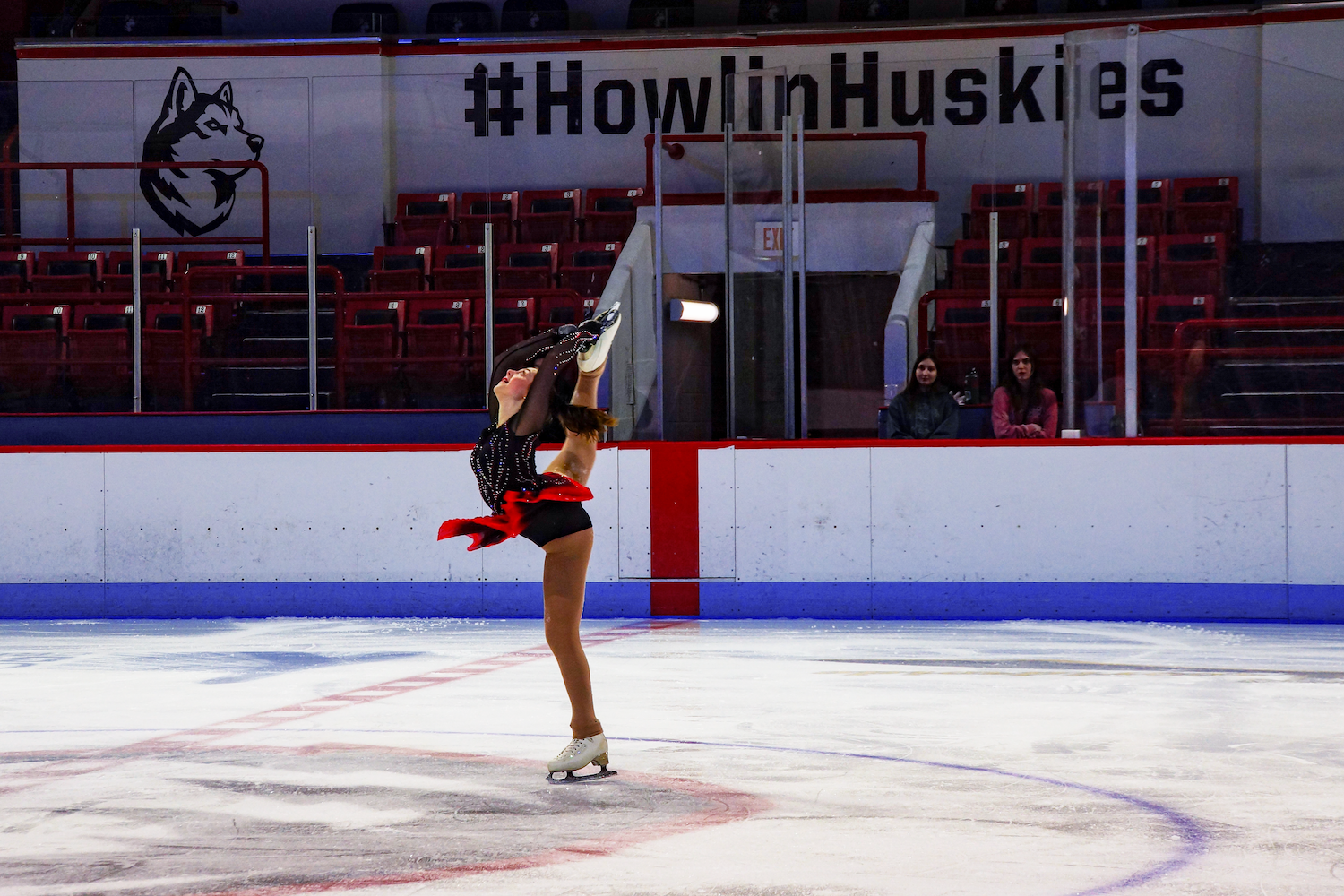 Pondelli and Tirrell watched all the performances during the event, and were there to hug and encourage their skaters after each one. 
"It's a nice chance for the kids to show their friends on campus their work, and it's a really good chance for us to celebrate our graduating seniors," Tirrell said. 
With each performance, however, the skaters' biggest fans, and the loudest cheers, were from the team itself. After performing, the panting skaters would rush back to the stands to scream their cheers for their next teammate that took to the ice. 
"Everyone has each other's back," Broussard said. "Everyone is so supportive of each other, even when we have our not so great moments, so it's definitely awesome."
With every move the skaters made on the ice, the stadium broke into claps and shouts of encouragement from the team, making the crowd of friends and family all the more excited for what's to come. 
"Here you have a roster of like 25 people roaring, and you can fall on every single jump and spin, and we're going to cheer like you landed like a quadruple axel," Brown said. 
Both the graduating seniors and the newer freshmen alike spent all their time and energy on this event, and the payoff was evident in the whispers of praise from the teammates and the hugs from the teary-eyed parents. 
With its first spring showcase over, Northeastern's figure skating club team is already looking forward to the next one, which will hopefully become an annual event from this year on.