Two sisters bring the sweet taste of Ukraine to Boston
Swirling cinnamon walnut babka, layered honey cake and poppyseed strawberry croissants are only a handful of the treats sold at Solodko Boston, a Ukrainian-inspired bakery owned and operated by sisters Ilona and Irina Znakharchuk.
The sisters sold pastries online for three years before opening the storefront last November in Brighton. The idea of starting the bakery dates back to 2018, when the sisters visited their grandparents in Ukraine. Ilona Znakharchuk was fascinated with the quality of Ukrainian desserts, which was unlike anything she had discovered in Boston, she said.
"One of the things that struck me was how simultaneously visually aesthetic but also delicious all the pastries were," Ilona Znakharchuk said. "It was like a very fine-tuned balance of taste and looks. And here, what I oftentimes would come across is that there are really fancy, good desserts, [but] they don't always have the taste because they'd either have the fondant or it was just too much sugar." 
When she returned to Boston, she set out on a mission to master this fusion of flavor and flair. During Ilona Znakharchuk's sophomore year at Boston College, her older sister Irina Znakharchuk drove her home to Westfield every weekend. Ilona Znakharchuk spent every Saturday baking, and had her sister drive her back to campus Sunday nights to help distribute macarons to her friends.
"One of my roommates was like, 'Why don't you start selling this? Like why do you just keep bringing them back? You should start a business,'" Ilona Znakharchuk said. "And so that's kind of how the idea was born."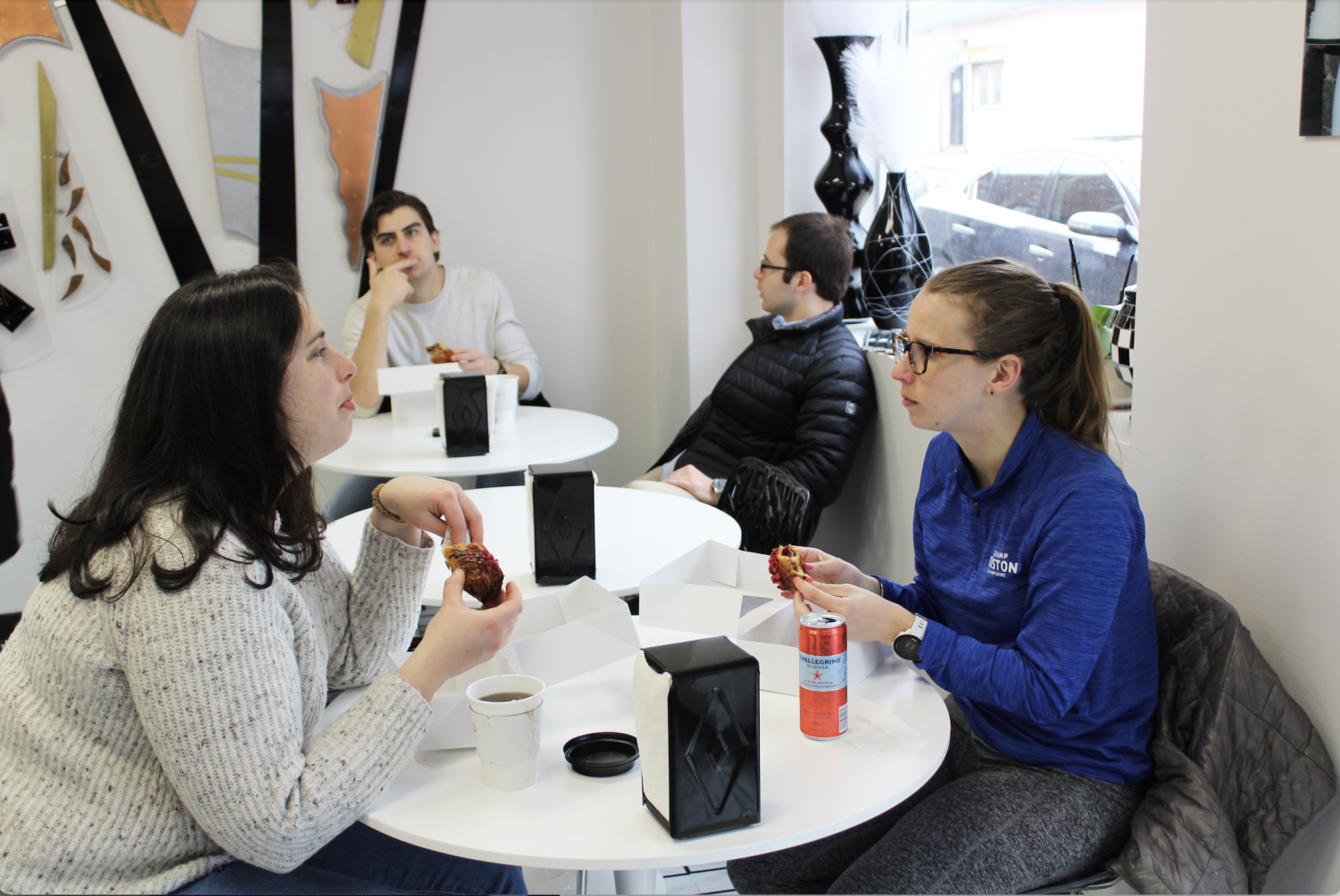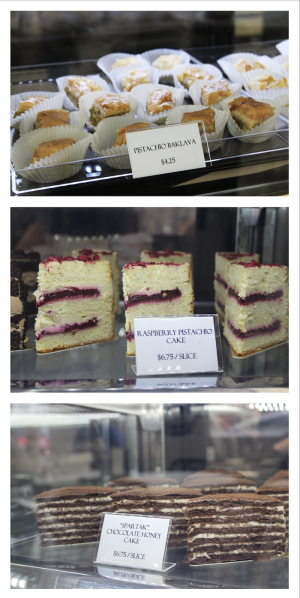 Ilona Znakharchuk's first customers were friends and professors. But looking ahead, she realized she needed to expand her knowledge in business management. While continuing her math and music double major at Boston College, Ilona Znakharchuk joined an entrepreneurship program to better understand how to take the next step with her pastries.
"I think that was actually critical for seeing where I wanted to go with the business in the future and how I was supposed to structure it from a legal standpoint, because I had no clue how to run a business," she said. 
After graduating in June 2021, Ilona Znakharchuk began working in wealth management while selling her baked goods at the same time. By December of that year, she said she was burnt out. Running her business while working in finance became "overbearing," so she had to choose between the two. 
"I liked both [jobs], so it was a difficult decision for me," Ilona Znakharchuk said. "I kind of just prayed and I was like, 'God, I need something to happen supernatural that will show me which career to take because I'm a little worried about making the call on my own because … if the business doesn't go where I want it to be in three years, am I going to regret leaving my finance job?'''
In January 2022, Ilona Znakharchuk said the answer she was looking for came to her in three consecutive dreams. A few months later, she left her finance job to devote all of her time to her business. But opening up the shop could not be done alone. 
"When I decided to go full time with the business, I obviously was like, 'Who else am I going to take to help me but my sister?'" Ilona Znakharchuk said. 
Soon after, Irina Znakharchuk transitioned from her job in finance to a full-time partner in the bakery with her sister.
The sisters are responsible for all aspects of the business — managing the finances, preparing ingredients, decorating pastries and maintaining the storefront. In December, however, the two-person team grew to three. Ilona and Irina Znakharchuk hired a Ukrainian refugee who previously worked in a bakery in Ukraine. 
"It was very important for us to be able to give back to the Ukrainian community," Ilona Znakharchuk said. "And so when we were able to bring on someone who would have a difficult time finding a job elsewhere also with a … significant language barrier, that was a very, very rewarding moment for us."
The bakery also partners with Ukrainian nonprofits and fundraisers to support their native country amid the Russo-Ukrainian War. Boston College hosted a concert in support of Ukraine March 26, catered by Solodko Boston. 
The shop's impact on its community is evident in Brighton. Once a rundown pizza shop, Solodko now offers the neighborhood an "operational food business" that fosters valuable "connections with the locals," Ilona Znakharchuk said. Customers are able to step inside and view the open concept kitchen, giving them a first-hand look into how their treats are being made.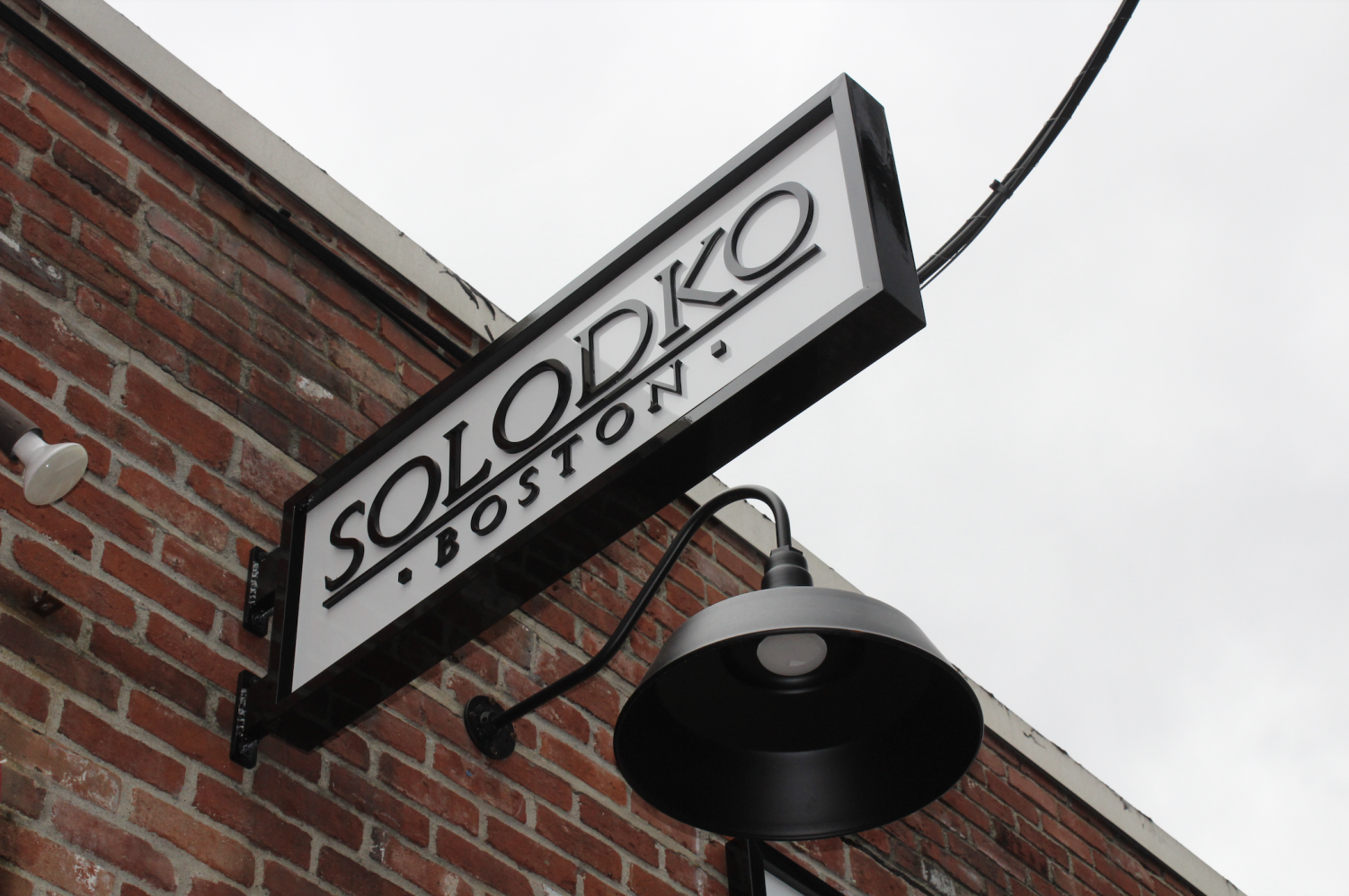 "[Customer interaction] is one of the things I enjoy the most about the nature of this business," she said. "We love to meet people who follow us on Instagram. We love to meet people who have read about us or heard our story. This is always a really rewarding experience when we can actually meet people who know about us that we don't yet know about."
One of those followers is Liz Morris, a Brighton resident, who visited Solodko after discovering the bakery on Instagram.
"I've been following for a while and wanted to come out here," Morris said. "It was very, very tasty. I will definitely be back."
Abigail Gary, a South End resident, also couldn't wait to try more of Solodko's baked goods.
"[The pastries] are decadent but I want to try all their stuff," Gary said. "We both had the chocolate raspberry croissant and it was phenomenal. It had a little delicious dollop of jelly in the middle which was great." 
Working in the food industry isn't always a piece of cake. Ilona Znakharchuk said she came into the food industry thinking it was female-dominated, only to learn that women business owners are often taken advantage of. Her advice for female entrepreneurs is to take a stand.
"Don't be scared to stand up for yourself," Ilona Znakharchuk said. "Don't be scared to show people that you are smart and that you are driven and that you know what's going on because people will try to use you for their benefit. And if you don't stand up for yourself, who will?"