'Anybody can play': Huskies take on Boston Whiplash volt hockey team
Although the Northeastern men's and women's hockey seasons came to a close in March, 12 Huskies competed in an out-of-season matchup April 1. But instead of stepping onto the ice in skates, they played in power wheelchairs.
At Marino Recreation Center, six players from both Northeastern hockey teams faced the Boston Whiplash, a volt hockey team composed of athletes with mobility impairments. Whiplash is the only active volt hockey team in the United States. Volt hockey got its start in Denmark in the 1990s and has since spread through Europe and Canada. The only competitive U.S. team was created last year by the Boston Self Help Center, or BSHC, a non-profit based in Mission Hill run by and for people with disabilities.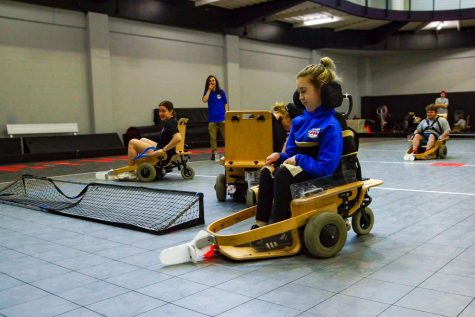 Since 2012, BSHC has operated a power soccer program. After learning about volt hockey, the organization's president, Jim Wice, purchased eight motorized wheelchairs from Denmark to start an adaptive hockey program based in Boston.
Whiplash recently partnered with Diversability, Northeastern's disability alliance that promotes accessibility on campus. The volt team received a grant from the Institute for Health Equity and Social Justice Research to fund its program and the event with the Northeastern hockey teams.
Whiplash's coach, fourth-year biology major Dylan Hogan, discovered the sport during the fall of 2021 in a service-learning honors seminar on Contemporary Issues in Healthcare taught by Dr. Lorna Hayward. Since then, he has continued to work with BSHC to develop the Whiplash team and take the sport to the next level. Last September, Whiplash competed in the first-ever volt hockey World Cup in Sweden. This year, the team will travel to Toronto to compete against the Canadian volt team in the first-ever North American tournament, Hogan said.
Hogan is currently researching the physical and psychological impacts of power wheelchair sports, alongside Hayward and Avery Melam, a first-year health science major. They are analyzing how sports in motorized chairs create a "feeling of connectedness" and inclusivity, Hogan said, while also monitoring the physical benefits by tracking the players' heart rates during gameplay.
In a volt hockey game, two three-player teams compete for two 15-minute halves, using a flexible paddle attached at the front of the chair to push the ball into the net. Players maneuver the chairs with a joystick, moving in any direction and reaching up to 10 miles per hour. Before the event began, Melam taught the Huskies how to operate the power wheelchairs, hoping to "build awareness" around adaptive sports, Hogan said.
After an hour of total gameplay, the Northeastern men's hockey players lost 0-3, and the women's players were defeated 0-10 by Whiplash. Despite the scores, the Huskies enjoyed trying a variation of their favorite sport. 
"It's just fun to see [the volt hockey team] have fun with it," said Abbey Marohn, a junior defenseman on the women's team. "I know I love hockey, and the fact that they can share in it in this way is just amazing."
But the event was more than just a game.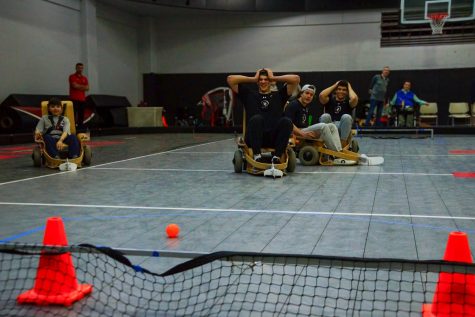 The purpose of volt hockey, Hogan said, is to shed light on adaptive sports and how athletics can be more inclusive.
"We're still studying the physical benefits," Hogan said. "But we have seen and are realizing it throughout our research — definitely the qualitative benefits and just how much it means to people … I think there's that cohesion, that teamwork and the community." 
For Jack Williams, a freshman forward on the men's hockey team, the most memorable part was seeing the volt team "laugh, smile and just have a good time."
Volt hockey is "so much more accessible to people with a very wide range of disabilities," Hogan said. It's not upper-body intensive like sled hockey, a more popular adaptive sport played in the Paralympics, so more people are able to participate. 
Hogan said he'd love to continue this connection with Northeastern, and eventually start a volt hockey team at the school. But for now, the exposure volt hockey received in the game against Northeastern's varsity teams is a step in the right direction.
"[Hockey is] everywhere," Williams said. "It just goes to show that hockey is for everyone. Anybody can play it. It's really hard and they do an unbelievable job."
Editor's note: This story was updated at 5:03 p.m. April 13 to correctly identify a player's position.