Northeastern professor and her students transform Chestnut Hill house into experiential artwork
In a secluded neighborhood in Chestnut Hill, an ordinary-looking house sits overlooking a reservoir. Step inside, however, and the house is a work of art. 
The owners commissioned Sophia Ainslie, an associate teaching professor in The School of Art and Design at Northeastern, to transform parts of the home into a colorful, eye-catching mural. Along with a team of four current students and one alum, she has been given the creative freedom to explore her artistic vision in the house, whose inhabitants wish to remain anonymous. 
Her assisting team includes Alexander Langrock, a Northeastern alum; Emily Kasumov, a second-year chemical engineering and biochemistry combined major; Rene James, a second-year architecture major; Aubrey Nash, a third-year communication and media studies major; and Madeline Zhang, a third-year computer science and media arts combined major. The piece has to be completed by the end of April, so Ainslie chose her team with care. 
"I think reliability and also having confidence in your ability is so important – not that people can't be taught. … The team is great," Ainslie said. "Everybody on our team really works very well."
The team first began working in the house in March, but Ainslie has been conceptualizing the project since August. Some variation of the group is there painting most days of the week, and they are working on top of the contractors completing renovations and maintenance on the house, which requires consistent coordination. Ainslie said, "everyone has been so sweet and supportive" despite the cramped workspace and tight turnaround. She had to learn about architecture, construction and interior design in order to effectively communicate throughout the process, likening it to learning a new language.
"This is not my language, but we had to talk about, 'do you want a kickboard like that on the bottom or do you want it to go flush all the way down?'… I've never really considered these things before, so it was quite interesting," Ainslie said.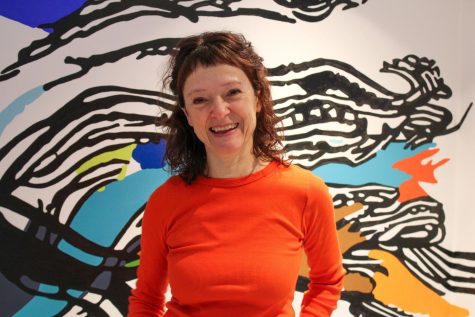 Ainslie is represented by Gallery NAGA on Newbury Street, and that's where she made the connection with her client. The person who ended up commissioning the in-home mural had purchased one of Ainslie's pieces, which she displayed in a Gallery NAGA show in 2021. 
"They basically invited me into their home. They were like, 'where do you want to work?'" Ainslie said. "I had an idea and I just told them which walls that I was going to work on and they said, 'fine, come in, and you can work on the ceiling, you can work on the floor.' It was quite remarkable."
The mural is inspired by the last X-ray of Ainslie's mother's abdomen prior to her passing in 2009. The shapes and colors are abstracted versions of her mother's internal organs, though they have changed over time.
In more recent years, Ainslie's work "has shifted away from that of [her] mother's body to looking deeply at structure and relationships – of scale, color, application, the way shapes meet and the specificity of the edge they create in their meeting," she said. The colors and shapes also began as reflections of the colors and shapes in her mother's clothing and jewelry, but she has used computer tools to fragment and distort the shapes, resulting in "a translation of what [she] see[s] and experience[s]." 
The piece covers parts of walls, the floor and ceilings in one room and a hallway area with a staircase. Ainslie said the owners are potentially looking to use the room as a party space for their fundraising and political events, as they frequently entertain. The piece is meant to spark conversation and intrigue among guests. 
Throughout her process, Ainslie is interested in the way visual elements of her piece interact, including color, shape, line, mark-making and more. Each one impacts another, she said, and she is unpacking those relationships. 
"I'm trying to create a sense of democracy so that everything in the piece becomes important, even the white space, so that the white space has a presence, not a background," Ainslie said. 
Ainslie enjoys combining different types of paint to create contrasting textures, and she rarely uses a color "straight out of the tube," she said. Instead, she mixes for days prior to painting, experimenting with new and unusual shades. She paints different shapes and sections with different types of paint, so that when the light catches certain areas, they look shiny or matte, depending on the paint used. Acrylic paint achieves a glossy look, while Flashe produces an opaque effect. 
Ainslie's work took on a new life when she began experimenting with murals as opposed to remaining confined to a canvas. 
"I began working on the wall in 2013 when I was eager to make much larger work than I could in my studio. The wall, ceiling and floor becomes my canvas/paper with the added element of observing the manner the body interacts with the architecture," Ainslie said. "The work becomes much more experiential. We, the audience, become an element within the work, which I find very exciting."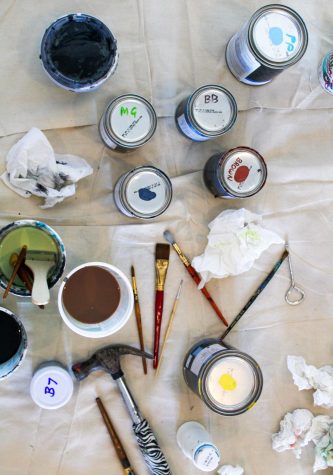 The students and alum working with Ainslie have embraced the opportunity for collaboration and exploration. 
James has worked with Ainslie on a previous mural, had her as a professor during her first semester at Northeastern, and said Ainslie asked her to join the team over winter break. 
"Painting with Sophia is great because it gives me an opportunity to indulge in one of my strongest passions. As an architecture student, I don't have as much time to engage in my artistic hobbies such as painting, so this definitely was a refreshing experience for me," James said in an email to The News. "Sophia also values our talents and input greatly; even though we are painting her original artwork, she encourages us to use our own creative judgment while painting, and add our own personal touches if we choose. It feels more like a collaboration, rather than just assisting."
Kasumov said she also felt that sense of collaboration. After taking Ainslie's observational drawing class, she was excited when Ainslie asked her to assist her with the mural. Like James, she is not an art major, so she appreciates the chance to express her creativity alongside Ainslie. She said each day working on the artwork comes with new experiences. 
"We start in the same section, but … everyone has a different mark, like mark-making," Kasumov said. "Sophia likes to integrate everyone's different mark together, so it's nice when we all kind of jump around and finish off each other's work."
Ainslie explained the differences in each team member's mark, pointing out how Zhang has a very flat mark with no visible brushstrokes, while she herself uses more obvious brush marks. 
Langrock uses this opportunity as a way to stay "busy and productive" following an internship with Walt Disney Imagineering, he said. Having worked with Ainslie for five years, he was an easy choice for the project, and the pair often finishes each other's thoughts. They don't always agree, however. Ainslie encourages creative disagreement and conversation amongst her team and viewers of her work, inviting Langrock to suggest any opposing ideas. He is there four days a week helping Ainslie. 
"She's always here earlier than me," Langrock said, emphasizing Ainslie's dedication to the commission. 
He said what he enjoys most about the project is getting to take a step back. 
"With something so large, it's very obvious the amount of work that you've done," Langrock said. "You can literally just step back and be like, 'okay this third of the wall is what I did today.'"
Ainslie is hoping to expand her teaching to include a new mural painting course at Northeastern, for which she is currently in the process of getting approval from the dean. This way, she can pass on the passion and skill she has for transforming large spaces to new batches of students.
Throughout the process, many have begun to interpret and love her mural in different ways, seeing different shapes and figures depending on their perspective and experience. 
"I think I connected to this area [of the mural] because I was working on this and my mom texted me, 'how are you?', so I sent her a small fragment of it and she said, 'is that a zebra?' … The whole mural looks like maps to me," Kasumov said.
Ainslie said that when the owners' grandchild comes by, he sees a dragon in the painting. Each time he enters the house, he lets out a gasp and says, "dragons!" 
"Sometimes people notice the areas they keep coming back to, like little secrets," Ainslie said. 
If Ainslie herself starts to see a distinct object or creature in her work, she tends to destroy it, attempting to abstract her vision further. 
The mural has become an important fixture in each team member's life, with many of their hours spent staring at the colors and lines, kneeling on the ground painting a tiny section and climbing ladders to reach the highest peaks of the piece. 
Langrock said he, Kasumov and Nash have begun to dream about the mural, literally. 
"In my sleep, I can see myself holding a paintbrush and doing the linework," Langrock said.