GymNUstics ends their season placing in the top 10 teams at nationals
Northeastern's club gymnastics team had their hands full this year, with a busy season that culminated at nationals in Memphis, Tennessee. 
The team had a monumental season, planning and hosting its first ever home meet in addition to competing at the regional and national levels. With seven graduating members on the team, the club wanted to ensure it made the most of the season and ended on a high note.
Fourth-year industrial engineering major Katie Colella said organizing a home meet has always been a goal for the group, but was not feasible up until this point. As meet manager, she oversees the organizational aspects of attending meets, but took on the extra responsibility of hosting this year. 
"We didn't really know what to do, so it was a little bit difficult," Colella said. "It turned out really well, though. I'm happy we did it, and I hope that they'll continue in the future." Colella is graduating this spring. 
In addition to planning the home meet, the team kept busy prepping for competition. Twice a week, they meet for practice at the Winthrop Gymnastics Academy, about half an hour outside of Boston.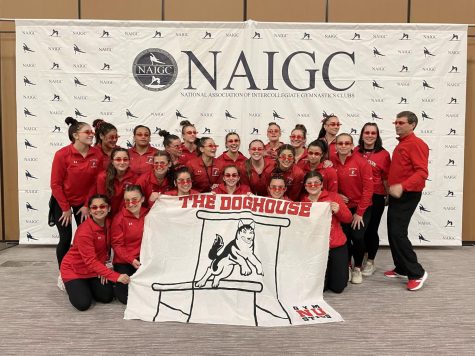 Fifth-year cell and molecular biology major Liz Ergil described the team's practices as an "open gym," where everyone has the freedom to work on whichever skills they want.
"We all warm up together as a group, and after that, it's sort of like an open gym type workout where it's self-directed," Ergil said. "You pick what events you want to do and work on what you want to work on, and then as we get toward meet season, we'll start showing routines."
As vice president of the team, she assists the president in putting together lineups for events at each meet. The team competed at regionals in early March, placing in second despite many of the team's high scoring members being away for spring break. 
"We've had a growing year," Ergil said. "We lost a lot of seniors last year, and COVID messed up our recruiting, so it was really cool to still be able to place second."
Immediately after regionals, the team began buckling down and preparing for nationals. 
The president of the team, fifth-year biology major Izzy Albuja, kept the team on track by booking flights to Memphis, planning lineups with Ergil and overseeing all things nationals-related. 
"We had, like, three practices before nationals, so everything just started going super, super fast," Albuja said. We start at the beginning of the spring semester, and as we come back from break, we're making sure that we're really getting the most out of our practice time. When we got closer, a lot of people were putting in a ton of effort at practice, which is great."
On March 29, the team flew out of Boston for a weekend packed with excitement and competition. GymNUstics competes with the National Association of Intercollegiate Gymnastics Clubs, or NAIGC, at level eight.
Held at the Renasant Convention Center in Memphis, Tennessee, over 50 teams gathered for nationals to show off their skills. In the preliminary rounds, members are eligible to qualify both as a team and as individuals, based on the top scores of the group for events such as beam, vault and floor.
In previous years, the NAIGC national rules stated that the top eight highest scoring teams would advance to the finals. This season, though, the rules shifted to only allow the top six scoring collegiate teams to advance. Northeastern's team placed seventh overall in the preliminary round, just missing the mark to advance to finals. 
Liz Ergil was the only member of the team to qualify as an individual, and she was able to go to the final rounds to compete in vault, with her teammates cheering her on.
"Everyone goes to everything," she said. "Gymnastics is the most supportive group of people I've ever met in my life. I love them all."
The team described the environment at nationals as a fun, upbeat event, more than a competitive environment. Many of the girls grew up competing in gymnastics from a very young age, and were able to reunite with childhood gymnastics friends at nationals who compete at other schools.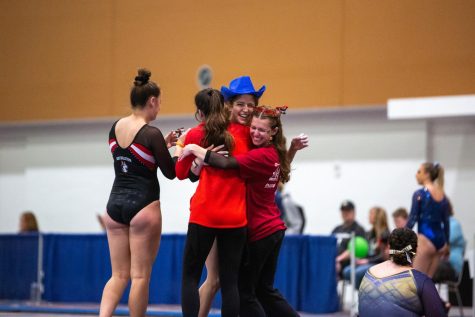 "The community is so great — we've all been doing the same sport our whole lives and we can bond on that now in a much more relaxed and supportive environment," Colella said. "In high school, it was so, like, every man for themselves. But now, it's so nice that everyone can cheer each other on and have that team spirit, which is really nice. And I love everyone, and I'm so grateful for them." 
At the end of nationals, the team attended a formal banquet, where they had the opportunity to mingle with the other teams and celebrate the end of the season. 
It was certainly a busy year for Club GymNUstics, and Albuja and other team members expressed their gratitude for head coach, Peter Gobiel, who has sacrificed his time to help the team. Gobiel used to coach Northeastern's D1 gymnastics team, before the team was cut in 1997 and the club team formed. Now, he donates his time and gym space to the club team simply because he loves the team and sport.
"He comes to all of our meets even though he has his own team and practices going on, and he doesn't get paid," Albuja said. "He just does it because he loves to coach, and he loves the sport, and he loves us."
It is a bittersweet last few weeks of the year as the graduates prepare to leave the team. All of them are proud of the hard work they have put into this season and are encouraged and inspired by the tenacity of the younger members. 
Ergil hopes to keep in touch with the team, even as she leaves Northeastern. 
"I hope that I can continue to be there and support the underclassmen as much as they need," she said. "I love them all so much."