Mid-March's CAA Pitcher of the Week Wyatt Scotti has high aspirations for season ahead
If Wyatt Scotti got to tell his younger self — who had big hopes of playing baseball for years to come — that he would be recognized as CAA pitcher of the week in his junior year as a right-handed pitcher, he would be proud of the amazing journey he has had.
For Scotti, a Massachusetts native, his love for the sport blossomed when he was a kid. Being inspired by players like Tyler Beede, who he has now met and thrown with, he stayed on a local team and kept pursuing his passion further.
"I played on a Little League team when I was 12," Scotti said. "We won a state championship and that's when it started for me."
Though he did not just stay on the mound in the country — he made his way to another continent to pitch. 
When he was 13, Scotti was part of a team through the Goodwill Series that was composed of players from all over the nation. They played in different regions of Australia, living with host families to get the full experience.
"It was really a great experience not only culturally, but it showed me global baseball," Scotti said.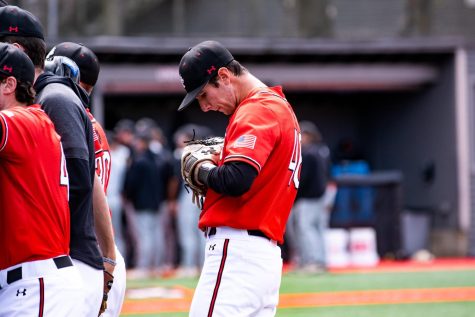 While attending Saint Mark's School in Southborough, Massachusetts, Scotti was the captain of the baseball team and his performance in numerous games and tournaments put him on Northeastern's radar. Kevin Cobb, one of the recruiting coordinators and a pitching coach, saw him as a future asset to the team.
"He had pretty good velocity and competed very good in high school," Cobb said. "He knew how to attack hitters and get them out, and he threw a lot of strikes."
Choosing Northeastern for its baseball coaching staff, academics and location close to home, Scotti easily found his place on the team.
"[Scotti] has always had a ton of success since he's been here," Cobb said. "He's got a good feel for the game and pitching-wise, he understands a lot of things."
Last season, Scotti earned the CAA Pitcher of the Week title three times, along with being named to the CAA all-second team in 2022. He had the second-lowest earned run average on the team — a 2.88 — and fifth in the conference.
Moreover, he threw seven no-hit innings against Elon University, shutting them out with 10 strikeouts and only one walk. Out of his 14 games, he was credited with eight wins — the most out of anyone on the team, and the second best in the CAA.
This season has been nothing but a manifestation of his goals — in Northeastern's home opener, Scotti pitched seven scoreless innings. Even in his first two seasons on the team, he threw 39 and 65 strikeouts, respectively.
At Friedman Diamond, everyone knows Scotti has his calculated ways of preparing.
"I only listen to Taylor Swift on game days because I feel like it puts me in a good mental state where I'm relaxed, calm and focused when I go out there and compete," Scotti said.
Greg Bozzo, a junior catcher for the team and one of Scotti's roommates, notices it from afar.
"He's got a very good routine. He's in tune with what works for him and that's one of his greatest strengths," Bozzo said. "If you catch him on game day, he probably won't say a word to you because he's locked in."
Forty-three strikeouts this season thus far – including eight in one game – and a 3.38 ERA are proof that Scotti comes to the plate ready to put up a fight and win.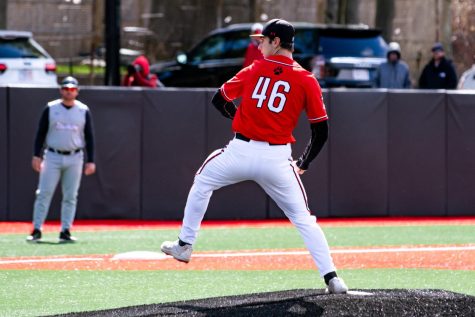 "There's a lot of really good players in our conference, so to get this honor is a great thing and I'm humbled by it," Scotti said regarding his CAA recognition.
He looks at every game as a chance to understand three takeaways — that means three things that he did well and three things to work on, Scotti said, explaining that "it keeps [him] progressing and learning."
The pitcher has a special dynamic with the catcher, one that involves a lot of coordination and teamwork. Scotti and Bozzo work together routinely on the diamond.
"Being his catcher is an honor," Bozzo said. "90% of the time, I don't even have to move my glove, but he makes it really fun. It's a testament to his good routine and all the work he puts in behind the scenes."
Scotti's coaches are ecstatic for him to be receiving this attention as a stand-out player.
"It's always an honor to get rewarded for your success," Cobb said. "I'm always super proud of those guys and how they go out there and it's always good to see them get the recognition they deserve."
Outside of baseball, Scotti is a business administration major with concentrations in finance and marketing and makes sure to make the most of his college experience with his friends.
"[Scotti] and I are goofballs and like to have a lot of fun," Bozzo said. "In the room, he's really just a normal guy."
But how would Bozzo describe him in three words? 
"The super-est gremlin," Bozzo joked.
With a few weeks left in the season, it's clear that Scotti has an arm that could get him far. He now also qualifies for the draft, given his class standing as a junior. He has come to accomplish a lot from his childhood experiences and dreams, staying true to himself and his passions.
"We have big goals, but for me personally, it's to go out there and do my best every week," Scotti said. "I think it's easy when you have such good players around you to go out there and just feel confident."
Editor's note: This story was updated at 12:26 May 3 to correctly reflect a player's accolades.