You're on your own kid: Undergraduates celebrate commencement in Fenway Park 
Over 4,600 members of the graduating class of 2023 along with friends and family filled the iconic Fenway Park for Northeastern's spring undergraduate commencement Sunday, where they heard from multiple speakers and celebrated their diversity through representation, recognition and performances. 
Mariam Naficy, entrepreneur and founder of Minted and Heretic Ventures, and student speaker Clara Wu, a graduating behavioral neuroscience major, were some of the many speakers who addressed thousands of audience members throughout the day with encouraging words about their respective experiences in the workforce. 
The ceremony began with a rendition of the national anthem by Eva Ullmann, a College of Arts, Media and Design graduate with a bachelor of science in music industry, followed by a video package of graduation celebrations set to Taylor Swift music.
The Center for Spirituality, Dialogue, and Service delivered a prayer alongside words from student representatives of various faiths, including Buddhist, Muslim, Jewish, Roman Catholic, Protestant and Hindu, Sikh and Jain. 
Richard A. D'Amore, chairman of Northeastern's board and namesake of the D'Amore-McKim School of Business, congratulated the graduates and asked the audience whether they use TikTok — to which the crowd responded by shouting and waving their arms affirmingly.
And it seems Northeastern President Joseph E. Aoun does as well, as Fenway's several screens projected Aoun in a "get ready with me" TikTok, where the Northeastern president got ready for the day, made an over-the-top breakfast smoothie, hit the campus gym and got dressed for commencement.
Later in his speech, Aoun warned graduates of the dangers of social media algorithms and the creation of like-minded echo chambers during Sunday's commencement. 
"Get out of your TikTok tunnel," he said.
Aoun then told the audience he had asked ChatGPT for the top five commencement cliches, which he shared with the audience embellished with his own commentary. 
"Opportunity is always in motion," Aoun said. "Your time at Northeastern was not confined to a campus — you have co-op and dialogue and global experiences that allow you to roam." 
Aoun closed his speech advising graduates to embrace these changes as they have during their time at Northeastern.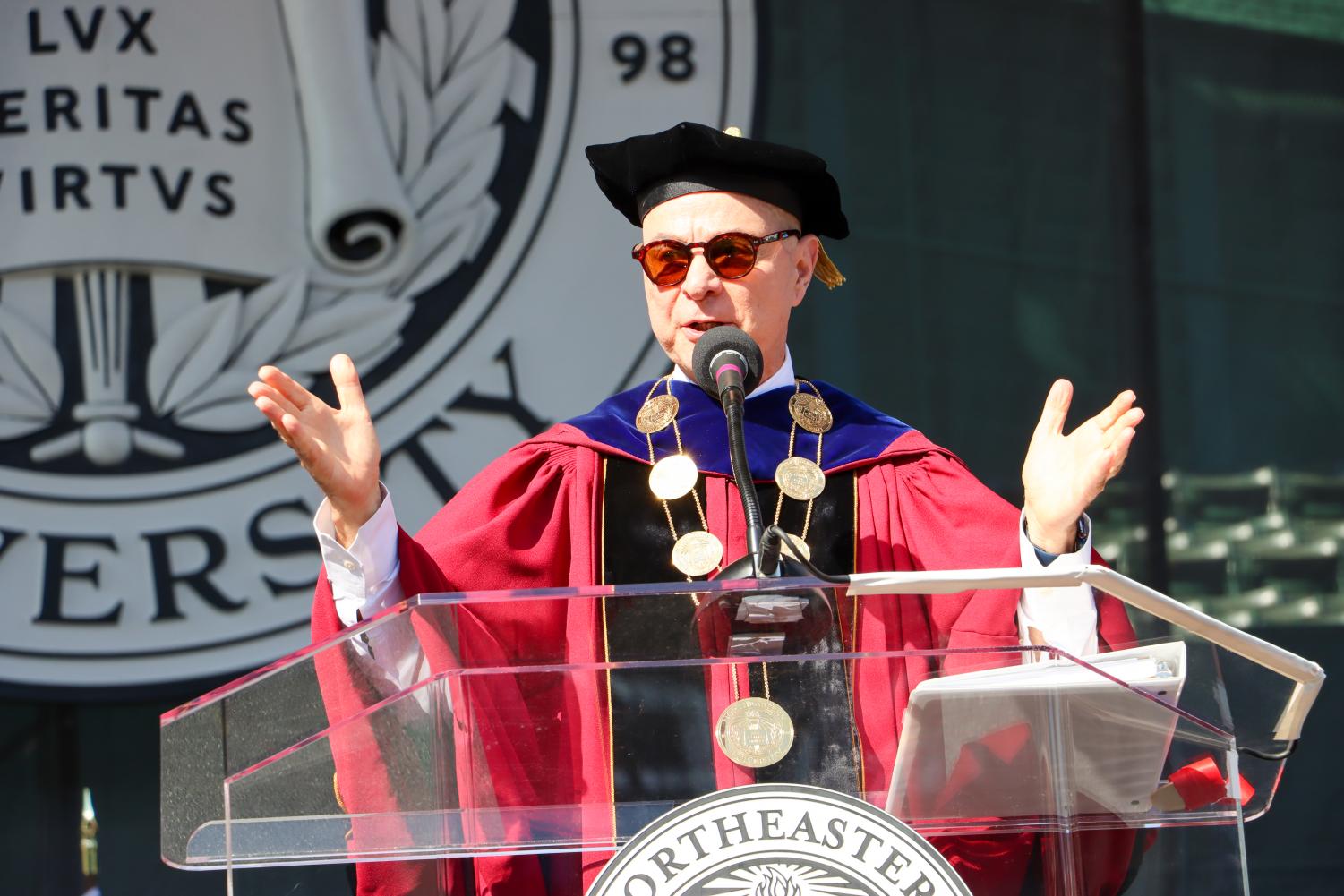 Naficy spoke about the importance of having control over one's reactions to challenging circumstances, recalling her immigration to the United States, where her father struggled to get a job and her new life filled her with panic. 
"I knew I had one asset that I had control over, and that was my brain," Naficy said.
Naficy also discussed how she took every opportunity she came across, determined to make the life she wanted. She said she entered the field of technology without a degree in computer science and turned herself into the e-commerce professional she is through experience, perseverance and passion. 
"Love can light the way. Love for your work," she said.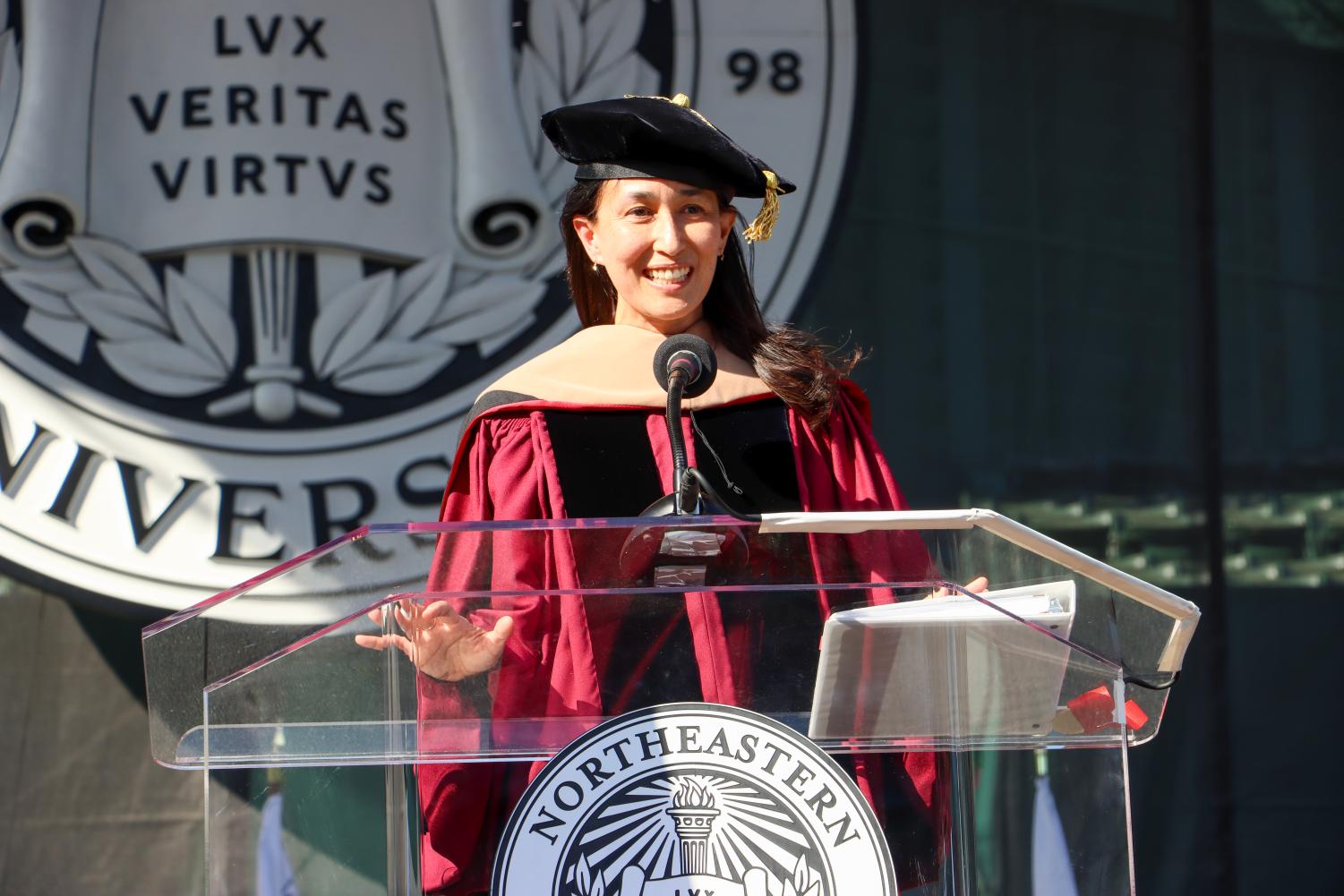 Graduates from each college were recognized by the deans of their respective schools. Students were asked to rise alongside their peers, wearing gowns and caps with colored tassels representing graduates' home colleges, to be recognized for sufficiently fulfilling graduation requirements. 
During the undergraduate commencement ceremony, Aoun awarded Alondra Nelson and Alberto Ibargüen with honorary doctorates. 
In January 2021, Nelson was appointed deputy director of science and society at the White House Office of Science and Technology Policy by President Joe Biden, where she served until this past February. Nelson received her doctorate in public service. 
As Ibargüen approaches retirement from his 18 years as president and CEO of the John S. and James L. Knight Foundation, he received a doctorate in humane letters. His work at the foundation reimagined journalism in the new digital world said Susan Dietch. 
During the student speech, Wu reflected upon her various co-ops working as a newborn hearing screener, a clinical research assistant at Boston Children's Hospital, a pediatric palliative care assistant and shadowing staff at neuropediatric clinics in Germany. 
"I am so lucky. I am really out here helping," she said.
Wu spoke about how her friends at other schools sat at home in online classes during the pandemic, whereas she and her Northeastern peers were finding their footing in the working world on co-op. 
Wu shared advice from her grandfather and late grandfather. 
"They always reminded me to treasure my family. These relationships are the most valuable things in life," Wu said. "Don't be afraid to put family first."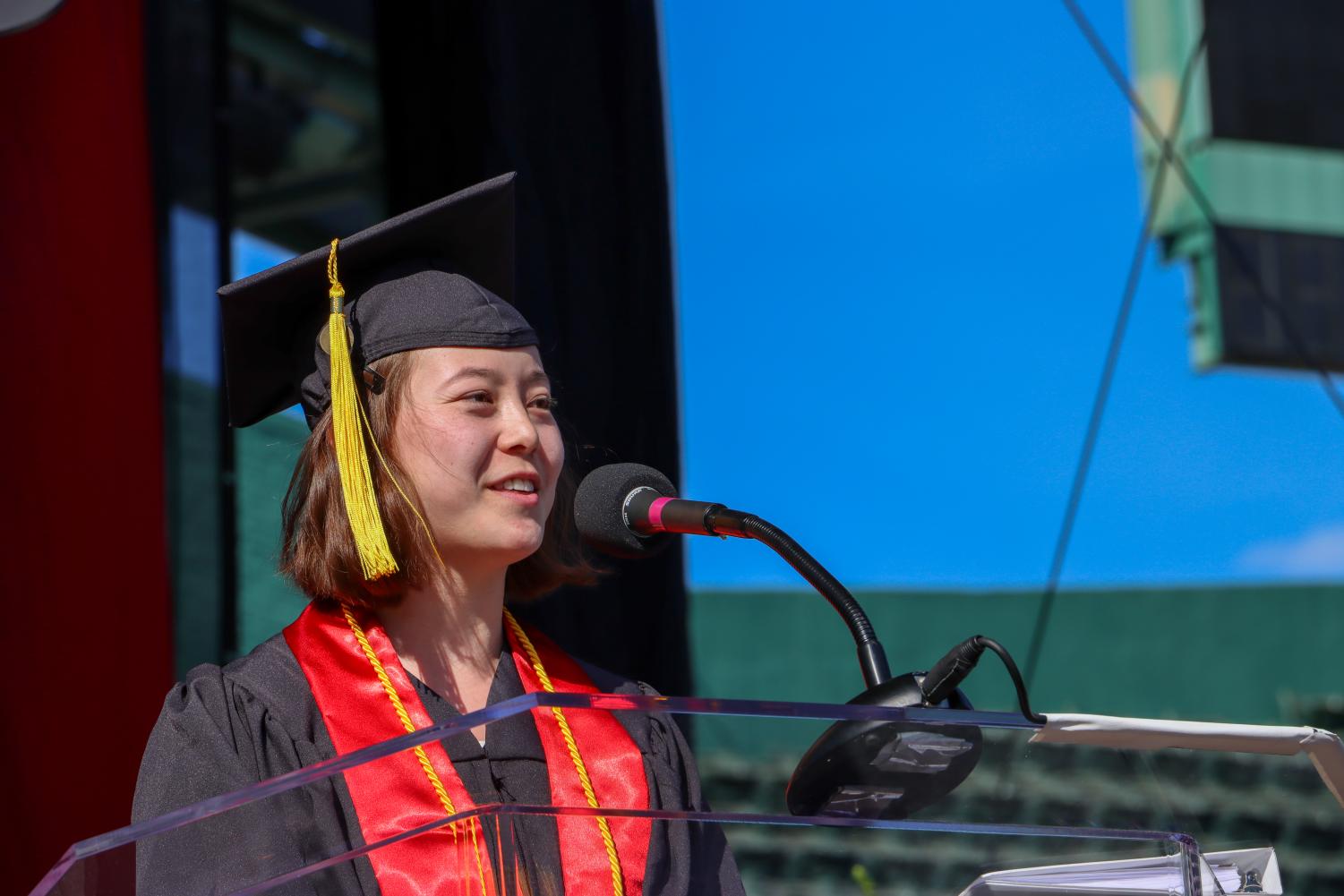 After Wu's speech, Joy Vottero, a commencement attendee, reflected on her granddaughter, Sara Gifford's, a business administration and communications major, commencement.
"To see her accomplish this today fills me with great joy," Vottero told The News . 
The commencement ended with  performances from multiple artistic student groups, with vocals featuring The Nor'easters, a student acapella group, and a variety of dance clubs and music groups. The commencement festivities came to a close with a fun-filled production ending with fireworks during the performers' rendition of Katy Perry's "Firework." 
As tassels moved to the left side of their cap in a symbolic gesture, the newest graduates of Northeastern turned toward the crowd cheering them on as the smoke filled the sky.