Autism Advocacy Day brings hope and awareness for disability rights
The Great Hall of Flags in the Massachusetts State House was filled with determined love and support on the morning of May 8 as the 18th Annual Autism Advocacy Day took place.
The event was hosted by Advocates for Autism of Massachusetts, or AFAM, founded in 2004 under the combined efforts of pre-existing autism advocacy organizations. These included the Autism support centers, the Arc of Massachusetts and the Flutie Foundation, the latter of which primarily provided financial support.
Autism Advocacy Day is one part of AFAM's mission to highlight the experiences of people living with autism spectrum disorder, and unite them and their families together. Historically, state and federal governments have provided inadequate support and services for people with autism. By rallying together a range of self-advocates, family members and others who are familiar with supporting those on the autism spectrum, AFAM seeks to bring the need for these support systems to Massachusetts legislators' attention.
Terri Farrell, a member of AFAM's Executive Committee, was the main organizer for Autism Advocacy Day this year. As the mother of a son with autism, her personal experiences with a stark lack of support for people on the spectrum have served as the main reason for her commitment to AFAM. She started by attending AFAM workshops and advocating with a state representative, and eventually became fully involved in volunteering and government affairs.
"It's been kind of a 20 year journey, and as I say, it's a marathon, not a sprint with autism," Farrell said. "I learned how to not just advocate for my son but to teach him how to advocate for himself as well."
Here Farrell addressed one of AFAM's core principles: self-advocacy. By directing a major focus to providing resources for people on the autism spectrum to speak for themselves, the organization ensures that its advocacy comes from a place of personal experience.
AFAM previously found success in pushing for bills such as the Autism Omnibus Bill, which made it a state requirement for MassHealth to cover all essential medical treatments for anyone under the age of 21 on the spectrum. Other major accomplishments include establishing the Autism Division of the Department of Developmental Services and the Autism Commission, which determines the state's yearly priorities to support people with autism.
While AFAM and its advocates take action year-round, Autism Advocacy Day is often seen as the biggest annual event, as it gives the organization and its supporters the most direct opportunity to interact with Massachusetts legislators. This year, AFAM is prioritizing support for workers who take care of people on the spectrum.
"Mostly we've been really focused on making sure that there's awareness of the [workforce] shortage and that we raise the rates for the workforce for people who take care of individuals with autism," said Maura Sullivan, the Senior Director of Government Affairs and Health Policy at the Arc and AFAM. "They're not paid fairly, and we're never going to really impact services and support unless we raise the rates for the workforce."
Michael J. Borr, the retiring chairman of AFAM, opened the day's programs with a reflection on how far autism support communities have come since he took the role of chairman during AFAM's inception nearly two decades ago. He acknowledged he was being honored for everything he had done for the community and recognized all the organization had given him in return, like the opportunity to work with so many devoted fellow advocates. His successor, Katie Terino, also spoke about her experience with autism advocacy and her commitment to filling the role of chairman.
When asked what from his time as chairman will stick with him above all, his answer was simple but powerful.
"It's the people," Borr said. "It's motivating. We deal with parents, siblings and grandparents, and it's a tough diagnosis. I have a 33-year-old son that will steal your heart one minute and start banging it over your head 10 minutes after he steals it, but he's been my motivation. In looking at the families that I've gotten involved with, I've been blessed to work with them. It's them."
Borr's remarks were followed by stories from Heather Hegedus, a former Boston 25 anchor and parent of a son with autism, and Reggie Williams, a self-advocate who shared his experiences as someone on the autism spectrum. This co-presentation by a self-advocate and a family member encapsulated the theme of unison that presented itself throughout the program.
Massachusetts Senate President Karen Spilka presented Senator Joan Lovely with the Distinguished Legislator of the Year Award for her work in autism advocacy and devotion to passing legislation for people with disabilities.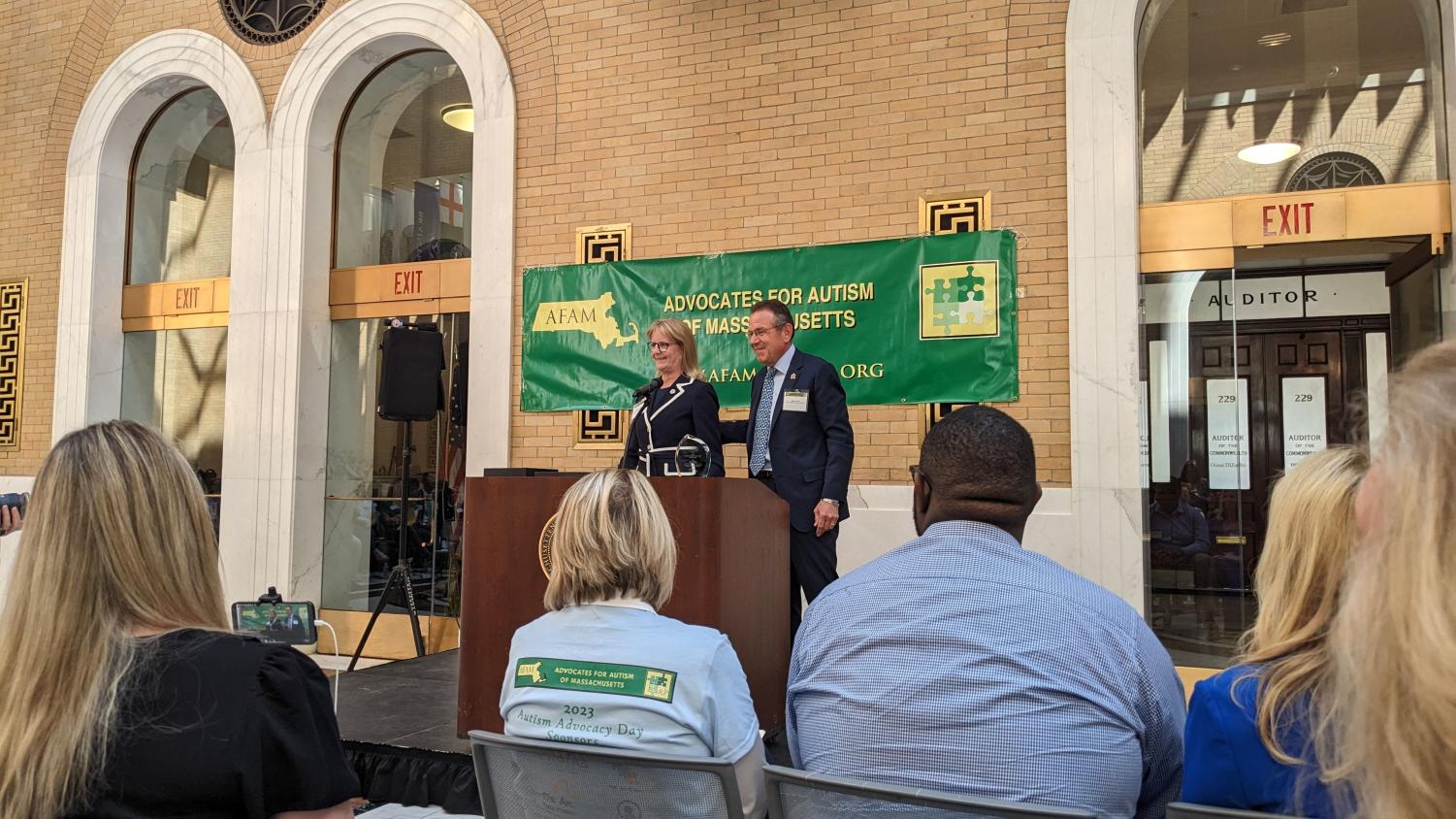 The highlight of the day's events came when Governor Maura Healey made an appearance to present the Autism Advocacy Day proclamation, which marked the importance of the day in the minds of legislators as well as the hearts of supporters.
During her speech, the governor previewed her FY24 budget, which serves as a plan of all state funding for the 2024 fiscal year. She also made it expressly clear that she would remain deeply devoted to the autism community.
"Lieutenant Governor [Kim] Driscoll and our team across the board are 100% in support, and it's why we're here today," Healey said. "We believe that every single person in Massachusetts deserves the opportunity to live their very best life and to reach their potential. Whether in college, at home, in the workplace or in residential care, no one should ever feel left behind or left out."
The governor's remarks were echoed by a call to action from Sullivan, including a thorough description of AFAM's FY24 legislative priorities. Beyond the priorities discussed above, a wide range of issues including safety, housing, equitable access, healthcare and education were covered. 
After closing remarks from Borr and Terino, attendees had the opportunity to speak with legislative assistants from their specific district. This model encouraged all attendees to actively participate and advocate, and helped communicate the messages encompassed in AFAM's legislative priorities directly to Beacon Hill.
When asked for a personal comment about the day's events, Governor Healey shared sentiments that captured the optimistic outlook on the future put forth by AFAM.
"Today's event is really important," the governor said. "It's about raising awareness about autism and making sure that we have the budget and resources there to help people with autism and their families and caregivers as well. I was honored to be here today."
As for how newcomers to autism advocacy can get involved, AFAM helps serve as a gateway to a myriad of opportunities for those eager to make a difference.
"If you look at our membership, there are seven autism support centers and seven advocacy groups, and they're all looking for help," Borr said. "That's the best way of doing it. Call local."