View into a Dialogue: Sustainable Living in a Harsh Desert Environment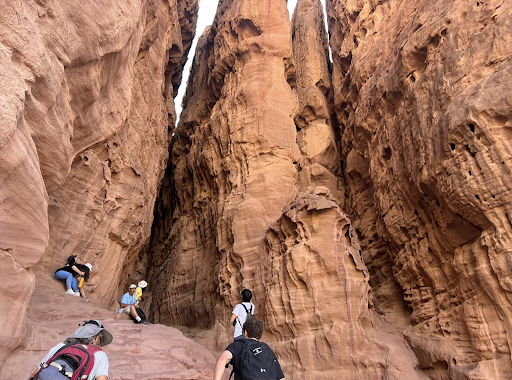 Fifty-three kilometers from the coastal city of Eilat, Israel, sits Kibbutz Ketura, a living community in the Arava Desert. Home to the Arava Institute for Environmental Studies, the kibbutz houses a network of students, professors and researchers dedicated to conversation and collaboration across borders. Just north of Ketura is Kibbutz Lotan, another community committed to educating about the environment, ecology and sustainable living. It is at these institutions, nestled between the Jordanian mountains and the Israel sand dunes and surrounded by political and environmental conflicts, where Northeastern's Dialogue of Civilizations: Sustainable Living in a Harsh Desert Environment program takes place.
"I think students learn more when they are challenged. I want to show them that even though it's harsh conditions, it can be productive," said Rebeca Rosengaus, associate professor of marine and environmental sciences and creator of the program. "I don't know how many other dialogues push the students to that limit – it takes you away and puts you in a new context. It takes you out of your comfort zone completely – the heat and no water, cooking your own meals – everything is completely new."
There is no 'average day' for a student on this dialogue. Activities extend beyond the classroom to include hands-on work. A student may find themselves attending a lecture on agronomy, building structures with natural and sustainable materials or on a 'scorpion safari,' in which students examine and locate the organisms that inhabit the desert area. The dialogue also involves a series of day trips to local agricultural institutions, the coral reefs of Eilat and the solar fields of Mitzpe Ramon.
Additionally, students conduct and participate in projects alongside researchers at the Arava Institute, allowing for complete submergence in the local scientific realm. The program combines the practical and physical elements of environmental and ecological sustainability to educate students on the real-world application of these initiatives.
All this comes while adjusting to the climate conditions of a hyper-arid desert, a location in which temperatures can reach 120 degrees Fahrenheit in the summer, and sees only 25 mm of precipitation per year.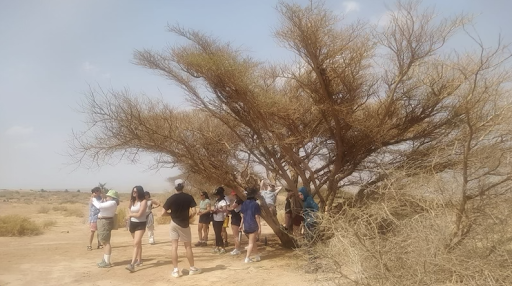 "I wanted to be able to do something I would never otherwise have the opportunity to do," said Lucia Barrera, a rising third-year environmental and sustainability sciences and economics combined major on the dialogue trip. "I was intimidated by the desert and I didn't think it was something I would push myself to do on my own, and I felt like this was a comfortable way to go out of my comfort zone."
 "I want [the students] to experience a different life, a different culture and a different perspective," Rosengaus said. 
The climate and lifestyle conditions are not the only challenges students face, as this dialogue brings students to the center of a geopolitical hotspot. The close borders, as well as the Arava Institutes' commitment to multinational communication, allow for insight into local perspectives on the Israeli-Palestinian conflict, as well as on political tensions with the nations surrounding Israel. 
"Why not use the love of the environment to find understanding and empathy?" Rosengaus said. "There is a media focus on conflict, it sells, but it's not the entire story."
Barrera explains her decision to join the dialogue gave her valuable field experience, ultimately providing knowledge she can use across the ocean, back at Northeastern's Boston campus.
 "It's been great to be able to learn practical aspects of my major and to see how people apply the principles we learn back in Boston in the field and day-to-day life," she said.
Rosengaus believes that as Northeastern continues to push towards a more sustainable future, the importance of integrating students into the field cannot be overstated..
 "Deserts are anywhere, but this is the Arava Institute. Ecology and sustainability, the intellectual aspects; they are all at the institute and at the Center of Creative Ecology at Lotan," Rosengaus said. "The students are learning from professionals, from researchers with the government. I mean, these are people who are experts in their field."
The dialogue participants acknowledge that a sense of defeat often accompanies studying the degradation of the environment, and that is especially present in the desert biome. There is a shortage of water, an extreme presence of sun and heat and a lack of vegetation. Students dive headfirst into both a challenging location and mindset, but Rosengaus believes this is a positive thing. 
"I want the students to feel like they are a part of the solution, not just the problem," she said. "We need to develop a sense of optimism about the environment. I hear so often, 'Why should I try, why should I even go to school?' That's giving up, and right now, we don't have the luxury of giving up."