Eric Yost just added his name to the list of Northeastern greats.
On July 11, the San Diego Padres selected Yost in the 17th round of the MLB Draft. Just six days later, the right-handed pitcher made the decision to go pro.
"Baseball is something I've been doing my whole life, and getting drafted was my goal," Yost said in an interview with Northeastern Global News, or NGN. "So, once I had that opportunity, I don't think I could've passed it up."
Yost's expansive baseball adventure started at around 5 years old. As a child, the Ossining, New York native spent his time playing Little League and summer ball. While attending Fordham Preparatory School, Yost earned three varsity letters for baseball and served as captain of the team for two seasons. Northeastern's student athletes balance, paired with its baseball program and prime location, drew him to the school.
"I can still remember the first time he threw a bullpen for us at Northeastern. It was not a typical freshman bullpen," said head coach Mike Glavine. "He had great command — he wasn't nervous, and he looked like he fit in right from day one. You could see this kid was going to be a great pitcher." 
Yost's impressive freshman season earned him a CAA Rookie of the Week title and a spot on the All-CAA Second Team. He was fourth in the CAA in saves with four to his name and recorded 12 scoreless appearances. He only improved in 2022, holding the best earned run average, or ERA, on Northeastern's team with an incredible 2.48. He pitched 20 games that season, throwing 719 pitches in 61.2 innings.
In his junior season, Yost pitched 78.2 innings with a 4.23 ERA. He walked a mere 14 players, striking out 57 and tossing a career-high nine strikeouts against the University of Delaware in April. He was a significant part of the efforts that led the Huskies to the CAA championship game in 2023. 
"This past season was awesome. We had a great group of guys and had a lot of success. As a pitcher, I'm excited for what I learned this year and how it'll help me at the next level," Yost told NGN.
Many of his 15 starts were alongside senior catcher Gregory Bozzo, who worked closely with Yost during his junior season.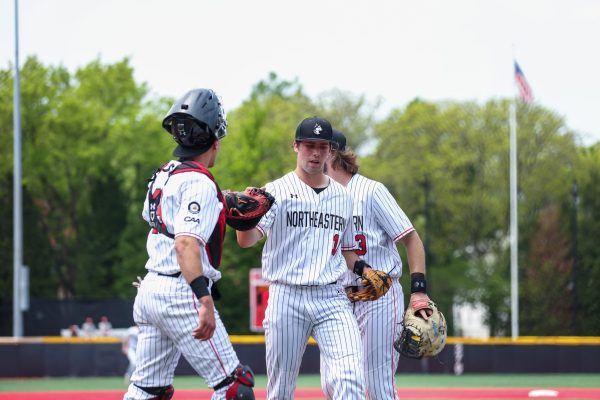 "It was definitely special. I loved catching him, and he loved throwing to me because we were on the same page mentally 99 percent of the time," Bozzo said. "I always knew what he was trying to do, and he trusted me to make it look good."
While Yost has a diverse set of pitches, his team knows there is one pitch in particular that is a standout in his catalog.
"Yost has a great fast ball, but his breaking ball is pretty devastating," Bozzo said. "I always told him, I think it's going to be his pitch for him as he progresses in his career."
Following the Huskies' exit from the NCAA tournament in early June, Yost joined the Yarmouth-Dennis Red Sox in the Cape Cod Baseball League for a second season. On the third and final day of the MLB draft, while preparing for a game, he received a call from his advisor alerting him to the Padres' decision. Once he decided to sign, Yost flew to Peoria, Arizona, where the Padres practice for spring training, to sign his first professional contract.
On August 1, Yost made his minor league debut with the Fort Wayne TinCaps, the High-A affiliate of San Diego. Three days later, he was assigned to and activated by the Lake Elsinore Storm, joining former Husky right-hander Thomas Balboni on the Padres' Single-A affiliate. Balboni was picked by San Diego in the 15th round of the 2022 draft. 
Glavine called him an hour after the draft to congratulate him and is excited to see his success in the major leagues.
"It is one of those situations where you hope you get your player back but realistically, you really want him to go on and play professional baseball," Glavine said. "That's what every baseball [kid dreams to do]."
His teammates are also proud of him and have been inspired by him not only as a pitcher but as a "great guy."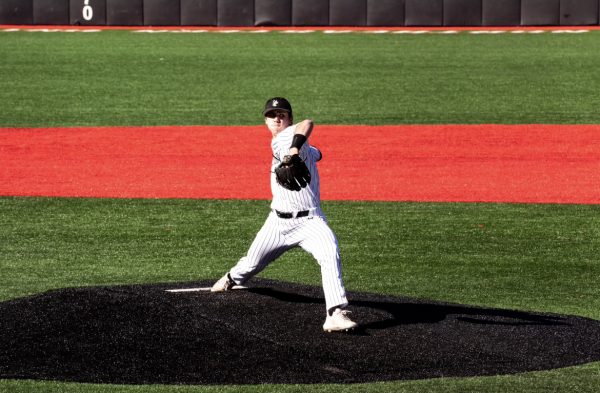 "We're gonna miss his dominating performances on the field, but we're gonna miss hanging out with him off the field just as much," Bozzo said. "He's on a great track, and I have all the beliefs in the world for him."
Yost leaves the Huskies as the 59th Northeastern baseball player to be drafted and the 12th since 2019. During his three years, his teammates and coaches said he always had a smile on his face to match his positive work ethic and mindset, stayed selfless to prioritize the team's goals and gained tremendous respect from his teammates and coaches.
"I'm thankful that he chose Northeastern and came here. He embodies everything we try to do here at Northeastern and as a baseball program," Glavine said. "[I] look forward to following his success in professional baseball."