At the culmination of last season, the Northeastern women's hockey team graduated some of the biggest names in the sport, including its entire top line. After contributing to the team's six-straight Hockey East Championships and third-straight Frozen Four appearance, the departures left some big shoes to fill for the upcoming lineup. So where do the Huskies stand now, without Alina Müller, Chloé Aurard and Maureen Murphy?
They're still one of the most promising teams in the country.
Northeastern is already at the top of the polls. Earlier this month, the Huskies were given the top slot in the Hockey East preseason head coaches' poll, receiving eight of the 10 coaches' votes. They also earned fifth in the NCAA's preseason women's hockey Power 5 rankings. 
The eight new faces on the team have already made an impression in the preseason, and for good reason.
Matthews Arena welcomes seven new freshmen to the ice, and each talented rookie has already received national recognition. Some placed in top positions in national juniors tournaments, others competed globally with Team USA and still more were invited to the country's top development camps.
The Huskies add to their legacy of stellar goaltenders with the arrival of freshman Mattie Robitzer. After captaining the Unionville High School team for four years, the Pennsylvania native took a gap year before stepping into the collegiate rink. Robitzer also comes with a formidable resume from her juniors career with the Philadelphia Jr. Flyers. In her most recent season, she earned a .943 save percentage over 41 games. Over the past three years, she's acquired three medals at USA Hockey Nationals — bronze in 2021 and silver in 2022 and 2023. With fifth-year netminder Gwyneth Philips entering her final year of eligibility and fellow goaltender Paige Taborski already in her third year, Robitzer is a much-needed addition to the roster.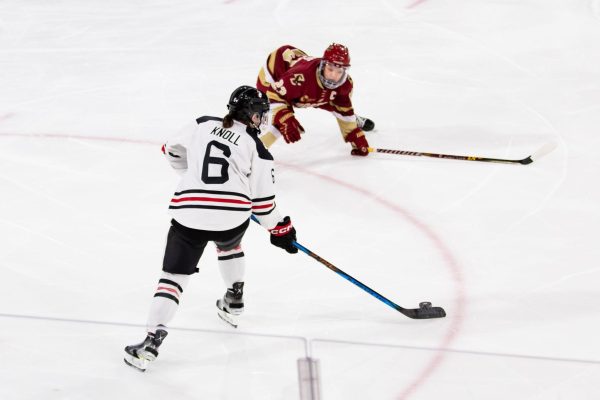 On the blue line, Northeastern gains just one new freshman in local athlete Rylie Jones, who comes to the Huskies from North Chelmsford, Massachusetts. Offense, however, will be much more rookie-heavy with the addition of Ella Blackmore, Mady Cipolla, Peyton Compton, Alexandra Lalonde and Ellie Mabardy.
In addition, Becca Vanstone, a forward from top-ECAC school Yale University, will be joining the Huskies for her graduate year. Vanstone made an early mark at Yale, leading the Bulldogs in goals with 13 in her freshman year and being named to the All-ECAC Rookie Team and the All-Ivy Second Team. While the next few years were fraught with injuries and a playless COVID-19 season, Vanstone hits the ice as a strong and experienced scorer, which is just what the Huskies need in their lineup.
Graduate student defender Megan Carter leads the Husky squad as captain, while fifth-year forward Katy Knoll, senior defender Abbey Marohn and Philips all don an 'A' beside her as assistant captains. 
Carter led the blue line last season, her 22 points the most of any defender and fifth-most on the team. With three game-winning goals under her belt, the Canadian powerhouse is invaluable to Northeastern and will no doubt continue to lead both on and off the ice. 
Knoll has been a Husky to watch since she led her freshman class with 26 points, and her skill has only grown. Last season, she tied for second in Hockey East for goals with 17 as part of her path to notch her 100th point in February. With a career 11 power play goals and two shorthanded goals, Knoll is key to the Huskies' special teams as well as a leader on the front lines.
Although always an effective defender, Marohn broke out as a two-way player last season, racking up a career-high 17 points, including her first goal.
Philips played a full schedule for the first time last year and impressed the country with her dominant goaltending, earning top honors as Goalie of the Year with an impressive .960 save percentage and .87 goals against average. Nationally recognized as the best goaltender in women's college hockey, Philips returns this year in her last year of eligibility to do it all again.
With the absence of the long-time first line trio, the entire offense will be shifting up to fill their skates. Graduate student Peyton Anderson stepped up last year, scoring a career-high 11 goals. Although she was one of five double-digit scorers last season, she's one of just two returning this fall. Taze Thompson, a junior who transferred from Harvard last season, is known for getting into the dirty areas of the ice and will be handy in the crease. Sophomore Lily Shannon already made a name for herself as a freshman with eight points and is a promising up-and-comer for the Huskies.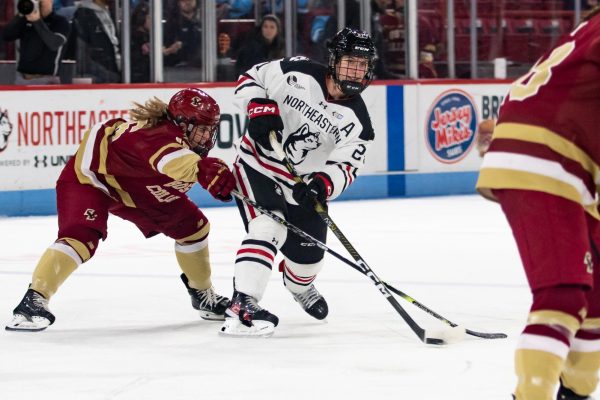 Last season's out-of-conference schedule left a lot to be desired, with only four games and one exhibition matchup, all of them easy wins for Northeastern. But this year, the Huskies are making up for it, starting off their season Sept. 23 with back-to-back weekend series, the first at home facing Penn State before they travel to Long Island University Sept. 30 to mirror last year's pair of games against the Sharks.
As reigning champions in the College Hockey America Division, the Penn State Nittany Lions could prove some trouble for the Huskies. With a 27-9-2 record in 2023 and a handful of midwestern games to test them, Penn State stayed strong all season, only losing out on an NCAA quarterfinals bid after narrowly falling to Quinnipiac in a third overtime period. 
A few weeks later, Oct. 20 and 21, the Huskies will travel to Sacred Heart University to compete in the Ice Breaker Tournament, where they will have the opportunity to take on midwestern teams outside of the NCAA tournament for the first time in four years. Their first-round matchup is against St. Cloud State, which may not be the top program in the Western Collegiate Hockey Association, but with competitors like University of Minnesota, University of Minnesota Duluth, and University of Wisconsin-Madison, all of whom are multi-time NCAA championship winners, the other Huskies at St. Cloud State hold their own and are a good matchup for Northeastern.
The Northeastern Huskies will round off their out-of-conference play with a pair of old Eastern College Athletic Conference rivals, Yale and Harvard, in January. The Huskies bested Yale in a tight victory in the NCAA regional tournament in March to punch their ticket to the Frozen Four, so the Bulldogs will certainly be seeking revenge. Meanwhile, the Harvard competition will be the first of the Beanpot, where teams always play their hardest for the local crown, and with the tournament headed to TD Garden for the first time in its history, there's more at stake than ever. 
Back home in Hockey East, the Huskies have little to worry about. Their only two losses last season were one-offs against Providence and Maine, and the Huskies bested them in every other matchup. Like Northeastern, the Providence Friars lost three of their top scorers to graduation, negating some of the threat they previously brought to Matthews Arena.
With head coach Dave Flint at the helm, backed by associate head coach Nick Carpenito and assistant coaches Lindsay Berman and Melissa Piacentini, the Huskies are in a good position heading into the 2023-24 season. While the changes on the offense may make Northeastern less heavy on the scoring this season, a core group of defenders backed by Philips is still intact, and the Huskies' net stays just as protected as they adjust to a new look on the ice.