More accessible green spaces, more physical spaces for marginalized groups and more campus recreational spaces were among many of the suggestions for changes to Northeastern's Boston campus students shared Wednesday at a campus forum hosted by Northeastern's Department of Planning, Real Estate, & Facilities, or PREF.
The forum, hosted in partnership with the architecture and design firm Sasaki, solicited input from students passing through Curry Student Center regarding what additions or changes they wanted to see over the course of the next decade as Northeastern shapes its Boston campus. 
"Throughout this process, the biggest theme has been Northeastern's growth and desire for more growth," said Felicia Jiang, an urban planner and project manager for Sasaki. "[Growth is] definitely one of the biggest drivers — but also challenges — to planning for the campus because there's just a lack of space." 
Since 2015, Northeastern has opened ten satellite campuses, The News previously reported. The school's focus on accelerating global growth does not mean the Boston campus has been left behind — if anything, the flagship location is emblematic of the university's expansion efforts on a global scale. 
Limited in its ability to build new spaces as the student population grows, Northeastern has purchased and expanded to nearby properties including 300 Massachusetts Ave, a section of the Sheraton Boston Hotel and space in the Christian Science Complex in recent years. 
"Space is getting less and less readily available," said Bridget McClarnon, a third-year graphic design major and co-op with Northeastern's Climate Justice and Sustainability Hub. "Northeastern is growing at a very rapid rate, so I think they're utilizing it the best they can, but it's going to come down to prioritizing that and also finding more space."
Poster boards lining Curry at the forum asked students to vote on what types of spaces they wanted to see more of on campus. Study spaces and cafes were lead contenders, but Krista Caasi, a fourth-year health sciences and psychology major, said the demand for more student housing should take priority. 
"There's a lot of things that I recognize are out of Northeastern's control, like [off-campus] housing prices, but I do think there are other ways that Northeastern can help at least its own students deal with those issues," said Caasi, who lives off campus. 
According to statistics shared at the forum, 60% of undergraduates live on campus, and Northeastern has 11,318 total beds. But, using fall 2022 enrollment numbers, 60% of the university's 21,732 full-time undergraduates rounds out to 13,039 — meaning the university is 1,721 beds short of meeting demand.
Almost four years have passed since Northeastern filed a Letter of Intent with the Boston Planning and Development Agency, or BPDA, notifying the municipal development agency of a plan to build an 810-bed, mixed-use building at 840 Columbus Ave. But due in part to concerns that the development would contribute to gentrification of Roxbury, the project has not received board approval, stalling progress. Instead, the university has been forced to turn to other, less sustainable housing options, such as leasing residential halls from the nearby Wentworth Institute of Technology. 
Other asks from students?
"More accessible outdoor spaces," said Julia Laquerre, a third-year journalism major and another co-op with the Climate Justice and Sustainability Hub, pointing out that campus green spaces like Centennial Commons are not wheelchair accessible. "Trying to get more of the green spaces accessible to people with physical disabilities — I think one is really important to a lot of people." 
According to Jiang, Sasaki will incorporate feedback from community events like the forum into the future design and planning of the campus, which will be shared with the community "in the coming several months."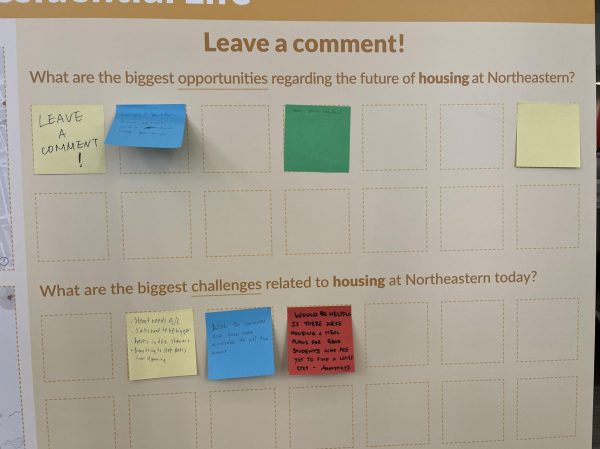 Caasi, who suggested more campus spaces be dedicated to cultural representation, also pointed out that student feedback in surveys is skewed at a predominantly white institution. 
"Feedback is only useful if you have a representative sample from all the students," Caasi said. "Looking at some of the data that they're sharing, … it's like 70% of white students responded to the survey that they conducted … it's a struggle to get representative data when students don't always just click on the surveys."
This year marks a decade since Northeastern adopted its current Institutional Master Plan — an all-encompassing outline detailing proposals for long-term expansion and development in Boston. Working in collaboration with Sasaki, Northeastern will present a new 10-year plan in the fall, according to PREF's website. 
"They're thinking about growth," Jiang said. "And really trying to elevate themselves as a research university. I think that's one thing that we've heard from them as a priority."