When Northeastern junior coxswain Camille Arnold-Mages was steering her boat up to the start for a race this past July, an air of silent apprehension gripped every crew on the river. She directed her boat through the process of locking into the starting gate, a task she had completed dozens of times before as a third-year coxswain for Northeastern women's rowing team. Only this time, she was at the starting line of the World Rowing Championships in Plovdiv, Bulgaria as part of the Under-23, or U23, age bracket. 
Arnold-Mages was the coxswain for the United States' boat in the Women's Coxed Four, which was the races' the category for four-person boats with a steering participant. Since boats move backward, coxswains are responsible for steering the boat as well as providing technical commands and encouragement to rowers during a race. 
"As soon as they called the 'Go,' it was like, now we know exactly what to do," Arnold-Mages said. "Our race plan was very set."
Her stint with the national team began with a preliminary race for lanes. The top teams would earn lanes three and four for the championship final, which are usually the most advantageous lanes in a race. In that preliminary competition, the United States' boat came in third place, at 7:05.97, five seconds behind the second place boat, New Zealand, and seven seconds behind the first place boat, Australia. 
This put Australia and New Zealand in lanes three and four for the championship final and the United States in lane two. The final rankings did not deviate much from the preliminary results. Arnold-Mages' boat came in third place once again, with a time of 6:51.59, behind New Zealand in second place at 6:50.86 and Australia in first at 6:49.56. 
"That was probably one of the tightest races I've ever been in," Arnold-Mages said. "I mean Australia got their lead through the first 500 [meters], and then they kind of just held on to it the entire way down the race course, whereas us and New Zealand were kind of just fighting it out literally from start to finish. It was pretty crazy."
With tight times across the board, Arnold-Mages' boatmate Eva Frohnhofer, a graduate student from the University of Virginia, credited Arnold-Mages' direction of the boat for their third place finish. 
"Coming into that final race, she was able to call a very aggressive race," Frohnhofer said. "We feel like we really didn't leave anything on the table, which was good because we lost by so small a margin, that if I'd come away thinking that I had left anything on the table, I'd be devastated. So I think aggression was really what was the difference maker there."
Arnold-Mages' journey to the world stage began when she was invited to a national selection camp that took place this summer, from June 15 to July 7, at the Oklahoma City High Performance Center. Rowers and coxswains from the highest-performing sweeping and sculling programs in the country were invited to compete for the coveted opportunity to represent the United States at the U23 World Championships. Crews selected to represent the United States were announced July 8.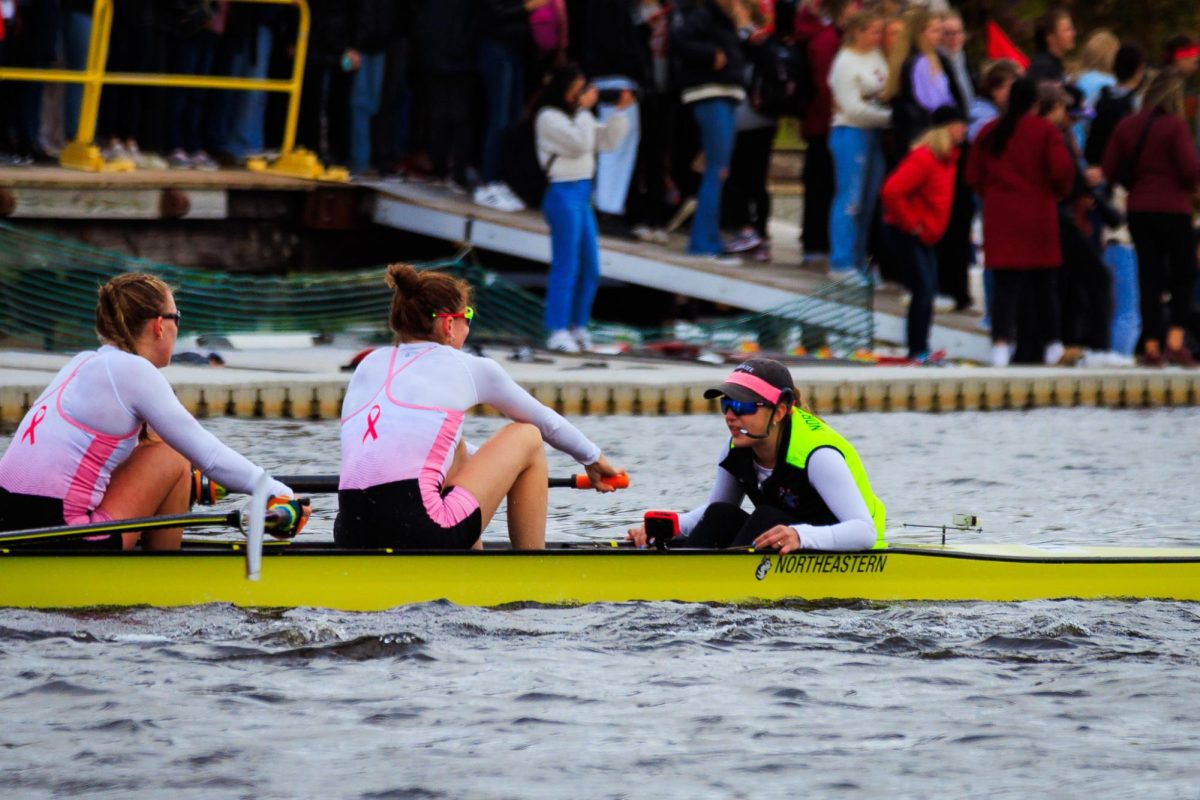 "When she was announced to the team, not just me, but every athlete on the team celebrated that day," said Joe Wilhelm, head coach for Northeastern women's rowing. "It was just a really special experience for all of us." 
Though being a member of the U.S. National Team is an accomplishment only a few can claim, Arnold-Mages did not have much time to celebrate.
"There was a little less than a week until we were supposed to fly to Bulgaria," Arnold-Mages said. "It was kind of a very fast pace because as soon as we were selected, we just got in boats and started working, working, working."
When she arrived in Bulgaria, the atmosphere on the river was unlike anything  Arnold-Mages had ever experienced. She first started rowing in Pittsburgh before traveling to Boston to compete with Northeastern; international racing came with an unexpected culture and rivalry very different from scholastic and collegiate rowing. 
"When you're in college competing, nobody's speaking a different language on the racecourse —everybody's speaking English," Arnold-Mages said. "So when we got to international racing, the Italians would cox in Italian, the Germans coxed in German. And it was just so cool. Because from the minute they called the start, you could hear all these different languages around you through the speaker systems."
Though Arnold-Mages was surrounded by the highest-performing teams from all around the world, her coaches back home encouraged her to use the same techniques she learned at Northeastern to navigate through international competition. During her time at Northeastern, Arnold-Mages helped the first varsity eight, an eight-person boat, to a first place finish at the 2022 Woodbury Cup and the 2023 CAA rowing championships.
"It doesn't matter if the crew next to you is one of the local universities on the Charles River, whether it's the national champions, or whether it's Russia or Australia. It doesn't matter who they are. You control what you can control," Wilhelm said. "So she took everything that she had that allowed her to make the team and controlled what she could control. And she took that to the World Championships. I think that that just calmed everybody down. And that didn't surprise me because that's who she is."