Upbeat music, heels at Marimba Cabaret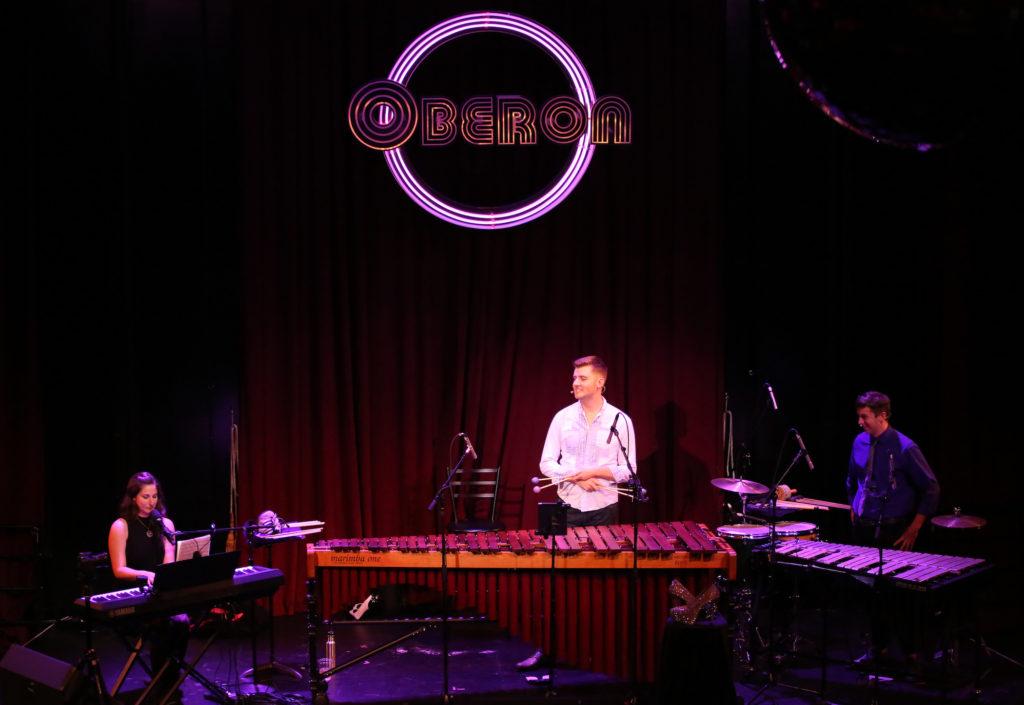 By Kiri Coakley, news staff
Percussionist, vocalist and self-proclaimed high heel-enthusiast Brian Calhoon was joined by director Greg Jukes on Wednesday, Sept. 21 for the second iteration of the Marimba Cabaret, which showcases Calhoon's love of various musical genres.
The show featured songs by artists and composers ranging from Stephen Sondheim to Radiohead to Whitney Houston, as well as original works. Local composers Beau Kenyon and John Murphree wrote pieces specifically for Calhoon's voice and the marimba, a percussion instrument with wooden bars arranged like the keys of a piano and struck by mallets to produce a unique sound.
Black fold-up chairs surrounded each of the 20 tables on the main floor of the Oberon theater in Cambridge, bookended by the stage at the fore and the bar, serving drinks like the Glitter Drop Cosmo and Tytania's Kiss, in the back. The space, black and highlighted by scarlet stage curtains and tablecloths created an atmosphere more appropriate for a speakeasy than concert hall.
"It took me a while to sort of come out and admit that I'm a classical musician, but I like to sing karaoke and musical theater," Calhoon said. "I needed my teachers and Greg Jukes to say, 'That's okay, you have permission to love these things and put them together.' He and I give each other musical ideas and things we want to arrange, and he starts to see the bigger picture and he's able to form a story, how the pieces fit together."
Calhoon further explained why he brought his project to that particular space, which, with its large gender-neutral bathrooms, cultivated an air of acceptance.
"Oberon really supports this kind of experimental, nontraditional theater," Calhoon said. "I wouldn't perform the cabaret in a concert hall where you have to be very quiet and not clap between movements."
At 8 p.m. the main lights turned off and a spotlight illuminated Jukes playing alone on the stage. Calhoon strolled from the rear in a crisp white dress shirt and low-slung heels to loud applause, walking through the aisles, singing Janis Ian's "Bright Lights and Promises."
Once on the stage Calhoon joked around. "As anyone knows who wears heels with regularity, you should always bring a good pair of flats," he said.
In-between banter incorporated jokes about "coming out of the musical closet," and Calhoon enthusiastically performed pieces ranging from "The Return", an original composition written by John Murphree, to a percussion-only arrangement of "Amazing Grace" to a short rendition of "Blackbird" that preceded the intermission.
Sam Wade, a 2009 alumnus of Northeastern University and current director of the Great East Music Festival, enjoyed the smooth transitions between genres.
"I think it's a really unique idea," Wade said. "I'm also a percussionist and it was nice to see that kind of performance mixed with modern music. I don't think there's anyone else around here doing this kind of thing."
After the audience of over 100 had settled back into their seats, freshly shaken cocktails in hand, the lights dimmed once more and Calhoon and Jukes launched into a leisurely cover of "Hey Ya!" arranged by John Murphree.
Christina English, a freelance musician who has collaborated with Calhoon and Jukes in the past, marveled at the connection between the artists and the attendees who shouted back "Ice cold!" at the song's question of "What's cooler than being cool?"
"They have such a nice rapport with the audience, especially compared to behavior at classical concerts," English said. "It's amazing how [Calhoon] hears things on the radio and just knows that they're going to be cool on the marimba."
The 6-inch heels at center stage finally came on for the last song, a Whitney Houston mashup. From a total height of almost 7 feet, Calhoon sang about wanting to dance with somebody, sweeping around the stage in heels that mirrored the confidence in his own voice.
"It's kind of ridiculous," Calhoon said about the shoes. "With this I am showing that I have the freedom to make this choice and do something that maybe you're not supposed to do, such as a man wearing heels or combining classical music with popular music."
Photo by Dylan Shen