Women's hoops ends season with quick tourney exit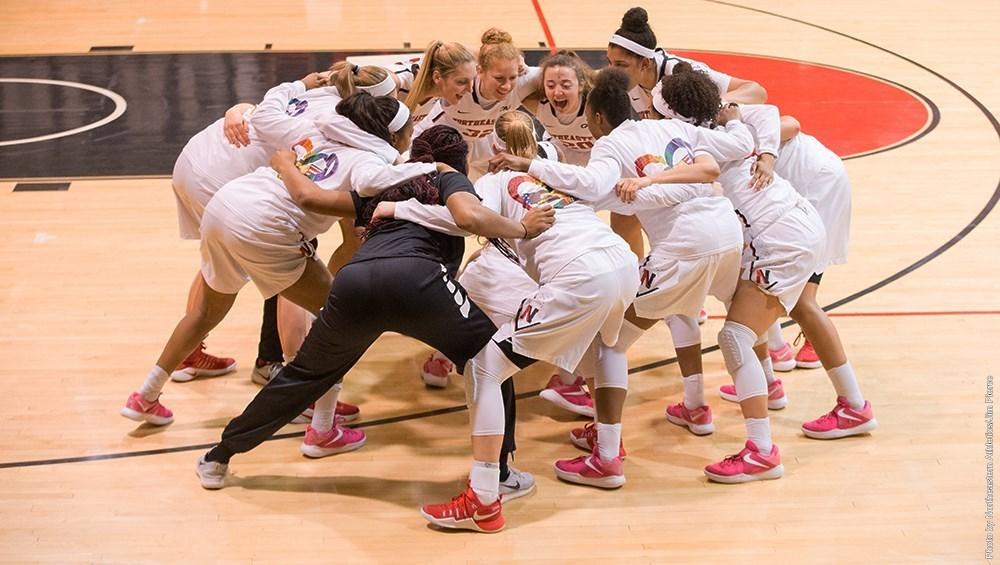 The Northeastern women's basketball team's season came to an unceremonious end on Thursday, March 9 when they lost, 68-50, to Drexel University in the Colonial Athletic Association (CAA) Tournament in Harrisonburg, Virginia.
Northeastern came into the game having won five of their previous six games while Drexel was sitting on a three game losing streak. The Dragons arrived at the tournament, though, with a 21-10 record including 11-7 within the CAA.
Northeastern held a brief lead early in the first quarter when junior forward Maureen Taggart hit a three pointer to give her team a 12-9 lead. Shortly thereafter, Drexel launched into a 17-0 run that gave the Dragons a 26-12 lead. They took a firm grip on the game and never released.
Part of the Huskies' undoing during that run was the three-point shooting of Drexel senior guard Meghan Creighton. Creighton, who averaged more than 10 points per game and shot 45.1 percent from three-point range this season, was 6-10 from three-point land in the game. She did not attempt any other shots.
Northeastern head coach Kelly Cole thought that the team was prepared to defend Creighton and company, but there were some errors in execution.
"We had a couple of matchup errors early on," Cole said. "Our rotation shifted on defense, and we left Creighton open for some looks. We went over it, we knew how to cover it, we just didn't cover it. She got three early looks, and all you need is a little something to get rolling. That was the beginning of the end."
Senior guard Francesca Sally said the opponent's offensive versatility posed a problem.
"You can't not guard them on the drive," Sally said. "They're Division I basketball players. They'll make those easy plays."
Cole also denied that Drexel's game-swinging run during the first half was a product of sheer superiority.
"I wouldn't say we were overmatched," she said. "I don't know what it was about us this year, but they just shot the lights out. We made some X's and O's adjustments, and I thought the kids were ready. We made some mental errors early, though, that gave them confidence and the lead."
The loss brought to a close a season that was filled with ups and downs. Northeastern this year had two winning streaks of at least four games, but also went on losing streaks of eight and four games.
On an individual level, their leading scorers filled the scoresheet at times and struggled mightily at others. Sally surpassed the 20 point plateau seven times, but was held to under 10 points nine times. Sophomore guard Jess Genco started the season with 49 points (including 12-20 on three pointers) in her first two games, but was plagued by inconsistency throughout the year. There were 18 games this year in which Genco made no more than one three pointer.
Still, the team is optimistic about the steps that were taken this season. Cole, especially, is encouraged by the team's response to having five seniors graduate last year.
"We had a lot of space to fill, both leadership-wise and points-wise," Cole said. "We had a lot of upperclassmen really step up this year. Kids made steps in scoring and, more importantly, as a team. We competed against the Stanfords and the Purdues. One of the things we learned from this season is the level at which we have to prepare and compete in order to have success at the next level."
Sally, whose college basketball career came to a close with the loss to Drexel, was also optimistic about the program's future.
"We had a tough schedule and we showed that we can fight," she said. "I think our run at the end of the season was a clear indication of that. We had a good group of girls, and it was fun playing with them. I'm really excited to see what comes next for the program. This was a good starting block for the future."
Photo courtesy Jim Pierce, Northeastern Athletics