MixFest '17 draws a diverse, multi-generational crowd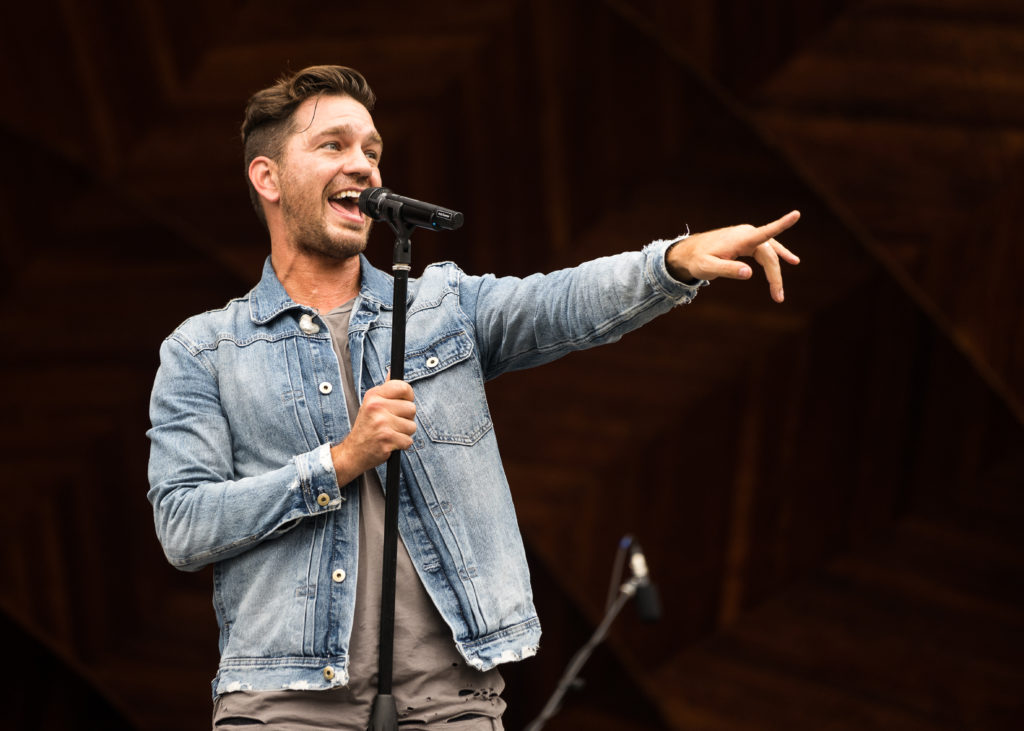 By Ryan Wallis, news correspondent
After entering the festival grounds, it was easy to see that the annual MixFest concert did not attract its usual college-aged crowd. Parents and children alike to could relate to the cross-generational lineup.
Thousands made their way to the Department of Conservation and Recreation Hatch Memorial Shell on the Charles River Esplanade this past cloudy Saturday to experience MixFest, Boston's biggest outdoor music festival. Performers this year included singer Andy Grammer, rock group Blondie and Grammy-award winning pop star Kelly Clarkson.
Charlotte, a sixth grader from Stoughton, Massachusetts, came to the festival with her best friend Olivia and both were most excited for Kelly Clarkson.
"I just really like music, and I just wanted to come out and dance with my best friend," Charlotte said.
Nikita Manjrekar, a second-year behavioral neuroscience major at Northeastern, came to see Grammer. Her favorite song of his is "Masterpiece" from Grammer's 2014 album, "Magazines or Novels".
"He's my absolute favorite," Manjrekar said. "[The concert was] as amazing as I expected it and more."
While most people either sat on blankets or lawn chairs in the grassy field, a few people kayaked to the venue and enjoyed the performances from the Charles River. Between songs, Clarkson noticed them and said, "Oh hey, what's up kayakers?"
Grammer took the stage first at 2:10 p.m. and began his set with his hit song "Keep Your Head Up." The singer also performed hits "Fine by Me," "Kiss You Slow," "Good To Be Alive" and crowd-favorite "Honey, I'm Good." Additionally, he sang two new songs: "Spaceship," a tribute to his daughter Louisiana, and "Give Love," a tribute to his mother. During his performance of "Fresh Eyes," the clouds began to part and the first streaks of sunlight emerged.
Grammer left the stage and went into the crowd during "Kiss You Slow," singing the entire song as he walked through the audience and hugged fans.
"Andy hopped the fence into the crowd, and I just stood there with my mouth open in shock as he ran two feet in front of me," said Hailey Konisky, a second-year biochemistry major. "I still can't believe he actually did that."
By the time Blondie took the stage at 3:15, the clouds were starting to dissipate and the sun was shining. Debbie Harvey, Blondie's lead singer, greeted the crowd with a, "Hello Boston! How are you?" and received a thunderous applause. The band began their set with hit song "One Way or Another" followed by "Fun," "Long Time" and their new song, "Too Much."
When Clarkson took the stage at 4:30 to perform "We Belong Together," the sun was in full force and there was not a cloud in the sky. Throughout the afternoon, she sang hits "Catch My Breath," "Hazel Eyes," "Breakaway," "Stronger" and concluded with fan-favorite "Since You've Been Gone." She also performed two new songs from her upcoming album: "Love So Soft" and "Movie."
"She's a vision," said Mackenzie O'Donnell, 24, of Boston. "She was incredible. It's just crazy to see somebody that's so famous so close by."
Clarkson connected with the audience throughout her set, and kept everybody laughing with her witty remarks.
"I know you know this song, even if you don't like it. I know you've heard it, even if it's annoying," said Clarkson before performing "Stronger."
All three singers praised Boston. Grammer further mentioned his long relationship with the city, saying that Boston always comes to support him.
Clarkson described the festival best when she said, "It's a family event, y'all." Whether you're a middle school student coming with your best friend, a parent coming with your children or a college student coming with your friends, the festival offered fun and entertainment for everyone.
"It's quite awesome that they do this" Manjrekar said. "It kind of gives you something to look forward to."