Clinton Global Initiative University kicks off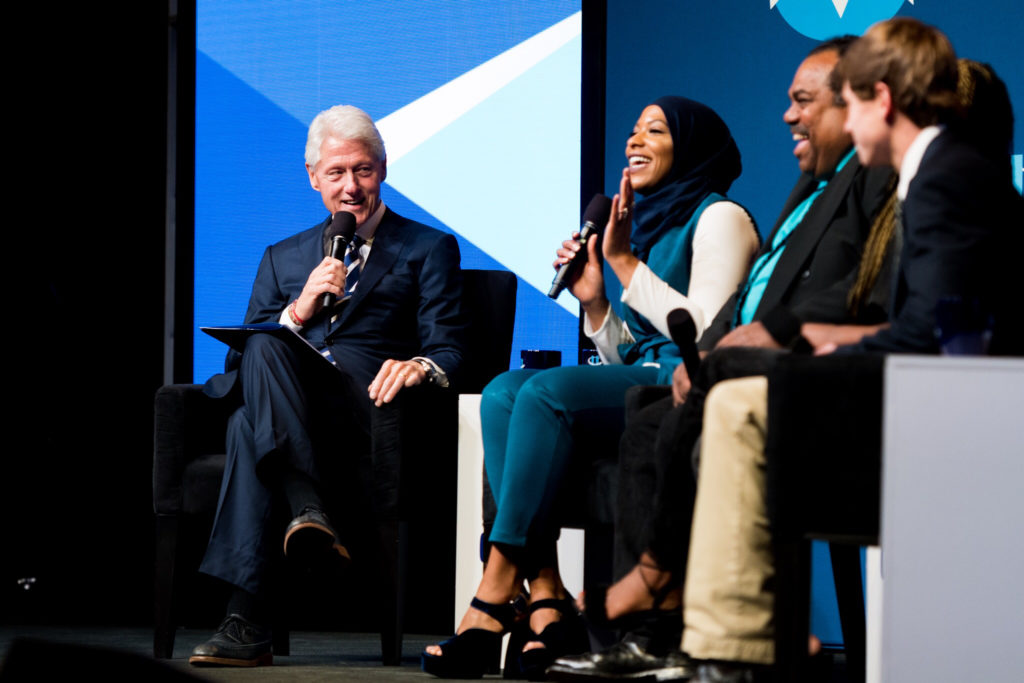 By Samantha Rosa, news correspondent
Northeastern University kicked off the 10th annual Clinton Global Initiative University (CGI U) Friday with speeches from former U.S. President Bill Clinton, Northeastern President Joseph E. Aoun and other distinguished guests.
CGI U 2017 participants, which includes more than 1,200 students who represent 95 countries and 282 colleges and universities collectively engaged in seminars, workshops, discussions with panelists and service learning opportunities through Sunday.
"The most important things are life, liberty, love, and the opportunity to give something to someone else," said Bill Clinton.
Chelsea Clinton opened the ceremony by thanking Northeastern for hosting the event and highlighting some of the programs and initiatives students have started. She spoke about students who have developed programs to halt illegal agricultural practices, started a training program to support undocumented immigrants and created protective, durable blankets for refugees.
"I know that you must do whatever you can to not only get progress, but to protect progress and to support each other, and I think that arguably that matters now more than ever before," Chelsea Clinton said. "We see optimism in action and collaborative support in one another in CGI U every year."
Bill Clinton thanked the student volunteers, the CGI U network and recalled speeches he gave at Northeastern during the beginning and end of his presidency. He mentioned the graduation speech he gave in 1993 during his first year of presidency, and another he gave nine days before leaving office. Clinton also highlighted Northeastern's social entrepreneurship work and widely recognized co-op program.
"I just had this instinct that people of all ages and backgrounds were only to happy to talk and learn, but they actually wanted to do something and wanted to be challenged to do something," Clinton said. "All of our research has shown that the kind of commitments you made here work best. That is, diverse groups make better decisions than lone geniuses or homogeneous groups."
Aoun told students in attendance that they represent the hope for the next generation and the strength of the global community working together.
"Students, your presence here demonstrates something very simple but also very profound: You have a passion to make tomorrow better than today," Aoun said. "That passion to serve, to uplift and to create is perhaps more powerful than you realize. It is, I believe, what distinguishes us as human beings and what gives us a unique advantage. It's an advantage that will serve you well."
Bill Clinton introduced and moderated panelists that included Olympic bronze medalist Ibtihaj Muhammad, author and activist Sandra Uwiringiyimana, musician and author Daryl Davis and high school senior at Strake Jesuit Preparatory School in Houston, Thomas Edwards, who helped rescue people during Hurricane Harvey. Each panelist emphasized the importance of conversation, learning about the opposition and participating in difficult discussions.
Uwiringiyimana closed with words of advice for students who want to create change in the future.
"I want to encourage you to go into the world and get to know the people you live next to, and approach everyone with love and kindness," Uwiringiyimana said.
Michael Dello Russo, a first-year environmental studies major, said he attended the opening plenary to listen to a former president share uplifting words in a society rife with political tension.
"In a time where we have such a negative role model at the head of our country, it's good to hear positive ones of our past speak," Dello Russo said.  
Scout Reading, a second-year international business major, said she was motivated to come to this event after last year's polarizing election.
"I'm just intrigued with what went wrong with last year's election," Reading said. "I said if [Donald Trump] got elected, I would leave. But, obviously that isn't possible. So, I came to this to really see what went wrong."