Northeastern names Jeff Konya next athletic director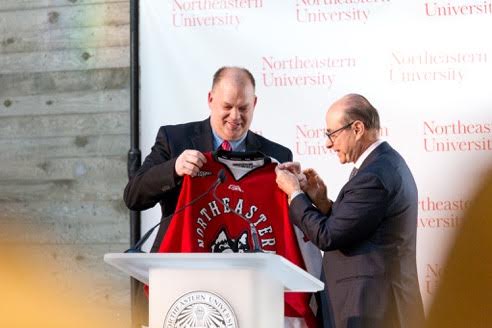 Hang on for a minute...we're trying to find some more stories you might like.
By Calli Remillard, sports editor
Northeastern University named Jeff Konya as successor to athletic director Peter Roby, who will retire in June 2018 after spending more than a decade in the position.
Konya, who most recently served as the athletic director at Oakland University in Detroit, has more than two decades of experience in college athletics. At Oakland, Konya brought tangible success to the athletics department, in part by helping them earn three consecutive McCafferty Trophies, which are awarded to the Horizon League's all-sport champion. He was recognized for excellence in March 2017 by the National Association of College Directors of Athletics and was a recipient of their Under Armour Athletic Director of the Year Award.
The university welcomed its new AD at a press conference Wednesday, which included addresses by Northeastern's Senior Vice President Philomena Mantella and President Joseph E. Aoun.
"When I met with Jeff during the interview process, it was clear to me that we have a person who is entrepreneurial, who is innovative, who wants to win, but also who wants to focus on academic excellence," Aoun said.
Under Konya's leadership, the student-athletes at Oakland succeeded not only on the field, but in the classroom. Similar to the accomplishments of Northeastern's student-athletes under Roby's leadership, Oakland's student-athletes posted a 3.30 cumulative grade point average in 2017.
After showing off his "Northeastern Red" socks, Konya expressed his excitement for his new position.
"[Northeastern] is a story of success," Konya said. "[It] is a forward-moving organization and that is something that I'm energized to be a part of."
At Northeastern, Konya will oversee an 18-sport NCAA Division I athletic program, as well as a comprehensive Campus Recreation program comprising more than 40 club sports and 30 intramural sports which engage thousands of students.
"In a lot of ways, I think that athletics can emulate the broader university," Konya said. "I think in the next 15 to 20 years, we can also have a meteoric rise built upon the outstanding foundation that Peter [Roby] and his staff have left to work with. But there is no question in my mind that with the DNA of Northeastern, that same DNA could be replicated within the intercollegiate athletics and recreation space."
Konya will begin his tenure at Northeastern on Feb. 1.