BU stands between Northeastern and ending Beanpot drought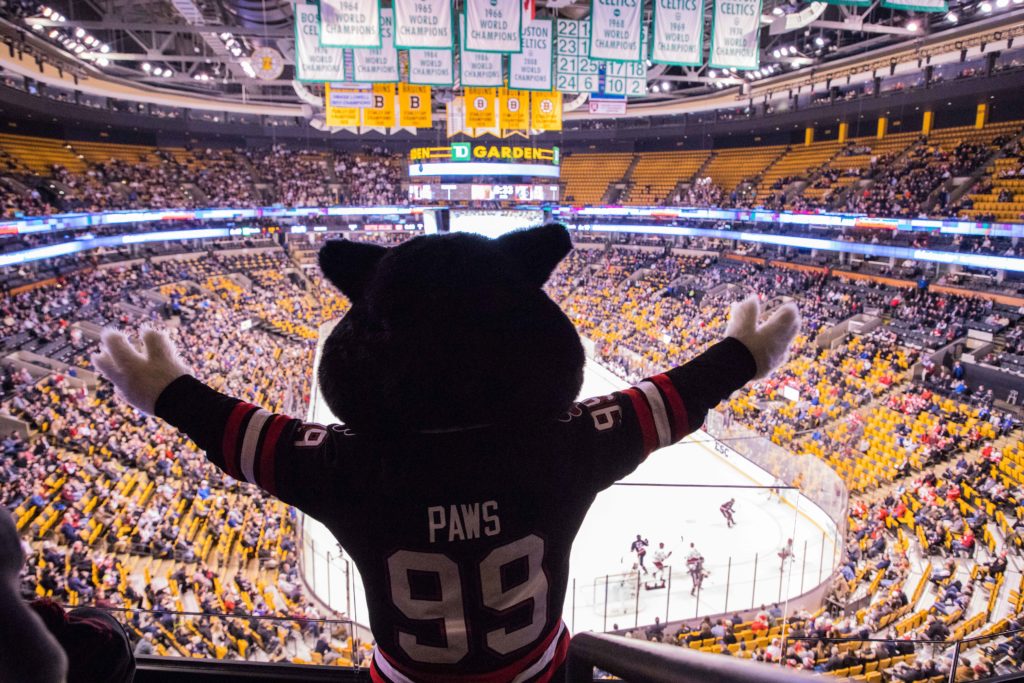 The 66th Beanpot final is set to be a dogfight between the Northeastern Huskies, who will attempt to vanquish a 30-year championship drought, and the Boston University Terriers.
BU has appeared in the last three championship games of the tournament; their last title came in 2015 with a 4-3 overtime win against none other than their Monday opponent, Northeastern. BU is 33-8 overall against NU in the Beanpot, but even with the odds stacked against them, the Huskies have proven themselves to be a serious contender for their first Beanpot title since 1988.
Despite recent inconsistencies in production from Northeastern's second and third lines, their first line, dubbed the "Big Three," has kept the team competitive within Hockey East.
Center Adam Gaudette and wingers Nolan Stevens and Dylan Sikura lead Hockey East with 26, 22 and 21 points respectively in league play. The line scored all three of the team's goals in the Beanpot semifinals, finishing the game with seven points total and a 3-0 victory over Boston College.
The chemistry between the three forwards is undeniable, even if you ask the Terriers.
"It's a big challenge," BU head coach David Quinn said after their semi-final overtime win against Harvard. "Those guys are men. They play the game hard, the right way. Obviously we didn't do very well against them early in the season. I think we're a different team than we were back then."
BU, which stands at 10-7-3 in Hockey East play, endured two overtime periods against Harvard in the semifinals, and finally secured the win with a goal from first-year Ty Amonte. Their battle against the Crimson was a tighter, more back-and-forth game than the NU-BC tilt. A series of momentum swings kept both the fans and the teams on their toes, but it was the Terriers who left victorious just after midnight Tuesday morning, scoring less than two minutes into the second overtime.
"Second period might have been as bad a period as we've played all year," Quinn said following Monday night's game. "We had to make a decision. 'Do you want to play at 4 o'clock next Monday, or do you want to play at 8 o'clock next Monday?' If we're going to be successful, we need to play with pace and be physical. I thought, in the third period and overtime, we started playing that brand of hockey that we've been playing over the last month."
Heading into the final, both coaches understand what the other is bringing to the table — a squad of men with quick strategy, agility and pure skill.
"They're a very well-coached team," Northeastern head coach Jim Madigan said of the Terriers. "They're balanced between the goaltending, defense and the forwards. They play fast and they play heavy, so they'll be physical. They'll be strong on pucks, and they're skilled, so you've got to be ready to play fast and think fast."
Boston University will counter Northeastern's Big Three with third-year forward Bobo Carpenter (17-11-28), first-year forward Shane Bowers (15-9-24) and bruising team captain Brandon Hickey (senior defenseman, 6-6-12). They'll be missing a key scorer, Jordan Greenway (9-16-25), who will be in Pyeongchang playing on the U.S. Olympic hockey team.
When the Huskies and the Terriers met early in November, NU swept both match-ups. With a scoring margin of five in the second game Nov. 10, the Huskies showed their strength on both sides of the puck, seeing six goals between four offensive players and 33 saves from first-year goaltender Cayden Primeau in his first game start of conference play.
Primeau sits atop Hockey East with a 1.96 goals against average and a .929 save percentage. The 18-year-old took over in net after starting goaltender Ryan Ruck suffered a concussion in November, and seized the opportunity.
Northeastern and BU may be even opponents this season (NU may even hold an edge, certainly in the national rankings), but history favors BU heavily: The Terriers have 30 Beanpot titles to the Huskies' four.
"For us right now, regardless of who we're playing, we've got to play to our strengths," Madigan said. "I've talked about inconsistencies in production from our offensive lines, and it's production, but it's also playing to our identity. If we go back to the Beanpot game, we won 3-0, all three goals came from the one line but the other three lines all contributed because they were heavy on pucks, we got pucks in the offensive zone and they provided us with momentum."
BU knows they're faced with a heavy task, but have been preparing for a challenge of this caliber all season.
"They're one of the best teams in the country," Quinn said of Northeastern. "We know what the challenge is going to be next Monday. We'll have to manage the puck, we'll have to take away time and space. We have to make sure we can minimize their chances. They're going to get their chances. We have to make sure they're not of the 'oh my god' variety."
NU could find an advantage in the faceoff circle: BU has a gruesome .476 faceoff rate, and the Huskies have won draws at a .503 clip.
"Part of the problem is that we don't have natural centers," Quinn said. "Ty Amonte has played some center, but he's not a natural center. [Chase] Phelps isn't a natural center. When you're losing all the draws, you're chasing."
Each of the other three Beanpot schools have won the title in the past three years: BU in 2015, Boston College in 2016 and Harvard last year. Northeastern is all alone in their drought; they'll have a unique motivation when the puck drops at 7:30 p.m. Monday at TD Garden.
"The university has been on such a high trajectory of success, in so many different windows, that this would allow athletics to show excellence," Madigan said. "It would allow Northeastern hockey, our players, our student body, our university administration, alumni to feel proud about a program that they feel good about, but hasn't been able to win this tournament. It just gives everyone an extra little jump in their step and it gives us relevance in this tournament."
Monday night's final buzzer will mean one of two things: It will either add to the Terriers' existing 30 Beanpot championships, or award the Huskies their first in 30 years.
Charlie Wolfson contributed to this story.