Meet Ashley Demirali, the DogHouse's most devoted member
Her name is Ashley Demirali, but many Northeastern students know her as the hockey fan who can always be found in the middle of the DogHouse, wearing a Northeastern flag as a cape and a backward NU cap.
Demirali, a DogHouse leader, has become a fixture at men's hockey games during her time at Northeastern — this Friday will be senior night for her along with several players — and there's a story of undying passion behind one of the team's most faithful followers.
"I love it more than anything," said Demirali, who grew up in Boston. "We can come around this team and we can gather in sport. It truly brings people together to be a part of this community."
Demirali has seen the best and worst of Northeastern hockey. She's seen sparse Matthews Arena crowds and heart-wrenching big-game losses. She's seen the devastation of the 2015 Beanpot. She's also seen the joy of the 2016 Hockey East title and the 2018 Beanpot win. With the Beanpot title out of the way, she said she thinks this team can finally go the ultimate distance.
"We don't have anything hanging over our heads now," she said. "We can do this. We can bring it all the way to the national championship. That's what [the Beanpot] meant for us."
Demirali has loved the game of hockey since her dad, a 1984 Northeastern alumnus, started getting season tickets when she was 10. After attending most home games throughout high school, she transferred from University of Massachusetts Boston to NU as a second-year biology major and joined the DogHouse — the student section that occupies the end balconies at Matthews Arena.
Over the past three years, Demirali attended 73 consecutive games, home and away. This Friday's game at Matthews, senior night against New Hampshire, will be her 74th.
The most powerful thing about the team, she said, is the sense of community it fosters at a university in the middle of Boston, wedged between a number of other communities.
"It allows you to let loose and experience a sense of community Northeastern often lacks," she said. "Sports at Northeastern aren't followed as widely as they used to be, or as much as I'd like them to be. But to me, it's such a huge rallying point for this university."
Demirali approaches her role as leader of the DogHouse seriously. She talks to potential new DogHouse members during summer orientations, and often she said she sees those recruits at Matthews the following season. One of the realities of Northeastern's student body is that 20 percent of the student population is made up of international students, some of whom aren't familiar with hockey. Demirali gave a presentation at the international student office this year to give them some basics.
She said she mostly showed them the fundamentals, like what a faceoff is.
"I tried to relate everything back to soccer," she said. "And catching people early with Northeastern soccer helps, because that comes before hockey and basketball."
Her hard work recruiting, building excitement and preparing for home games has paid off, she said.
"The games where I and the rest of the DogHouse leaders worked hard, you saw it looking up into the stands," she said. "To me, it's getting your freshmen early. It's getting that bug in their head about how much fun athletics can be and how much of a community it can be."
Matt Wikstrom, a fellow Husky fan and friend of Demirali, said her work pays off during games.
"Look at our performances at TD Garden," Wikstrom said. "There's a direct correlation. Not to discount the team, they're incredible. But look at the home game against BU this year. We were drowning [BU goalie Jake] Oettinger in our fury and our rowdiness and he couldn't perform."
Nicole Mulready, a 2017 Northeastern alumna who was randomly assigned as Demirali's roommate three years ago, said she quickly picked up on her new friend's contagious excitement for hockey.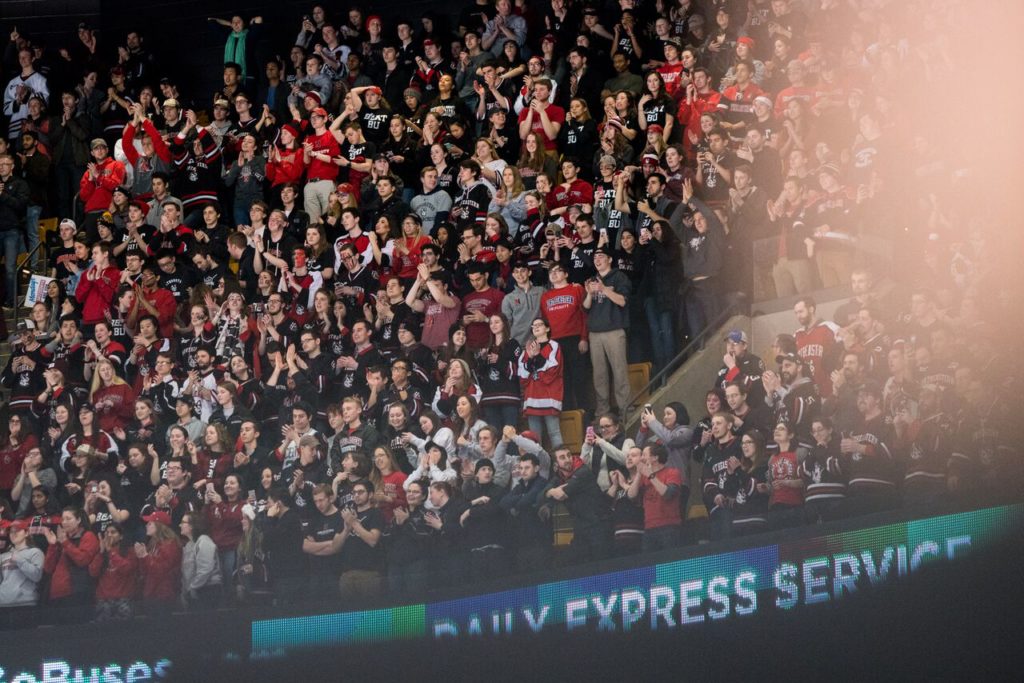 "It's very consuming for her, but in the most positive way," Mulready said. "Any time I see her when she's at a game, her face is just completely lit up. It was really cool to be a part of that when I was in school there."
For many Northeastern fans and players who have only been involved with the university for a few years, last week's Beanpot win — the program's first since 1988 — was a joyful, cathartic occasion. Imagine what it was like for Demirali, who has been living and dying by the team since age 10.
"It's such a monumental thing," she said. "And it wasn't just students, though we sold 1,750 student tickets. But I know so many alumni who came from all over to witness this game. People who were on co-op out of town flew in for the game. Everybody wanted to be a part of it."
She was amazed by the intensity of the Northeastern student section, and she's been in the DogHouse for many a big game through the years.
"I've never seen anything like it," she said. "I was there early and I'm looking up and I'm like, 'Oh, that's not that many people.' And when the puck dropped I looked around, and I just said, 'What?!' I could feel the building shake. When the crowd is going, you can feel it in your core. It's fantastic."
Demirali said she found the team's 2016 Hockey East championship more meaningful, though she understands why many were more moved by the Beanpot win.
"To me, Hockey East meant more because it was our first anything in 30 years. It was our first time with a team that could bring home some hardware," she said.
She suffered through her share of NU hockey drudgery, and most vividly remembers the 2015 Beanpot final. Queue it up: It's 5-5 in overtime against Boston University, and Matt Benning gets a phantom hooking call. The rest is history.
"I watched the video back recently so I could describe it properly," she said. "I was like, 'In what world is that hooking?' It was painful to watch three years later. I didn't know what to do. How did that just happen? I remember the DogHouse leader at the time broke down crying."
Wikstrom pointed out that Demirali holds a special place in the history of the DogHouse.
"She has had so many years of suffering and sad rides on the T and car rides home. She put so much effort in this year to make sure this was the best TD Garden DogHouse ever, and it showed," Wikstrom said. "She was the first DogHouse leader of all time to see a Beanpot win."
The momentous feel of the Feb. 12 Beanpot final wasn't lost on Demirali.
"It gave me goosebumps," she said.