'Mr. Bright Lights' Madden prepares for biggest stage yet
Tyler Madden is by no means a man devoid of confidence.
The freshman forward, dubbed "Mr. Bright Lights" by the Northeastern faithful after his overtime goal and subsequent press conference against Boston University in the Beanpot, is coming off a regular season that saw him unanimously named to the Hockey East All-Rookie Team. He totalled 28 points on 12 goals and 16 assists in 35 games.
After a season in which Madden was front and center in all of the biggest moments, his Huskies enter the NCAA Tournament as the fifth-ranked team in the nation and ready to face Cornell in the first round Saturday in Providence, Rhode Island.
"He wants to be the guy to make plays in those situations so he's not running from it, he's not afraid to make a play," head coach Jim Madigan said Tuesday. "He wants to make a play and be a difference maker which I think we've seen down the stretch here against some quality opponents."
Madden has scored three game-winning goals this season. He scored a late winner against RIT on Nov. 24 to complete a come-from-behind win, he scored on the rush in overtime against UMass to give the Huskies a 2-1 win over the No. 1 team in the country and his overtime goal against BU in the Beanpot gave NU the 2-1 win in the semifinal round.
"Over my career I've had a couple of down-to-the-wire moments but I just like having the puck on my stick," Madden said. "I think I want to be the guy to have that chance and have that opportunity, and I believe in myself, and I know my team believes in me, too."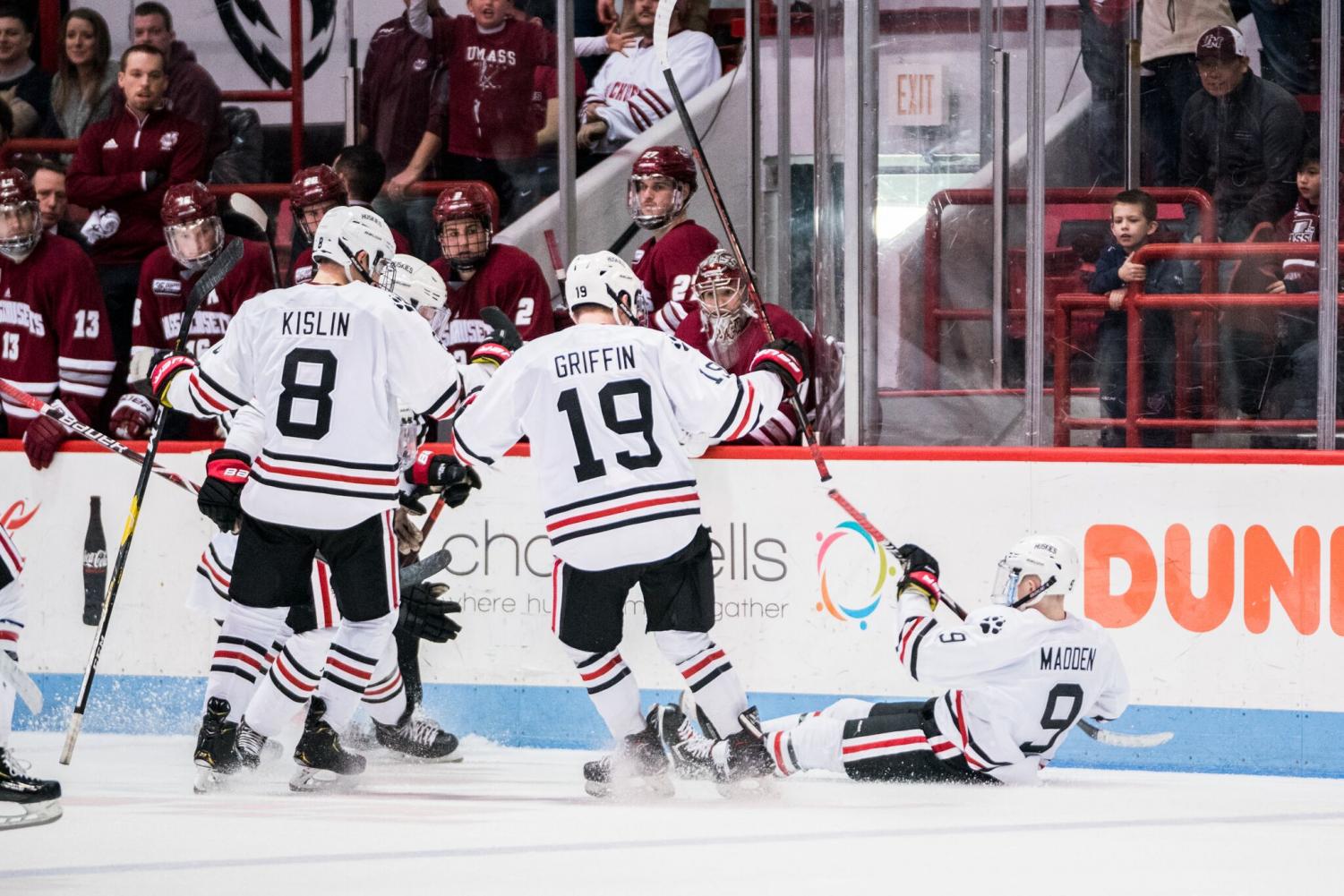 Madden was born in Deerfield Beach, Florida — certainly not a place known for producing hockey prospects. However, Madden's father John played in the NHL for 13 years, including 10 with the New Jersey Devils, meaning Tyler was around the rink for most of his young life.
"When I was young I just remember running around, seeing different guys like Brian Gionta, Scott Stephens and stuff like that with the Devils, and Patrick Elias," Madden said. "Then in Chicago, Patrick Kane and all those other guys obviously. You don't realize it when you're there but it's a pretty cool thing. You pick up on little things, like their work habits and stuff like that, and you kinda see what it takes and what level it takes to be where they're at."
He spent three years at Avon Old Farms, a prep school in Connecticut, under the program's long-time head coach John Gardner. After captaining the team during the 2016-17 season, Madden said he knew he couldn't do much more at the school, so he ventured out into the United States Hockey League.
Madden spent a season in the USHL honing his skills. He split the year between Central Illinois and Tri-City, finishing with 34 points on 15 goals and 19 assists. Madden's draft year ended with a third-round selection by the Vancouver Canucks.
He became the second Northeastern commit drafted by the Canucks in recent years, following in the footsteps of last season's Hobey Baker Award winner Adam Gaudette. Similarly to Gaudette, Madden chose to come to NU to hone his skills before heading to the NHL.
"We expected him to come in and be a contributor right from the opening of the first game," Madigan said. "It's a tough adjustment for freshmen at this level and he's right off the bat found a fit, and we've been able to move him with some other wingers but he's contributed right from game one."
Madden opened the season with goals in three straight games and added an impressive four-point performance Dec. 8 against Merrimack. On Dec. 23, he was named as one of 23 members of the Team USA World Junior Championships squad alongside teammate Cayden Primeau, Northeastern's star sophomore goalie.
"I played a pretty big role on that team, playing second-line minutes and a little bit of power play there, and we made a good run at it," Madden said of Team USA's silver-medal winning performance at the WJC. "But coming back from it, just a lot of confidence was bestowed in me and I just believed in myself a little bit more and was able to do some more things with the puck this year."
The freshman played in all six games for Team USA, scoring three goals and an assist. He scored twice in a preliminary round game against Finland, earning player of the game honors.
"When you come back from a tournament like the World Junior tournament, you're playing against the best 18-20-year-olds in the world, and you have success, which he did — personal success and the team had success — you just come back with a different level of experience," Madigan said. "You're a little more seasoned, the confidence is even a little bit more — he's a confident young man anyways — but you're confidence is elevated from that, because you play at that world stage."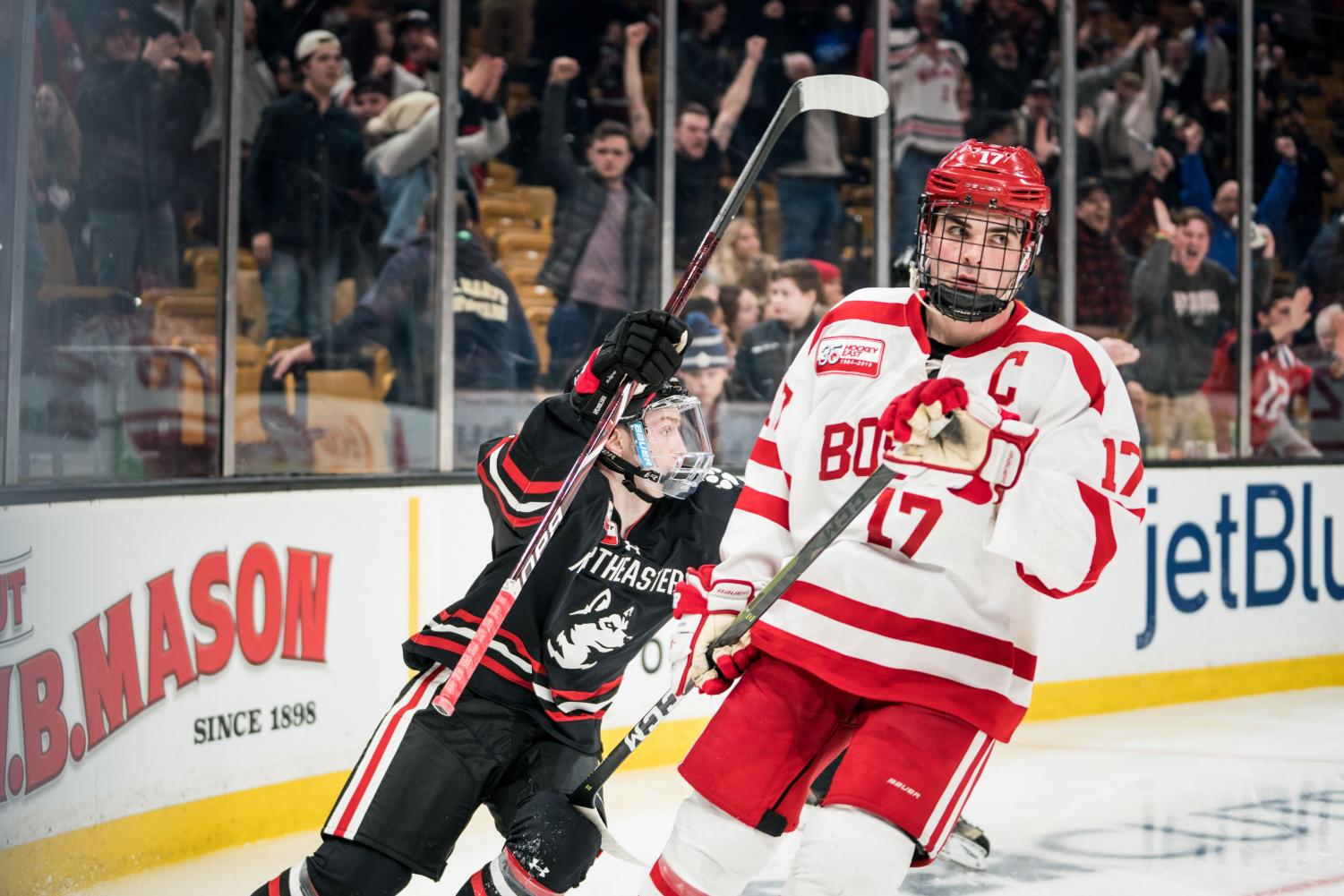 After scoring the overtime winner against UMass Jan. 19, Madden dropped to the ice to mimic rowing a boat to celebrate right in front of the UMass bench. Against BU, he made a snow angel on the ice as he etched his name into Beanpot lore. With the NCAA game coming up, Madden said he doesn't have anything planned yet.
"I'm sure I'll plan something out if I get the chance to," Madden said. "Its kind of an in-the-moment thing."
While many players may get distracted by the idea of having an NHL future ahead, Madden said the team's success this year has helped him stay focused.
"You've got to live in the moment," Madden said. "We've won a Beanpot and a Hockey East championship and we're going after an NCAA title, so [the NHL]'s more in the future right now and I'm still living in the present.
"Then when summer comes around, I just go back to work and dream big."