After a lifetime on the ice, Davies is a leader at NU
When he was one, or perhaps two, Jeremy Davies put on ice skates for the first time. He can't remember exactly when — ice hockey has always been a part of his life.
The Montreal native remembers growing up and watching his hometown team, the Canadiens, play on TV. His father was an avid hockey player and instilled a love for the game in his son. Davies' father was the one who put the skates on him and guided him onto the ice for the first time.
It should be of little surprise, then, that Davies aspired to be a hockey player ever since.
"I still have all the yearbooks from elementary school where you got questions and answers next to your picture," Davies said.
What was his best skill? Playing hockey. What did he want to be when he grew up? An NHL player.
This dream came closer when was drafted by the New Jersey Devils in 2016. He joined the United States Hockey League before moving to his current role as a junior defenseman at Northeastern. He played for the Bloomington Thunder and became their all-time top-scoring defenseman, earning First Team All-USHL honors to become Bloomington's first-ever All-USHL selection.
Davies certainly is no stranger to such honors and awards. Last year, he was named a first-team All-American by the American Hockey Coaches Association, an impressive distinction for a sophomore. This February, he was named the Hockey East Player of the Month. He was also nominated for the Hobey Baker Memorial Award, one of the most prestigious awards in collegiate hockey. Most recently, on Thursday, he and NU goaltender Cayden Primeau were named to the New England Hockey Writers Association's All-Star Team.
Though Davies has a cabinet full, he views his awards as an indication of his team's and program's strength, not just his individual talent.
"I see [those awards] as a testament to how good this program has treated players and how players have strived under this institution," Davies said. "Those are things you work for, but at the end of the day, you can't win all those awards without playing on a good team."
Davies, who leads his team with 35 points (eight goals, 27 assists), is part of a historic time in Northeastern men's hockey. He and his teammates ended the 30-year Beanpot title drought when they defeated crosstown rivals Boston University last year. This year, they did it again, defeating the Boston College Eagles to win back-to-back titles. One month later, the Huskies bested the Eagles again and brought the Hockey East Championship title to Huntington Avenue.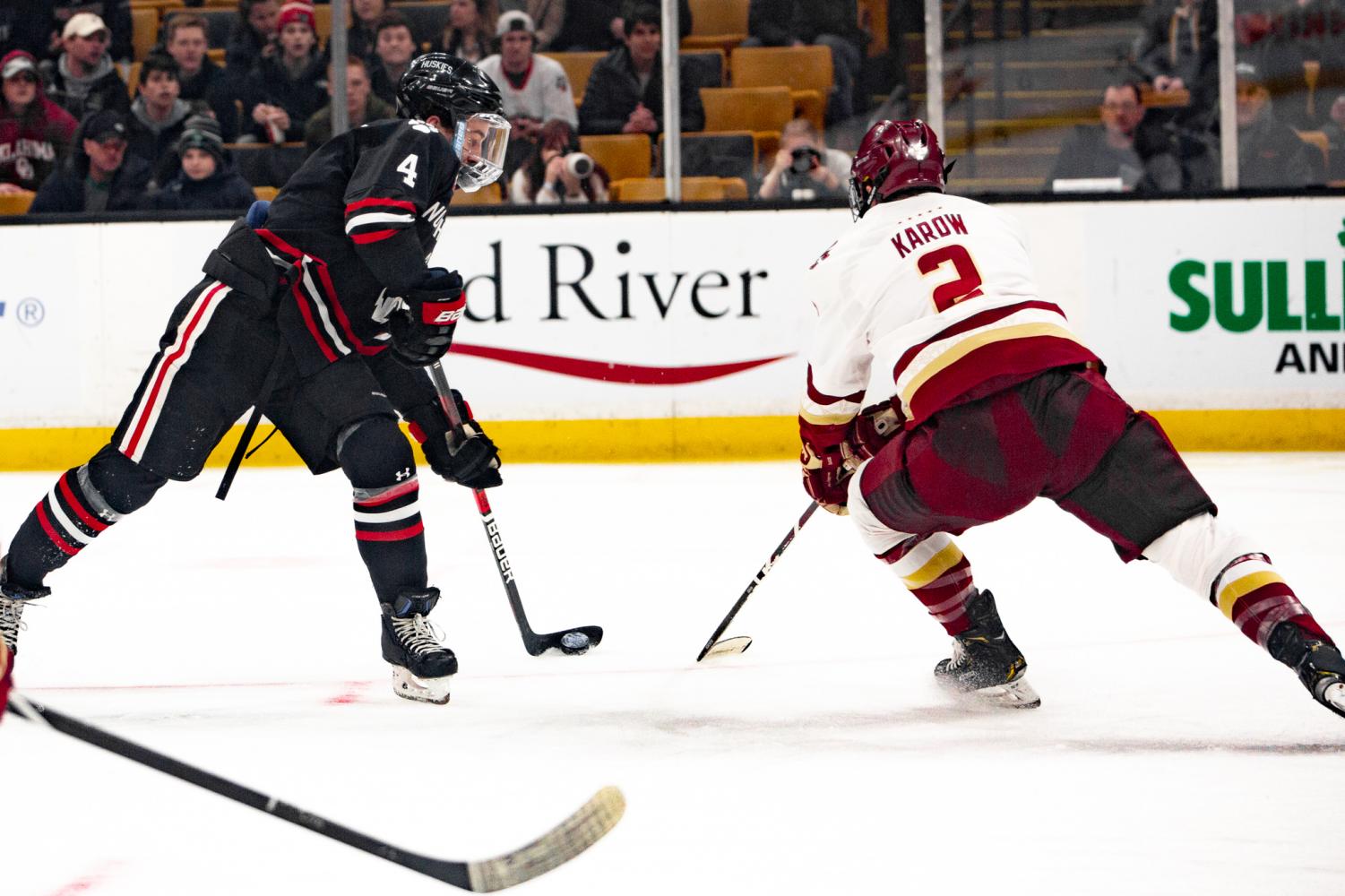 Davies said the opportunity to play in the Beanpot and the potential to be on the team that ended the drought was one of the things that drew him to Northeastern. When Northeastern was one of many schools that reached out to Davies, he said he felt connected with the coaching staff right away.
"Jerry Keefe, coach [Jason] Smith and coach [Jim] Madigan, they're really good hockey coaches with really good hockey minds, but they're also people who care about their players as people," Davies said. "They want them to succeed on the ice and off the ice as well, so that's something that really connected with me and my family. Going back, if I could go to any school, I'd definitely make the same decision."
Madigan has seen Davies succeed and grow more reliable, moving the team forward in any situation.
"He's grown in his sense of his play away from the puck, defensive awareness and defensive skills," Madigan said. "He's a thorough, reliable defenseman, so we can play him in all situations."
Madigan also commended Davies for stepping up to fill a leadership void left by top players who left after signing in the NHL. This includes last year's Hobey Baker winner Adam Gaudette, who is currently playing for the Vancouver Canucks.
To Davies, the opportunity to wear a letter on his shirt as an alternate captain has been an unforgettable learning experience.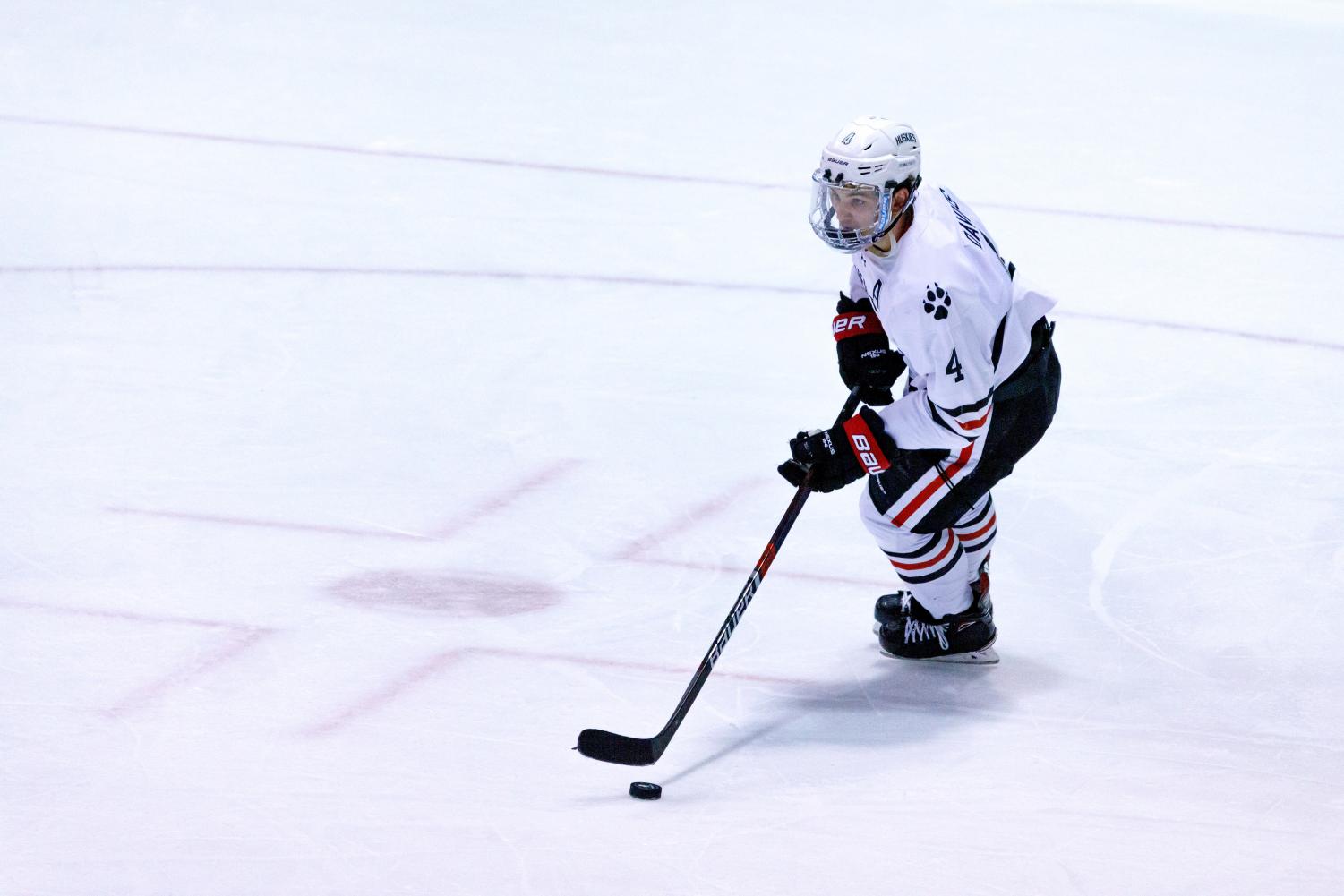 "I've learned how much accountability matters and how everything you do as a leader is under a microscope," Davies said. "Everyone watches what you do, so you really have to be careful and make sure you lead by example and always do the right things in order to help the team move forward."
This includes learning from tough games and losses, Davies said. After the team lost in the NCAA Tournament last year to Michigan, Davies said he's learned to rally his team to give it their all.
As Davies looks to his future, he also looks at his past and what got him to this point. He said he is thankful for his family's sacrifice and how they have supported him each step of the way, no matter how he performs. He mentions the countless meals his mother lovingly cooked before and after games and how his parents drove him through winter storms to take him to games and practices, even if it was at 6 a.m. He said he'll never forget how his sister and father always encouraged him to keep moving forward, even in the face of his biggest disappointments.
"[My parents] have never forced me to do anything, they've just supported me and been there for me," Davies said. "They've always given me the choice of doing whatever I wanted and made it clear that whatever choice I make, they'll support me no matter what, which has been the biggest thing for me."
Davies said his father taught him to shift his perspective on anything that seemed negative. Before he joined the Bloomington Thunder, Davies was traded by the Waterloo Blackhawks midway through the season. It was a devastating change for him.
"I remember calling my dad and bawling my eyes out not knowing what to do and thinking that my hockey career was going downhill," Davies said. "Looking back on it, it's probably the best thing that's ever happened to me as a player because I learned so much throughout the process. I learned how one thing could feel like the worst thing ever, but down the road, it's something that you learn from."
Davies encouraged others, especially players just beginning their career, to adopt this mindset. Any player, no matter how good they are, always has room to grow.
"I thought getting traded was the worst for me, but it was a huge learning experience and I found positive in the negative," Davies said. "So, whenever I have a bad game these days, I don't use it as something negative. I'm happy in a way that I had that game, because it's an opportunity for me to learn the mistakes I've made. I sit down with my coach and ask him what I could get better at."
Davies leadership abilities will be put to the biggest test yet Saturday as NU starts its quest for four straight wins and an NCAA title.