Northeastern wins first Beanpot since 1988
A 30-year drought faced off against 30 Beanpot titles Monday night. A present-day power met its historical tormenter. For the first time since 1988, Northeastern fans watched their team claim the Beanpot championship just after 10 p.m. Monday.
TD Garden was electric all night, with chants from both fan sections raining down from the rafters even before the 7:40 p.m. puck drop. The first period was tight as expected, but Northeastern pulled away from Boston University in the second and didn't look back in the third thanks to their dominant top line and unflappable rookie goaltender.
"Wow," NU head coach Jim Madigan said. "I'm ecstatic, thrilled, elated for so many parts of Northeastern University … Most of all, these student-athletes who worked their tails off and were so focused on this tournament."
The first few minutes of the game were eventful but scoreless. A BU goal was washed out because of goaltender interference and NU's top line was shut down several times by BU goalie Jake Oettinger.
First-year goalie Cayden Primeau kept the game at 0-0 with two remarkable saves with his left leg midway through the period, one on a wrister from the high slot and one just at the left post on a backdoor play.
Things tilted in the Terriers' favor with 7:25 left in the opening period with first-year Logan Cockerill's fifth goal of the season and second goal of the tournament. Another Terrier flipped a no-look pass into the net-front area and Cockerill found a way to squeeze it past Primeau. This would be the only time the BU fans in attendance, starkly outnumbered, would have a lead to cheer.
That 1-0 lead didn't last long: Northeastern went to the power-play less than a minute later. After a couple fruitless rushes, fourth-year captain Nolan Stevens made a crafty move to  dangle a BU defender to get to the net and faked out Oettinger to tie up the game. The score sent a pro-Northeastern crowd into hysteria and squelched momentum BU gained from its goal.
Another penalty, this time on BU's Chase Phelps, put the Huskies on the power-play once again. Third-year center Adam Gaudette took a backdoor pass from fourth-year winger Dylan Sikura in the left faceoff dot and rammed it home top-shelf before Oettinger could come across.
The score gave Northeastern a 2-1 lead and a palpable command of the energy in the building.
Gaudette's go-ahead tally was assisted by Sikura and Stevens, continuing the top line's dominance. Less than a period into the game, the trio had four points collectively. Coming into Monday's game, the unit had scored 12 of Northeastern's last 15 goals dating back to a Jan. 20 win over the University of Massachusetts.
Video by Charlie Wolfson.
Madigan was sure to compliment his bottom three lines after NU's semi-final win.
"They aren't scoring as much, but they're opening up chances for our top line," Madigan said after the Feb. 5 tournament game. This run, though, is transcending the ordinary top-line narrative.
Northeastern's power play has been confident all year, Madigan said, and didn't let a sub-par stretch leading up to the Beanpot weigh on them. They went 3-3 Monday.
"Our confidence never wavered," Madigan said. "We knew we had to shoot the puck more. We did that, and it opened up some seams and some back doors. We ended up with two back door goals."
 Primeau came up with a series of big saves against Phelps, Drew Melanson and Hank Crone, whose attempt to one-up Gaudette on the highlight reel was absorbed by the rookie goaltender.
Primeau stopped 75 of 77 shots in the Beanpot, the third highest save percentage in tournament history. He was awarded the Eberly Award, an honor annually presented to the goaltender with the highest save percentage of the tournament. He's 18 years old and new to the program, but the significance of the moment did not elude him.
"It's hard to put it to the back of your head here," Primeau said. "I'm super happy we got the win and I'm thankful I got to do it with this group."
Madigan complimented his netminder's resolve, particularly after BU opened the scoring Monday.
"He gave up a bad first goal," Madigan said. "He put that in his own net. He's a resilient young man. He put it behind him and played immensely."
Oettinger came up with a huge save of his own just minutes later, shutting down a set up from John Picking, who found Austin Goldstein waiting backdoor to fire the shot. Goldstein didn't elevate his shot enough, and Oettinger was able to make an outstanding save to keep his team within one.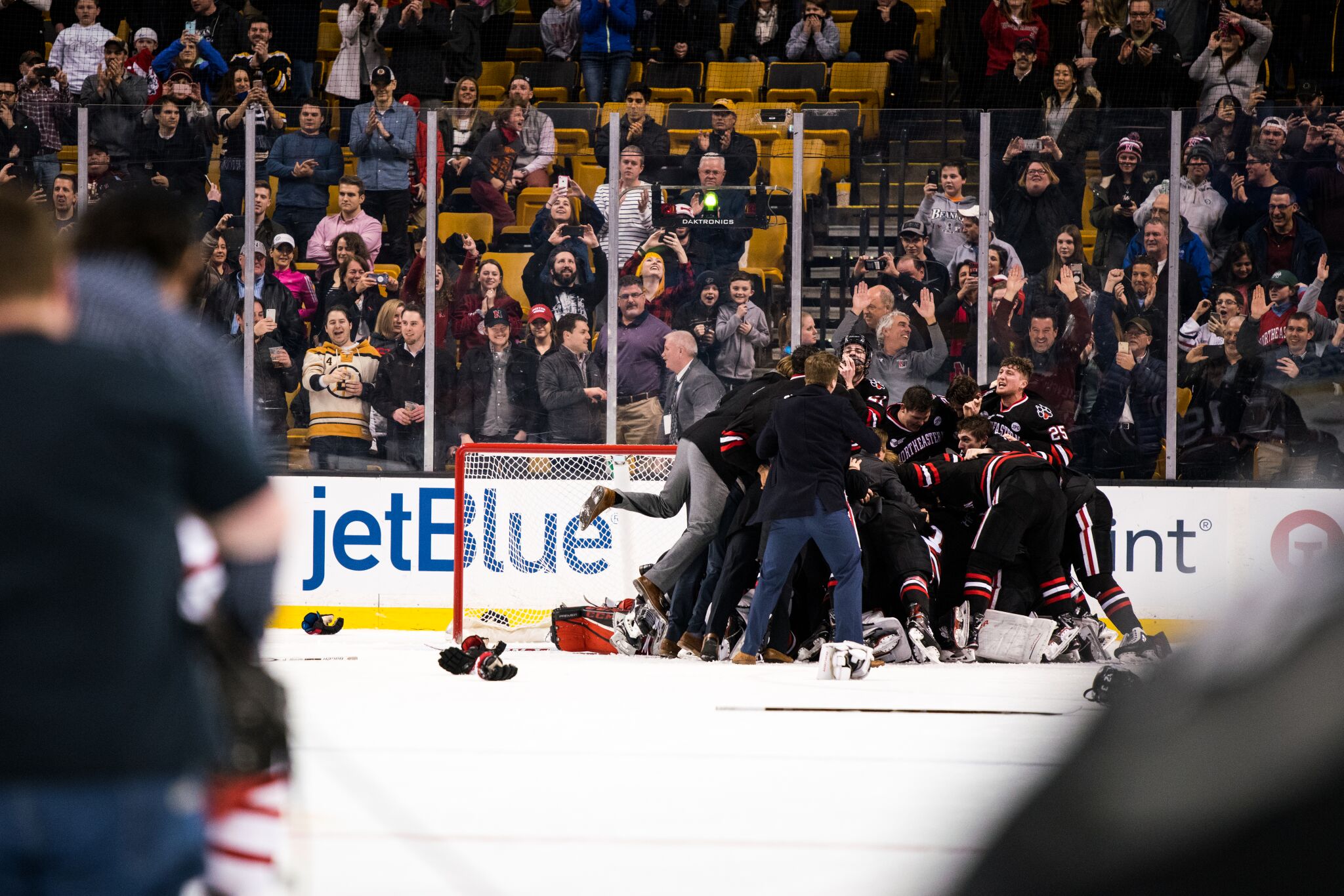 Fourth-year Trevor Owens, a big defenseman, gave Northeastern some breathing room with his second goal this season, going bar-down over Oettinger with a wrist shot from the left circle for his first career Beanpot goal. It was the first time since Jan. 27 that a player who was not on the first line scored for NU. It was also Owens's fifth goal in 110 career games.
Gaudette potted his second goal of the game with just 3.5 seconds left in the middle frame on another power play. Sikura found Gaudette backdoor, and the puck was off Gaudette's stick and in the back of the net before Oettinger could turn around. With his second goal of the night, Gaudette claimed the school record with 31 career power-play goals.
Gaudette, a Braintree, Massachusetts, native, was awarded the Most Valuable Player award for the Beanpot, finishing the tournament with four goals and two assists.
"It means so much, I can't even put it into words," Gaudette said. "I've been coming to these games since I was younger, and when I realized I had an opportunity to play college hockey, I wanted to play at a Beanpot school."
Time kept ticking for BU, who trailed by three. With just over 17 minutes on the clock, the Doghouse broke into the unofficial Husky fight song: "Stacy's Mom."
Nearing the halfway point in the final period, the Terriers were outshooting the Huskies 25-23 and leading in the faceoff circle 30-27, but with little to show for it.
The Terriers put pressure on in the offensive end, but with Primeau in the crease it seemed a lost cause. Shot after shot bounced off the rookie's pads, and anything else that came his way was snagged mid-air with his glove.
In a late effort to make a comeback, Oettinger was pulled from net at 15:11. Logan Cockerill was waiting backdoor, but Primeau was there with a leg save and again on the rebound, just barely blocking the puck with his stick across the crease.
BU's efforts to score with an extra man finally paid off and BU defenseman Chad Krys slipped the puck into the net with 2:30 remaining in regulation to decrease the deficit to two, momentarily taking some wind out of Northeastern's sail. With 30 seconds left, though, Gaudette completed a hat trick by twisting the puck into the gaping net from the corner.
Northeastern ended its 30-year drought. BU's Beanpot tally remains at 30. And fittingly, Gaudette's empty-net goal to ice it came with 30 seconds left in the game. The third-year furthered his Hobey Baker-caliber season by clearing three decades' worth of ghosts out of the Garden.