To repeat in Hockey East, NU defense will have to dominate
In 2016: Can Northeastern win without Matt Benning and Kevin Roy?
In 2018: Can Northeastern win without Adam Gaudette, Dylan Sikura and Nolan Stevens?
Each of those NU teams were tasked with pressing on without cornerstones of the year prior. In 2016-17 the Huskies came up short, going 9-10-3 in Hockey East and losing to Boston University in the conference quarterfinals. In 2018-19, the team excelled after graduating its top three scorers, went 27-11-1 overall, won the Beanpot and Hockey East.
In 2019, can Northeastern win without Cayden Primeau?
The team is stronger than last year at forward and on defense, but the question of the season is whether those gains will be wiped out by the departure of the 2018-19 Hockey East goaltender of the year. While Primeau is climbing the ranks with the Montreal Canadiens, the NU net will be minded by a fifth-year senior who posted an .889 save percentage with Merrimack last year.
"We're not asking him to be Cayden Primeau," head coach Jim Madigan said of Craig Pantano, who transferred from Merrimack after Primeau's departure last spring. "There are very few Cayden Primeaus. Last year he was the best goaltender in college hockey. There's only one. We just need Craig to be Craig Pantano and I'm confident he'll do that. A change of scenery I think is good for him, and we're hoping to provide some defensive structure to make the game a lot easier for him too."
It will be key for Northeastern to limit the shot volume against Pantano, something they sometimes failed to do for Primeau last year. In situations where Primeau bailed the team out before, more pucks could find the back of the net this season.
In the Hockey East championship game, which NU won 2-1, Boston College led in shots, 40-26. Maine outshot the Huskies in a Hockey East playoff game, 34-17. The list goes on.
Last year's record shows a 2-1 win over No. 1 UMass on Jan. 19, but a slightly closer look shows that the Minutemen destroyed NU in possession, outshooting them 45-22. After that game, UMass coach Greg Carvel said "We lost because of their goalie."
In Pantano's first year as a starter at Merrimack in 2017-18, the team went 12-21-4 but the goalie had a fine 2.33 GAA in 28 games with a .915 save percentage. In 2018-19, their record went in the tank and Pantano's numbers took a dip as well. The Warriors were 7-24-3, and Pantano had a 3.52 GAA and .889 save clip. 
He posted fine numbers on a bad team, and bad numbers on an awful team. He's been around the block in Hockey East, and as Madigan pointed out, he's beaten almost every team in the league and won a playoff series. What does this all tell us? He ought to be good enough to backstop a good Northeastern team to success, but probably not good enough to bail NU out of shot-volume massacres like the one that took place on Jan. 19.
Northeastern's defense will have to find a way to take some of the burden off Pantano and the other three goalies vying for playing time (freshman Connor Murphy, sophomore Nick Scarpa and senior Curtis Frye). The team captain and unquestionable leader of the defensive group, senior Ryan Shea, said he knows certain things will need to change.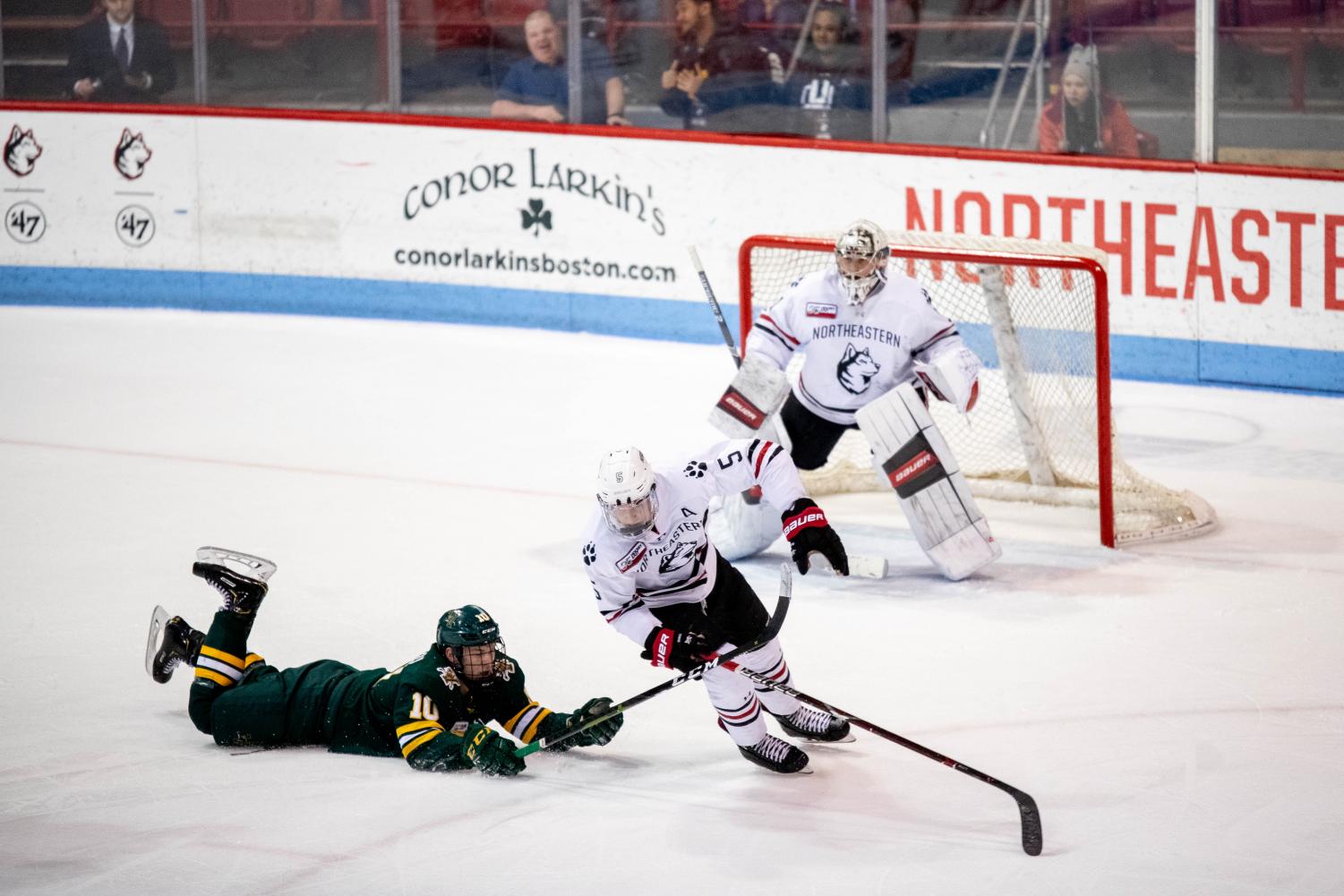 "Those games, we were a bit outmatched at times," Shea said. "That's the point of a team. When you have a goalie like [Primeau], you have the confidence to take a few more risks. I think we are trying to step away from that and we have the D corps group to do that."
Of course, the shot totals aren't guaranteed to look the same as last season because Northeastern went through considerable roster turnover leading up to this fall. Thirteen players are new to the team – 11 freshmen and two graduate transfers. There's optimism that the defense is stronger than at any point during Shea's time at Northeastern. 
Sophomore defender Jordan Harris enjoyed a strong debut season last year skating alongside Jeremy Davies. Madigan said Harris is one of the best skaters in the college game.
Freshman defender Mike Kesselring brings a 6-foot-4 presence to the blue line, and the Bridgewater native said he's been skating in practice alongside Harris and Shea. Madigan said he likes to pair freshmen with older players, and being in a pairing with one of those two could put Kesselring on a fast track to being an integral part of this defense.
The crown jewel of NU's freshman class this year is Jayden Struble, one of the highest NHL draft picks ever to play at Northeastern (46th overall by Montreal). Over the last two seasons at St. Sebastian's School, he scored 70 points in 58 games as a defenseman. 
"He's just a beast," Shea said of his new teammate. "He's one of the most athletic kids I've seen. He can skate, he's got a good shot. I think he's going to play a huge role. He's one of the guys who, in my opinion, will be able to jump right into college hockey."
If a defensive unit bolstered by Struble and Kesselring and led by Shea's steady hand can settle things down and limit the pressure on Pantano and the other netminders, those goalies could find success in Primeau's old crease. Pantano said his goal for the year is to be steady, gain consistency and enjoy living in Boston (he said there's much more to do here than in North Andover).
"It was a rollercoaster," Pantano said of his 2018-19 performance. "It was good at times, it was bad at times. That's something I want to change, I want to be more consistent. Performance-wise, there was no middle ground. It was either good or it was bad."
As for replacing Primeau's sometimes breathtaking proficiency, a graduate transfer with lots of Hockey East experience may be just the right person for the job. Pantano has played in every arena in the league and battled in the playoffs, so he can focus on finding that consistency and getting acclimated to his new defensive unit instead of learning the ins and outs of Hockey East. He said he's certainly not thinking about replacing Primeau.
"None of the goalies are taking over for him," Pantano said. "He had a great career here. But he's gone. All the goalies, we just want to win for the team and try our best. There's no taking over for him. It's whoever's era it is now. It has nothing to do with Cayden."
Can NU play a sound enough defensive game to compete in Hockey East with their new goaltending quartet? There won't be any easing into the testing phase: Friday and Saturday bring a tough two-game set at Union College, and then there's a quick turnaround before the Huskies host the the No. 4 team in the country, UMass, on Tuesday.