No. 3 Women's hockey dominates BC, asserts top spot in Hockey East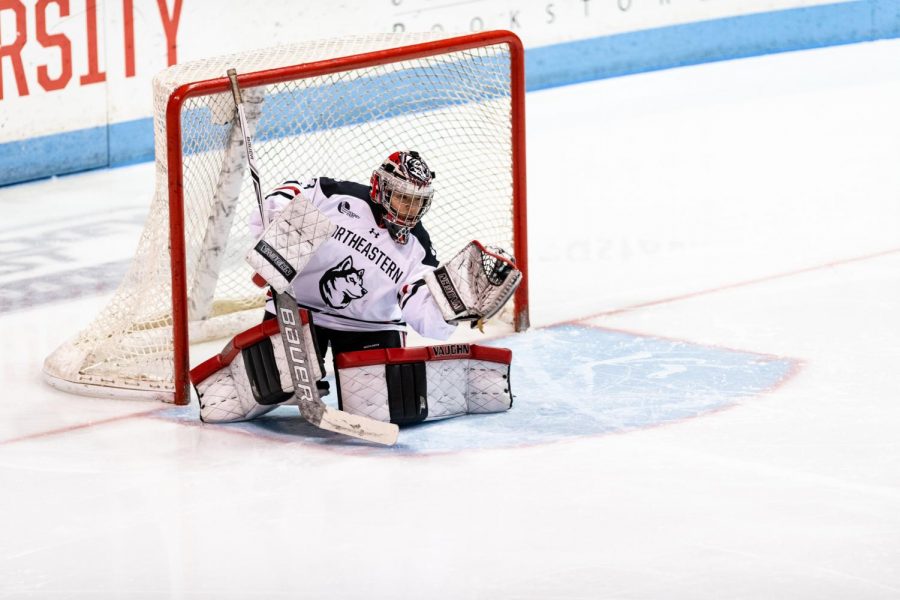 Northeastern and Boston College have hovered near one another at the top of Hockey East for much of the 2019-20 season. But today, by virtue of a strong 6-0 victory over the Eagles on BC's home ice, NU women's hockey stands five points ahead of BC in the standings despite playing two less games than the Eagles. 
Northeastern (16-3-1, 13-2-0 HEA) trounced BC (11-8-2, 10-6-1 HEA) in a true team victory this afternoon. Junior goalie Aerin Frankel picked up her fifth shutout of the year by turning away all 26 of BC's shots, putting her in a three way tie with Chantal Burke and Sydney Scobee for the NCAA lead in that category. She now leads the NCAA in save percentage with a remarkable .959 to go along with holding second in the NCAA with a 0.95 GAA. 
Frankel had plenty of help offensively too, as five different Husky skaters scored including sophomore forward Alina Mueller, whose two tallies give her a team-high 13 goals this season. Mueller sits fourth in the NCAA scoring race with 36 points and leads the Hockey East in that coveted category. 
The Huskies took control of the game quickly in Chestnut Hill. Mueller picked up her first of two goals 12 minutes into the first with a shorthanded marker. Four minutes later, the super-sophomore scored again. 
The onslaught continued two minutes later, as another Husky found the back of the net. Senior blueliner Codie Cross gave the Huskies a 3-0 lead to take into the first intermission. Sophomore forward Sydney Herrington earned her first career point with an assist on Cross' score. 
BC couldn't stem the Husky tide in the second either, as junior defender Skylar Fontaine scored 10 minutes through the middle period, making it 4-0 Huskies. The Eagles responded with a shift in net, replacing the beleaguered sophomore netminder Maddy McArthur with another sophomore goalie, Kelly Pickriegn. 
Three minutes later, the Huskies welcomed Pickriegn to the game with a goal, as sophomore forward Mia Brown pushed the NU lead to a whopping 5-0. The Eagle's goalies combined for a brutal .818 save percentage in the contest. 
The Husky barrage concluded in the 13th minute of the third with a Megan Carter goal. While it was NU's sixth goal of the contest, it was Carter's first of the season, making it much more significant than a typical  late game blowout goal.  
Coming off a tough overtime loss to No. 1 Wisconsin in their last game, NU has now picked up momentum to bring into their next game, also against BC. Northeastern will look for a repeat of today's result Sunday at 2 p.m. at Matthews Arena.