No. 12 men's hockey falls to UConn in overtime battle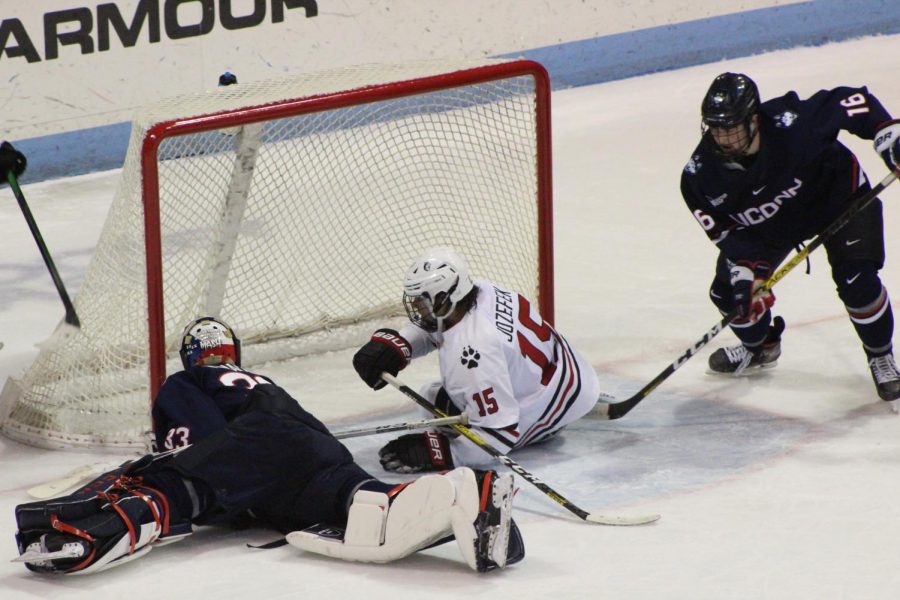 UConn took down No. 12 Northeastern men's hockey in a physical overtime bout this evening, preventing NU from picking up the season series sweep. 
"They work hard and they've got some skilled forwards. Their goalie played well and they're well coached," said NU head coach Jim Madigan. "As I said, credit to UConn, they found a way to win here tonight. It was a physical game on both sides, it wasn't a dirty game or chippy game, we didn't find a win, they found a way to win."
NU was helped by senior forward Grant Jozefek, who picked up two of the NU tallies. He was matched in scoring by UConn freshman forward Vladislav Firstov, who had two goals of his own. Both teams peppered each other with shots and hits, as the big-bodied UConn roster looked to impose their will on the road where they've struggled to a 3-4-1 record. 
"[Jozefek] has been playing well and offensively he has been getting opportunities. That line has been playing well, they're getting chances," Madigan said. 
Fifth-year senior Craig Pantano had to weather a few stretches of constant pressure and made a handful of extremely difficult saves and one-on-one stops to keep NU in the contest. Pantano would finish the game with a season-high 41 saves on 44 shots. 
"One of the things I was really happy about, every period we matched them with as many shots or more. I thought we played the game on our toes, we didn't sit back on a road game in an opponent's arena. We played really well and I think we earned the win. One of our emphasises was pucks and bodies to the blue," said UConn head coach Mike Cavanaugh. "I thought we did a good job, with a lot of really good scoring chances. I got to give credit to Pantano, I thought he was excellent."
NU got off to a slow start and it cost them. A turnover in UConn's zone led to a nice breakout pass from freshman defenseman Harrison Rees to Firstov who just barely snuck past freshman defender Jayden Struble in the neutral zone for a breakaway chance. Firstov cruised through the neutral zone, shook off a Struble slash and beat fifth-year senior Craig Pantano on the gloveside to light the lamp just a minute and a half into the game. 
After giving up the opening salvo, both Husky squads started to get physical, triggering a parade to the penalty box from NU. Northeastern's Hockey East leading penalty kill stood tall, turning away UConn on each of their four power plays thanks in part to some slick saves from Pantano.
With all the penalties, NU struggled to get much offensive momentum outside of one glorious shift midway through the first where star sophomore Tyler Madden cut down two UConn passes in the neutral zone to trigger a flurry of NU shots. Unfortunately for the home squad, UConn sophomore netminder Tomas Vomacka was sharp and kept NU off the board. 
Tensions boiled over as the first winded down. With just over a minute left, UConn sophomore forward Jachym Kondelik drove NU forward Riley Hughes' face into the top of the boards. Hughes understandably didn't take kindly to Kondelik's dangerous play right in front of the UConn bench and responded by grabbing the lumbering forward's facemask, much to the UConn bench's dismay. Both players earned major penalties and game misconducts, leaving each team down a man for the next two periods.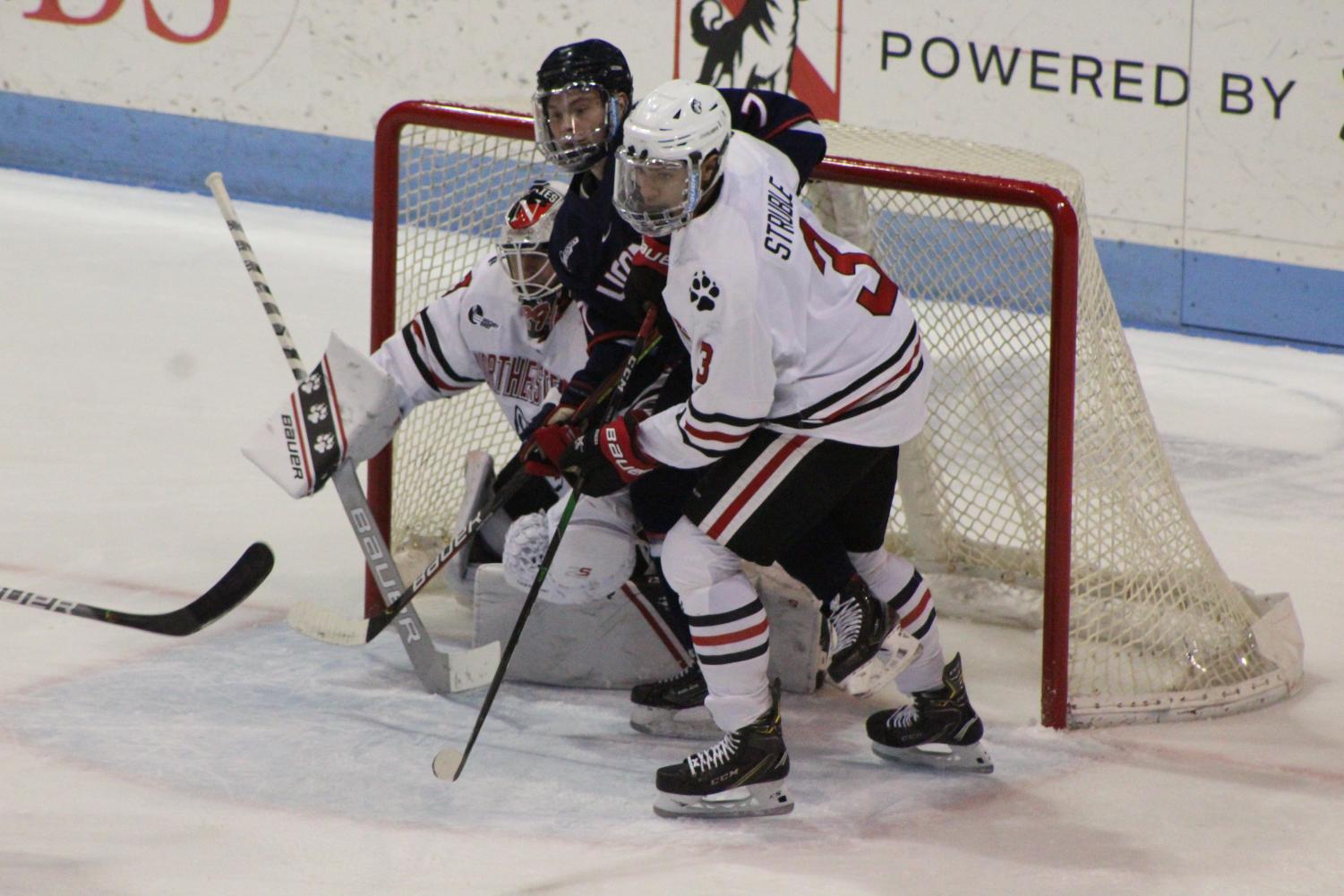 NU started to pick up the pace as the second started. The game stayed physical and featured a handful of big hits, including a borderline high hit on NU senior forward Grant Jozefek in the fifth minute of the second. Jozefek shook off the contact and got up, skating into the slot where freshman defender Aidan McDonough could send him a crisp one-time pass. Jozefek crushed the puck and tied the game as the refs discussed whether or not to penalize UConn for the hit. 
Jozefek continued to prove a thorn in Vomacka's side, nearly scoring again in the 11th minute and sending the UConn netminder lunging to cover the puck. Just over a minute later, Jozefek parked himself right in front of Vomacka's crease and again received a great one-time pass from a defenseman. This time, freshman Mike Kesselring picked up the assist as Jozefek poked his pass into the net for his sixth goal of the season.
Later in the period, NU got a taste of it's own one-time magic as UConn scored a near identical goal (minus the big hit) in the 17th minute of the third. Firstov beat Pantano over his right shoulder from the edge of the crease with his best Jozefek impression to pick up his second goal of the evening and tie up the close contest. 
A back and forth third saw both Huskies manage stretches of strong offensive pressure. As each netminder had to make their own highlight reel play to keep the contest knotted at 2-2. Madden and senior power-forward Matt Filipe had a chance to win it with a two-on-one late in the third, but Vormacka turned away Mr. Bright Lights as Madden crashed the net, forcing overtime.
The quick five minute overtime period featured a couple near victories, none closer than sophomore defender Jordan Harris' one-timer from the right circle, but still Vomacka continued to frustrate Husky attackers. He would finish the game with 35 saves on 37 shots. 
UConn had their own chance, as the prolific freshman Firstov scooped up a Ryan Shea turnover in the neutral zone. Firstov had a one-on-one with Pantano, but freshman defender Jeremie Bucheler caught up. It appeared as if Bucheler's pressure interfered with Firstov's shot, as UConn fans clamored for a penalty shot while Firstov was sent tumbling into Pantano and appeared shaken up. 
"Obviously not the outcome we wanted, two games in a row where we lost in overtime. They went on the power play, and you know to be frank with you I thought Jeremie Bucheler did a great job defending their forward," Madigan said. "That's how we teach it… I feel bad for Jeremie Bucheler because he defended the play the right way and he got called for a penalty. "
No penalty shot was called, but a Husky did wind up in the box. Bucheler took a two minute minor for holding, NU's fourth minor of the game. Hockey East's best penalty killers ran out of gas late in OT, giving UConn senior forward Benjamin Freeman a chance to get the game winner with just under two minutes left in the extra period. 
The tough loss drops NU to 13-7-2 and 7-6-1 against Hockey East opponents. They get plenty of time to regroup with a near two-week break before their next game against Providence January 31st at 7 p.m.
"We'll have to regroup. We have two weeks off now to get ready for Providence," Madigan said. "This was a tough loss but we'll regroup this is a resilient group and we'll just keep battling and moving forward here."