Northeastern athletics has been on a long hot streak. Why do so few people go to games?
January 29, 2020
Northeastern Athletic Director Jeff Konya has an ambitious vision for his department and how it engages with students and Husky fans. He describes plans and objectives geared at lifting the NU athletics brand above that of an urban, professional-minded school that cut its football program in 2009. 
The department has seen considerable success in recent years, but one thing belies that fact: Many home games, even for the relatively popular basketball and hockey teams, see a large number of empty seats at Matthews Arena. 
The men's hockey team has been consistently ranked in the top 20 nationally, but almost always plays in front of fewer than 3,000 people, and often fewer than 1,000 students. The men's basketball team last year finished as league champions after playing in front of sparse crowds including fewer than 100 students on many occasions. The women's basketball team (which went 20-12 last year) draws fewer student supporters than the pep band that loyally cheers on the team.
The women's hockey team, which is ranked third in the nation at 22-3-1 and is the defending Hockey East champion, drew fewer than 600 people each to local rivalry games with Boston College and Boston University this season.
It's not possible to pinpoint one reason the historic 4,600-seat arena is so empty most nights. A close look reveals a student body with a crush of academic, professional and social pressures; a spectating public in the Greater Boston Area with hundreds of choices for entertainment; and an athletics department constantly scheming to break through the social media and entertainment static with a full-court press of apps, tweets, broadcasts and promotions.
Students spread thin 
Many students have so much work related to school and extracurriculars that what little extra time they have isn't spent on attending a sporting event.
Jasmine Agreda, a first-year chemistry major, said she's too busy to go to games and the only way for the school to get her into Matthews Arena would be "lowering my homework."
"Northeastern is a hard school that keeps us busy with work," Agreda said.
Lauren Murphy, a second-year behavioral science major, said "I just don't have time."
Awareness is another limiting factor on fan interest. Many students describe a lack of knowledge about the teams, their achievements and opportunities to cheer them on.
"I feel like you have to be interested in it to know when the games are because otherwise I don't hear about them," said Mia Narciso, a fourth-year English major. "I think you have to be in the know."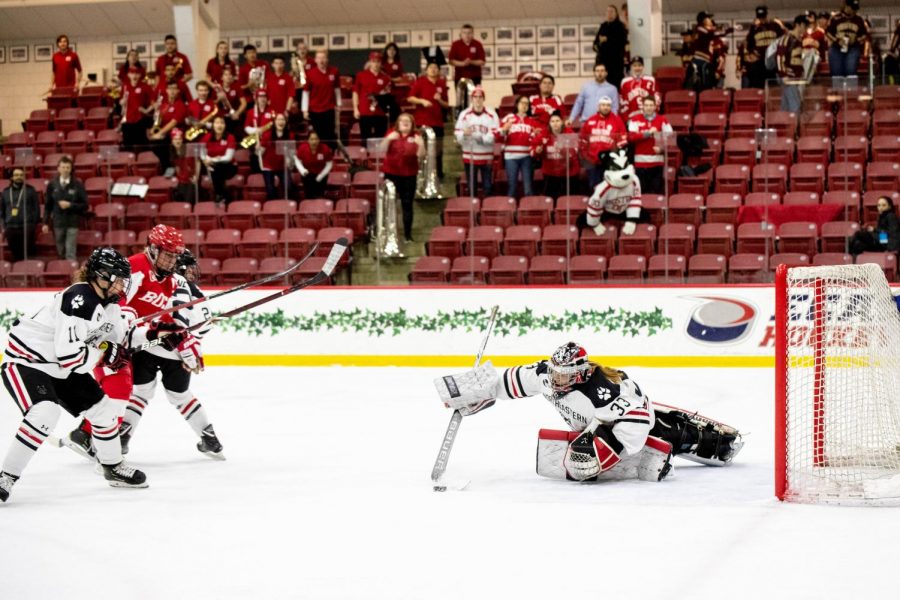 Setting priorities
It's clear the department is aware of a limit on student interest in attending sporting events, based on the new marketing approach Konya revealed in an interview with The News.
The department selected a handful of "emphasis games" for each sport, intending to go all-out to promote those, rather than try to push each game equally. 
"We're not going to be able to do it for every game," Konya said.
The Nov. 16 men's basketball game against Old Dominion was one of those circled dates. A 1 p.m. Saturday tip. Without a football program, Saturday afternoon is basketball primetime. 
The game's total attendance was announced as 2,209. Student attendance was 413, per a department spokesperson,  indicating the number of students who requested a free ticket online.
If the "pick your spots" method worked for the Old Dominion basketball game, it had a noticeable side effect. That same evening, the men's hockey team hosted a nationally-ranked Providence team for an important Hockey East game. The student section was sparsely populated. The department did not provide student attendance data for that game.
"We want our students to come out and support each one of our teams and have an interest," Konya said. "… And we had a really good attendance for [basketball] the same day [as the Providence game]. It might be a big ask at an academic institution like Northeastern to designate an eight-to-nine hour block for athletics. So if you had to pick and choose a game that day you might have chosen the basketball game."
Konya said the Nov. 1 men's hockey game against UMass was also a prioritized game. The Friday night game against a highly-ranked conference rival received 745 student ticket orders.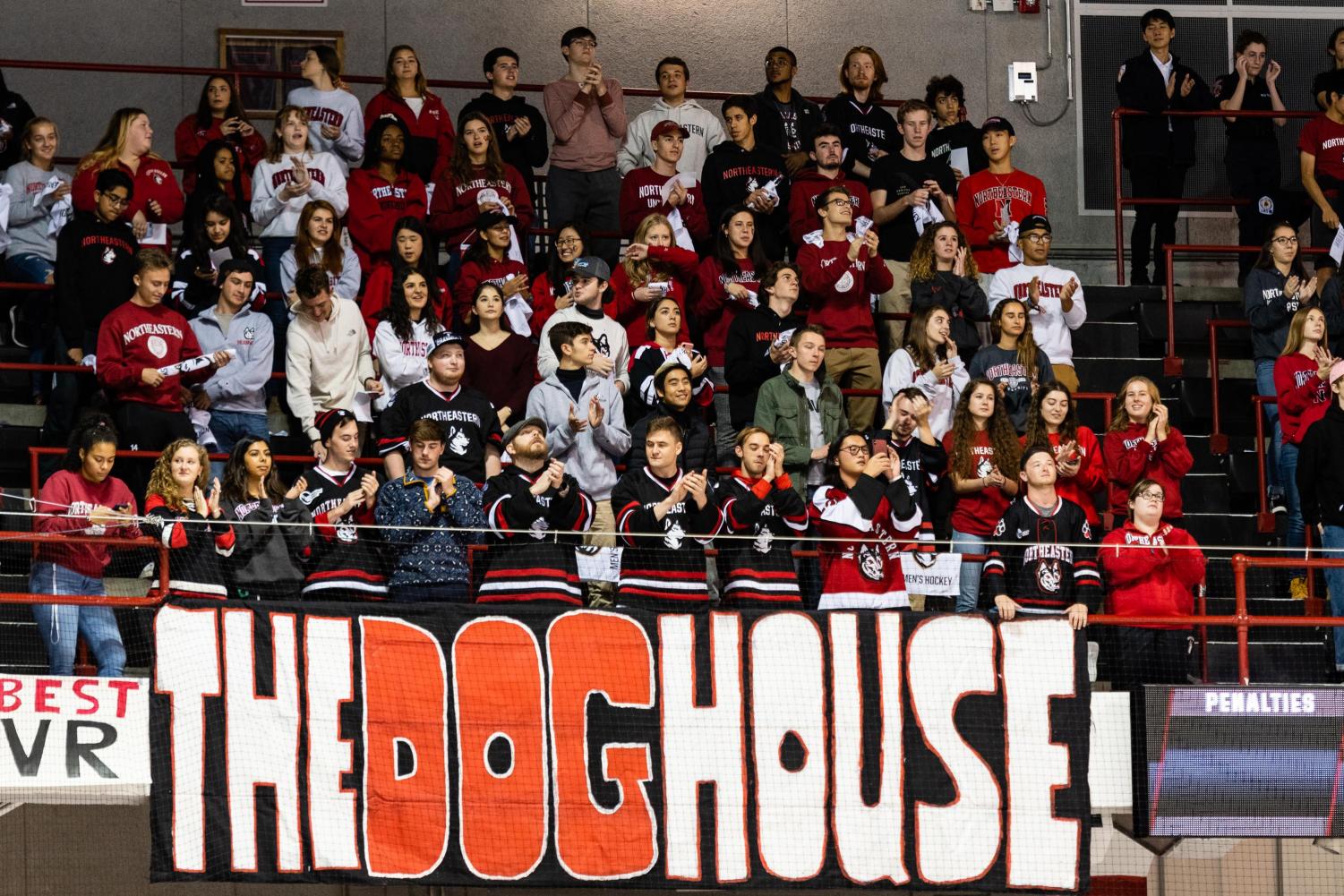 Athletics culture at NU
Some people do go to the arena on a consistent basis. 
Ben Forman, a fifth-year mechanical engineering major who leads the men's basketball student section ("the NZone"), sees the games as a special opportunity. 
"I literally stand on the court at games. It's a unique experience," Forman said. "You really can't get that at most colleges, obviously, and at the professional level, no way.
"You're really close so [players] can hear you and sometimes you can get in people's heads. When there's a good crowd you can get people going and it's a lot of fun."
He said the games are most fun when there's a large student crowd — for instance, when nationally-ranked Michigan State visited in 2015, though he acknowledged that a visit from a basketball superpower is a great rarity. Often, the student section has many empty seats and the only people standing courtside and actively cheering are Forman and a few other NZone leaders.
"I've seen it like, there's maybe 25, 40, 50 kids and they're spread out and nobody really gets into it, and it's kind of just us five standing there yelling, but it's really quiet and it's kind of awkward. That happens a bunch."
He explained that the subdued atmosphere at many games is a catch 22 — when students come to games for the first time, he said, the lack of excitement drives them away, and the problem persists. 
Why is it hard to get students out to see a Division I, "March Madness" team? Forman said he thinks the student body "just doesn't really care" about athletics.
"I think it's a culture where it's not just that kids don't like sports, but it's kind of cool to not like sports," Forman said. "Like 'sportsball!' Things like that, where it's kind of a thing to not really give a [expletive] or care at all."
Clayton Manchester, a fifth-year leader of the hockey student section ("the DogHouse"), made similar comments about the culture of the school, saying that athletics are not as "ingrained" as at power-conference schools like Duke or Kentucky. 
Northeastern students do turn out quite well for the Beanpot, the annual four-team hockey tournament held at TD Garden that crowns Boston's best college team. In 2018 and 2019, Husky fans filled more than six sections of the massive arena's upper deck. 
Both years, those thousands were delighted by championship play on the ice and a festive atmosphere in the stands. Why didn't that hallmark, electrified experience translate into more attendance at Matthews Arena?
Forman posited that the Beanpot has become a "social event" for students, akin to the Underwear Run or Springfest, and regular home games have not reached such status. Manchester said that there's simply a limit to how much sports students will consume in a short period of time.
"It might be as simple as, if you're going to the Beanpot you're going to two games in two weeks, that's more than most people do," Manchester said. "If you go to the next one you're going to three games in two weeks. It's kind of a lot."
This assessment aligns almost perfectly with the department's strategy — asking students to do too much is not effective. 
Some students who don't often attend games cited a lack of general "school spirit" on campus.
"I feel like students here don't really have the spirit for that," said Marilyn Miao, a second-year biology major. "Like, if they win the game, we don't really feel the success for them. I don't know why though, it's just not the spirit around the campus." 
Narciso, when asked what the school could possibly do to attract her to attend more games, said: "Nothing. Is that a bad thing to say? Nothing? For me, I just do not have interest, or school spirit for that matter."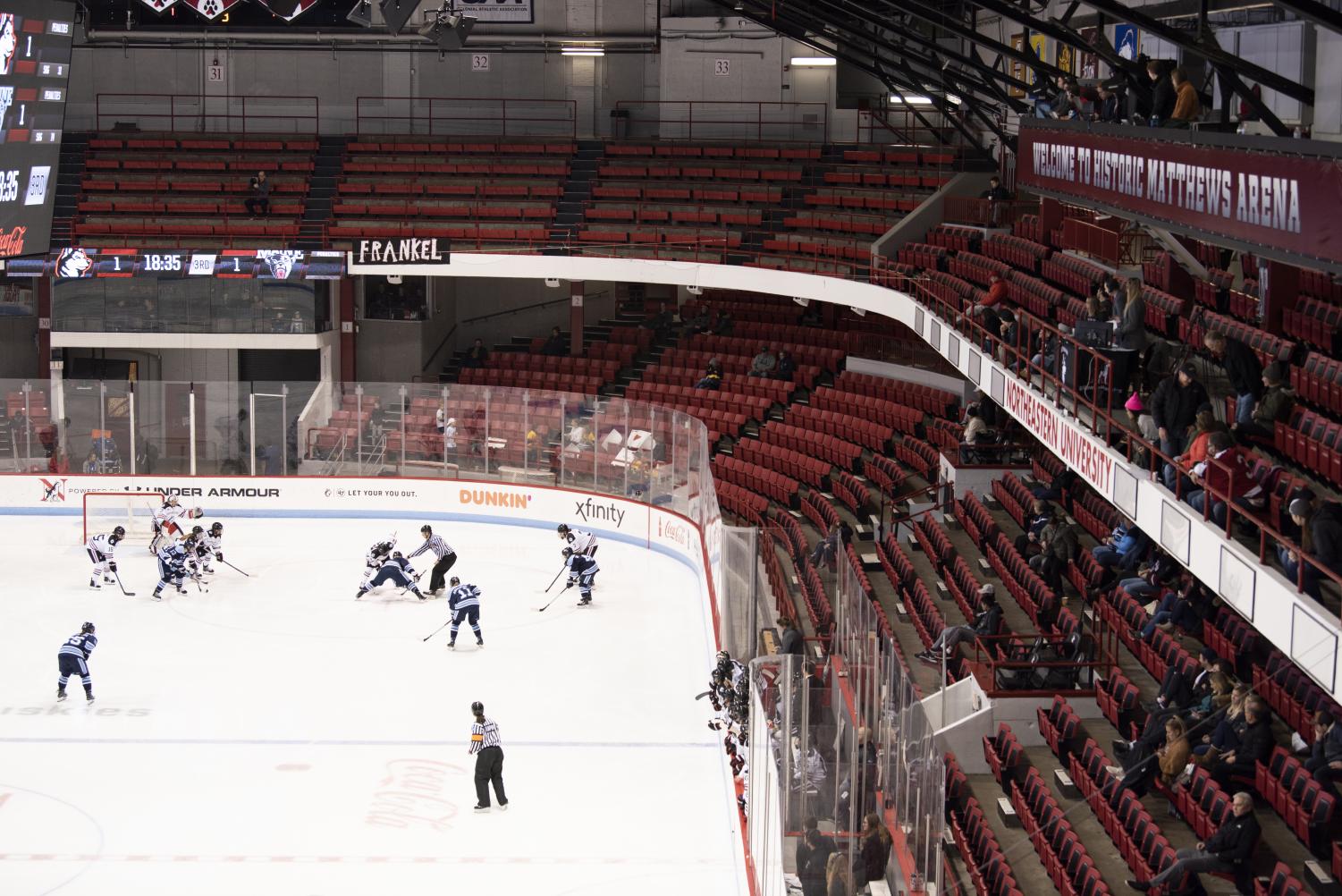 'Pillars' of distribution
Inside a suite of offices in the Cabot Center is a staff, led by Konya, constantly churning and trying to raise the department's brand as high as its resources can lift. 
Konya said in the past year there's been a focus on student traditions (like singing "Stacy's Mom" at hockey games) and a rewards app designed to engage with students during games and incentivize them to come back. Konya's staff tests countless new ideas, like an in-game host at the arena and a new beer garden at men's basketball games.
Konya pointed to three avenues, or "pillars," through which people can engage with NU sporting events: in-game attendance, broadcasting and social networking.
"[Attendance] is not a Northeastern issue, I think it's an industry-wide issue right now," Konya said. "You've got the Alabama football coach complaining about attendance and they're ranked in the top 10. I think for us to be relevant, we have to exist and hit home runs in all three of those spaces."
It's hard to know exactly how many students attend NU games. The school doesn't list student attendance online. (An athletics department spokesperson would not provide this data for each game).  
The capacity of the general admission sections isn't listed online, but The News estimates that the DogHouse, which consists of the balconies at each end of the arena, can hold approximately 600 students on each side. The NZone consists of two areas of courtside folding chairs, totalling about 150 seats.
The sections are virtually never packed, and they are often less than half full.
Butts-in-seats attendance isn't the be-all-end-all of interest. As Konya pointed out, people can consume the games in other ways. He said games broadcast on NESN have garnered more than 200,000 viewers since the team partnered with the station ahead of last season. The men's hockey Twitter account has more than 12,800 followers, who receive instant updates on game action, complete with highlight videos.
——–
As Konya said, attendance is not a problem unique to NU. Boston University draws a bit more for men's hockey, but that's a more historic program with championship history. Boston College men's basketball never drew as many as 6,000 people to a game last year, despite being in the Atlantic Coast Conference, which annually features some of the best college teams and NBA prospects. Attendance is down in professional sports, too.
But it seems as if there's a disconnect at NU, between the success of the department and the response from the community. The recent past has seen a stunning amount of achievement. Men's hockey won the last two Beanpots, won Hockey East last year and made the last two NCAA tournaments. Women's hockey has won Hockey East the last two years and has been top-five nationally for the last two years and counting. Men's basketball put an entertaining product on the floor the last three years and made the NCAA Tournament last year. 
"Winning breeds winning, and winning breeds more interest," Konya said. And perhaps that's working just fine. Men's and women's hockey and women's basketball have seen modest increases in student attendance this year.
But the empty red seats are still there. In the middle of a sports-crazed city, perfectly wedged into a campus of more than 20,000 students, never more than two or three thousand file into Matthews for big games. As winning breeds interest, a dull atmosphere breeds disinterest. 
"I think it could be like 'Oh there's a basketball game, let's go.' and you have the expectation that it's going to be loud and fun," Forman said. "I don't think that exists now."
"I think after a few games and the kids stop showing up, and the people who do go think it's awkward. You need that big crowd to let everyone lose themselves in it."
Leah Cussen contributed to this story.