Men's hockey reaches third straight Beanpot final with 3-1 win over Harvard
In a crowded TD Garden, defending champion No. 12 Northeastern kicked off the 68th annual Beanpot with a close match against the No. 17 Harvard Crimson this evening. The Huskies were up to the tough task, moving one step closer to their seventh Beanpot victory as they fought their way into their seventh finals appearance since 2011 with a 3-1 win. 
"This is a big emotional game for all our guys. Anytime you can get a win in this tournament in this venue, it's special. I'm happy for all our guys for the win," said NU head coach Jim Madigan. "I think that was a really great hockey club we just played. We had a 'bend and don't break mentality,' and it served us well."
The game was shaped up to be a battle of special teams. Harvard came in with the NCAA's most efficient power-play unit, converting on 30 percent of their man-power advantages, while NU came in ranked fourth in penalty kill percentage, squashing 89 percent of their opponent's power plays. Excluding a late-game empty-netter, each goal in the game came as a result of a power play, while Northeastern's defensive highlight was killing off a near two-minute five-on-three to open the third period. 
"I think killing penalties gives us more motivation than scoring a power-play goal because all the guys are up on the bench, everyone's live, every play matters," said NU captain Ryan Shea. "They scored the first one, we adjusted. Unfortunately we got on the five-on-three, but our compete level just went up five notches once that happened, and we shut them down. I think that's what gave up momentum to shut them down the rest of the game."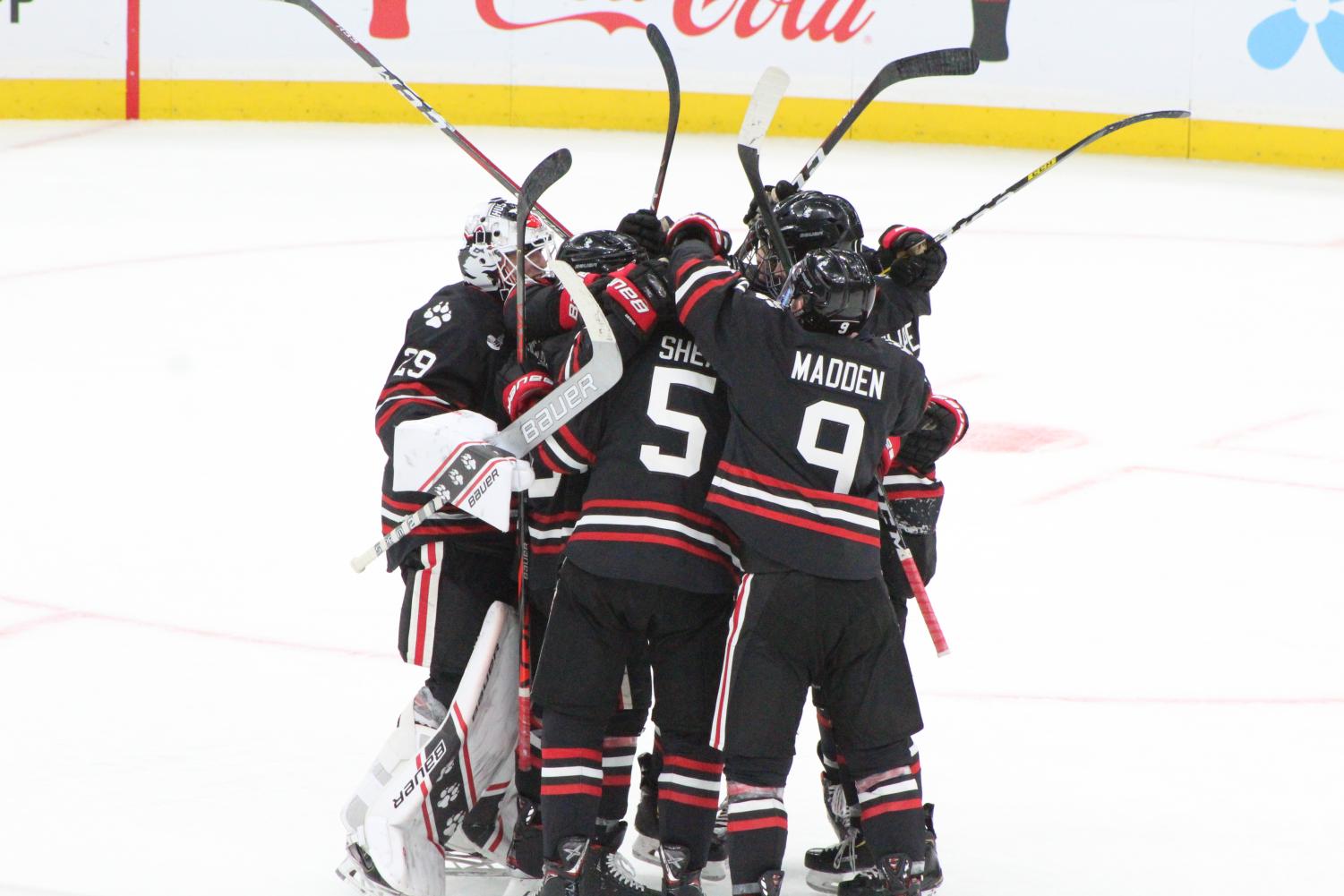 NU's goal scorers were junior forward Zach Solow and fifth-year Brendan van Riemsdyk, each fed by beautiful assists. Senior defenseman Ryan Shea helped out Solow, while senior winger Grant Jozefek contributed an assist on van Riemsdyk's tally. Fifth-year senior Craig Pantano shined as well, particularly in the third period, saving 27 of 28 shots in the game and 14 in the third frame.
"I thought our goaltender was a difference in the game — he made a lot of key stops. In this tournament, you need great goaltending, and we got that tonight," Madigan said. 
The game started off physical and quick. The Huskies had control of the puck with many scoring chances, as captain Shea set up Solow with a great centering pass. Crimson freshman goalie Mitchell Gibson turned Solow away and covered the puck, while the Huskies hung around the crease, a presence which antagonized the Crimson skaters.
Harvard responded with physicality and forecheck pressure, forcing turnover after turnover in NU's zone. The Huskies fought off each Crimson scoring chance they were presented with, but a costly tripping penalty by sophomore defenseman Jordan Harris gave the NCAA's best power-play unit a chance to strike. 
The Crimson's power-play conversion percentage jumped up a hair in the sixth minute of the contest, as the opening salvo of the Beanpot was fired in by Crimson sophomore center Jack Drury. Drury camped in front of Pantano, where he received a pass from his freshman winger Nick Abruzzese, whipped around and surprised Pantano with a forehand wrister over the Husky's pad to give his team an early 1-0 lead.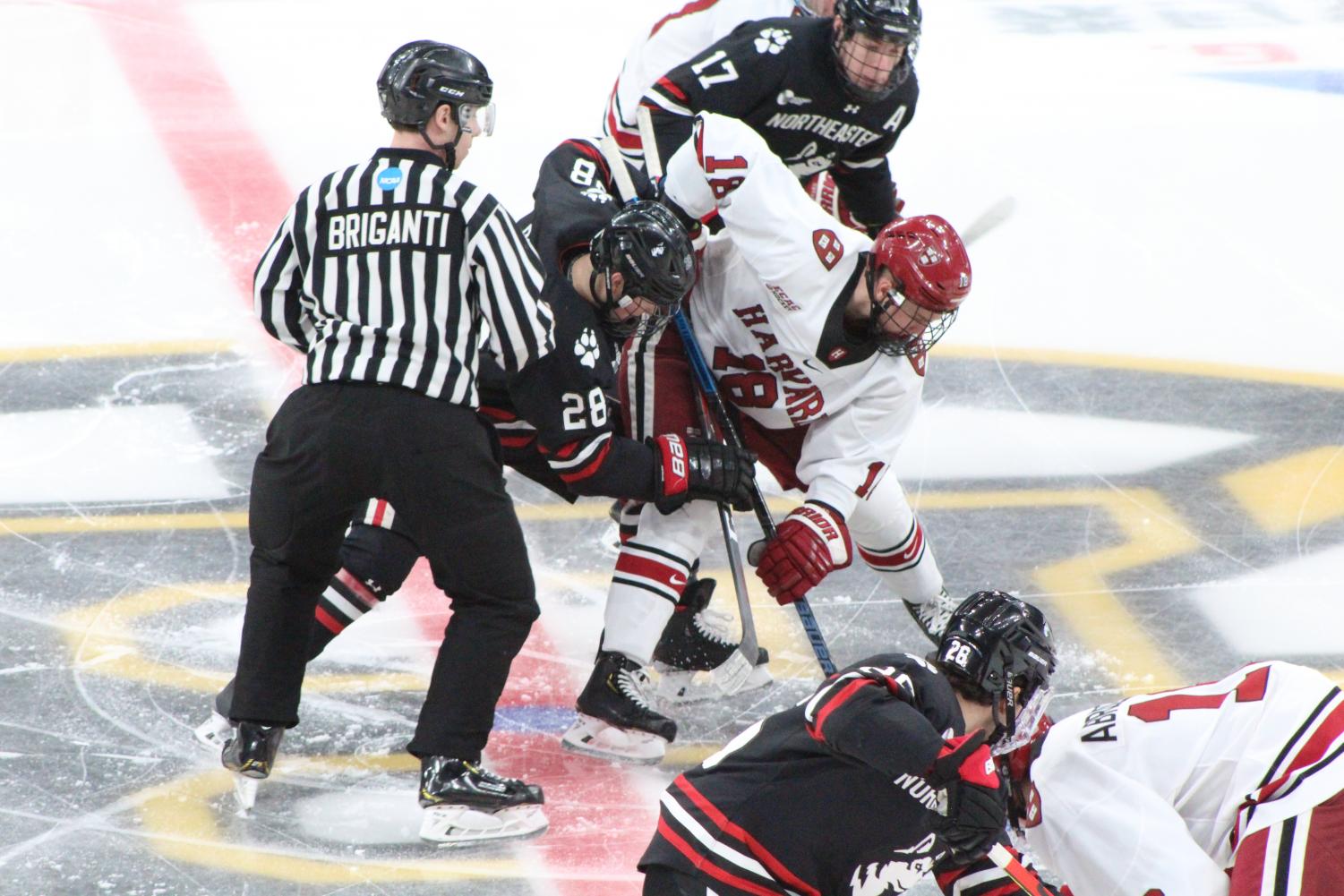 From then on, NU began to dominate the contest, both in puck possession and scoring chances. Gibson kept NU at bay, at least until the 13th minute of the first period. 
On the power play, star sophomore center Tyler Madden sent Shea a hard one-timer pass from the corner, which Shea sent rocketing toward Gibson's crease. Solow and Shea made up for Gibson besting them earlier in the period, as Solow's strong netfront presence and deflection of Shea's shot got the Huskies on the board and tied the game up. 
Special teams continued to prevail for NU in the second. NU's next power play came in the 13th minute of a period devoid of scoring chances and looked to be a chance for the Huskies to get some pucks on net. Instead, the Crimson stood up on the blue line, holding the Husky power-play skaters to zero shots on goal. 
The next power play brought the tie-breaker though, just seconds after the official power play ended. As the Crimson got their fifth skater back on the ice, senior winger Grant Jozefek glided behind Harvard's net and sent a pass to fifth-year Brendan van Riemsdyk, who tipped the puck in easily behind Gibson to push the score to 2-1 Huskies. 
"I know [Jozefek] loves making that play to the front of the net, so I just tried to give a strong stick to him," van Riemsdyk said. "He put it right on my tape, and I didn't have to do much besides put it on the net. It was definitely a huge goal … Thank god I buried a quality one tonight."
Northeastern's other special teams unit was the next to contribute. A last gasp penalty of the second period on freshman blueliner Jayden Struble and a quick penalty on freshman defenseman Mike Kesselring as the puck dropped in the third gave Harvard a near two-minute-long five-on-three. Pantano and his killers stepped up, as while there were close calls, the Huskies remarkably kept the Crimson's lethal power-play unit blanked despite the golden chance.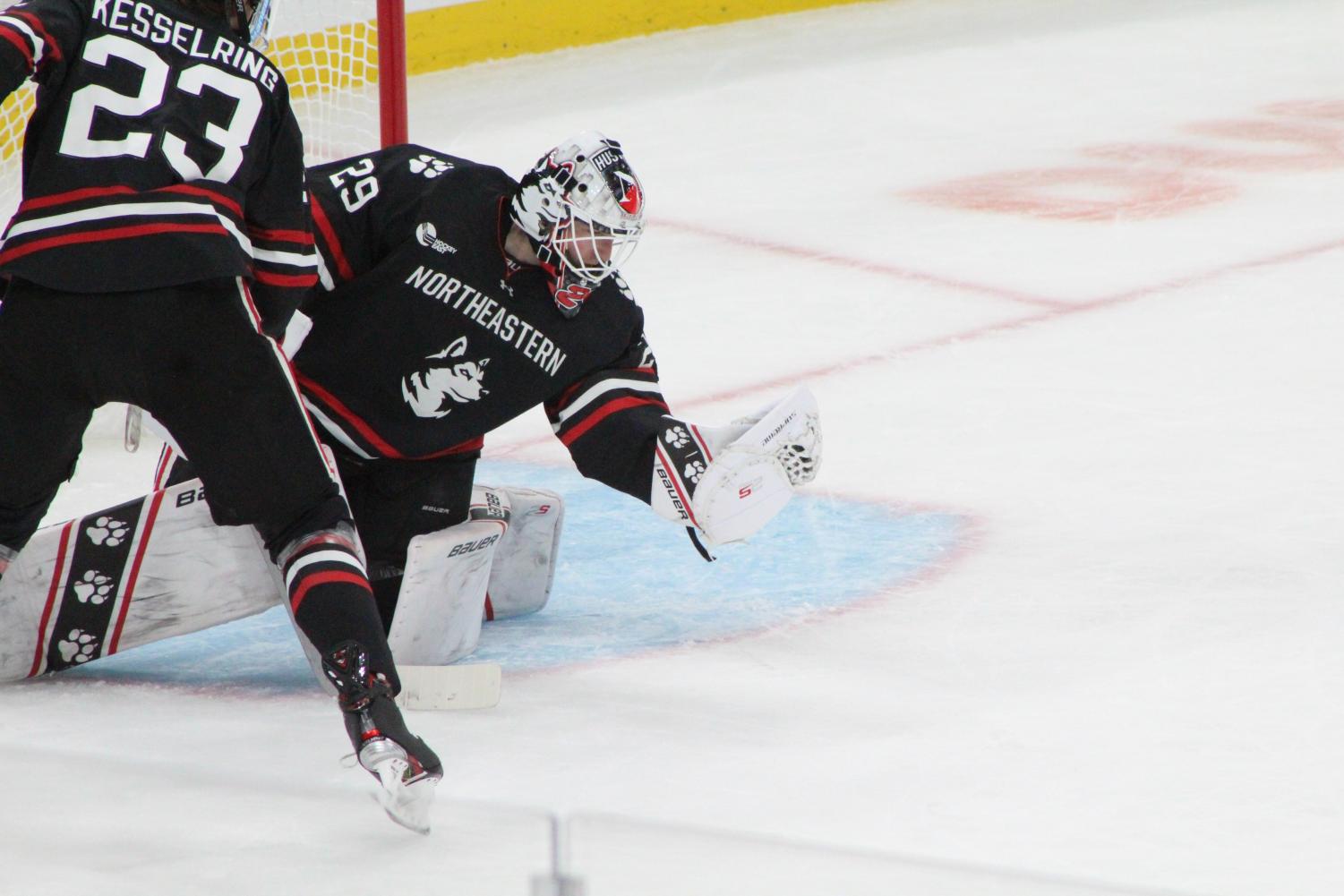 The game ended on another kill for the Huskies. Down by one with two minutes left, the Crimson pulled their goalie and went for broke. NU's short-handed defense stepped up again and captain Shea iced the game on a long empty-net score from deep in the Huskies zone, his second point of the night. 
"Honestly, I wasn't shooting for the net. I just flipped it out to gain a zone and regroup," Shea said. "Once it went in, it was like, here we go, going back to the championship — this is where we belong."
Next up for the Huskies is a road game in Maine this Friday night. After that brief interruption to the Beanpot, the Huskies will gear up for their third straight Beanpot final, just the third time in history NU has reached the final three consecutive times.
"I woke up this morning, and I was still nervous … You never want to be in the consultation game," Shea said. "Going back to the championship to win three, it's honestly a dream come true."